A look around some of Marvel's comics published today to try and work out just what's going on… That's how Squadron Supreme begins. With the destruction of the Battleworld. And the new Squardon Supreme members as survivors of the Battleworld and their own realities….
But how did this happen? What did Namor do? Well the final page of Secret Wars #8 last week did give us Namor and Black Panther together, with an Infinity Gauntlet against Doom. So is this attack for Namor's work with the Cabal, destroying whole realities to try and save this one? Or is it whatever he does in Secret Wars #9? Ultimate End #5 looks at the lead up to that fight…
With Captain America doing his best impersonation of Rorschach. We also discover that the Weirdworld used to be a part not just of the Battleworld, but of Earth… Or moreover that Earth used to be a part of Weirdworld.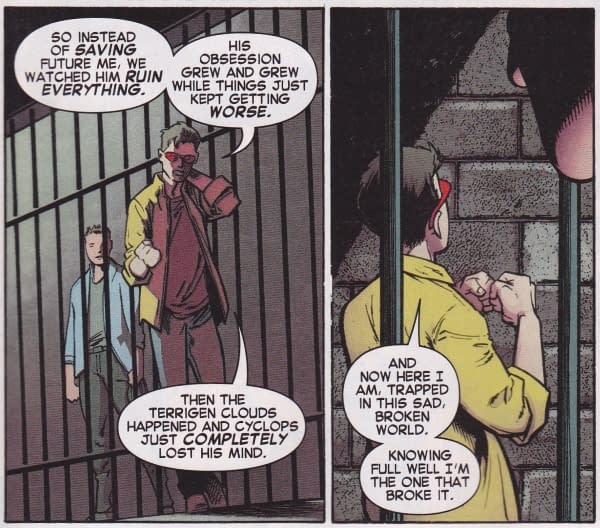 There are tiny more details on what happened to Old Cyclops in All-New X-Men. Even as some places deny such a thing could ever happen, in All-New Inhumans.

The Illuminati discover that Roxxon is building its own bifrost bridge to access Asgard. Some off shore drilling perhaps?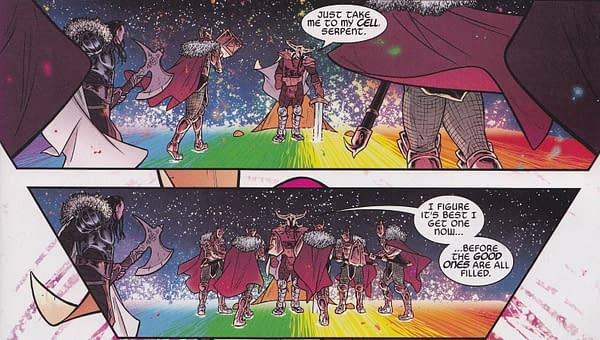 It might be a good time, as the real bifrost bridge in Thor has its guardian deposed right now… Squirrel Girl has the worst secret identity cover ever. Okay, maybe not ever. Everyone knows this one.The dead Kang is unmasked to see a face that, yes, is very Immortus, in Uncanny Inhumans… Ms Marvel, is there something else you want to share?
Comics courtesy of Orbital Comics, London, currently showcasing the work of the artists involved with Avery Hill, a publishing company based in South London.
Enjoyed this article? Share it!