Frank A Kadar is an artist who has worked on Marvel's sketch card line. Tejay Henson is an artist who creates prints and sells them.
And Frank is accusing Tejay of ripping him off.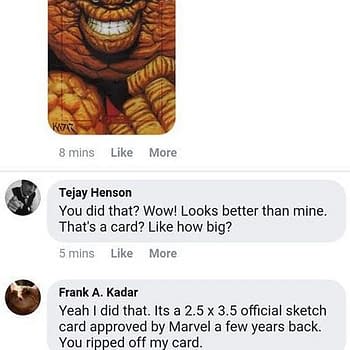 Tejay Henson posted on Facebook saying,
Now I'm being accused of stealing someone else artwork because mine looks similar. Okay well I've never seen this artists work and I have no clue who he is. Apparently he works for marvel. I have the original art board I made to make these digital prints. I did NOT rip off his work.

I think he has only seen my digital which was cleaned up a lil by the company I took it and hasn't seen the original up front. If he saw it he would see a bigger difference. Plus I think he is jealous because his was produced by marvel on a card. While mine is a 11×14 print.
So what do you think? Here is Frank's sketch card piece from 2012.
Alongside some others.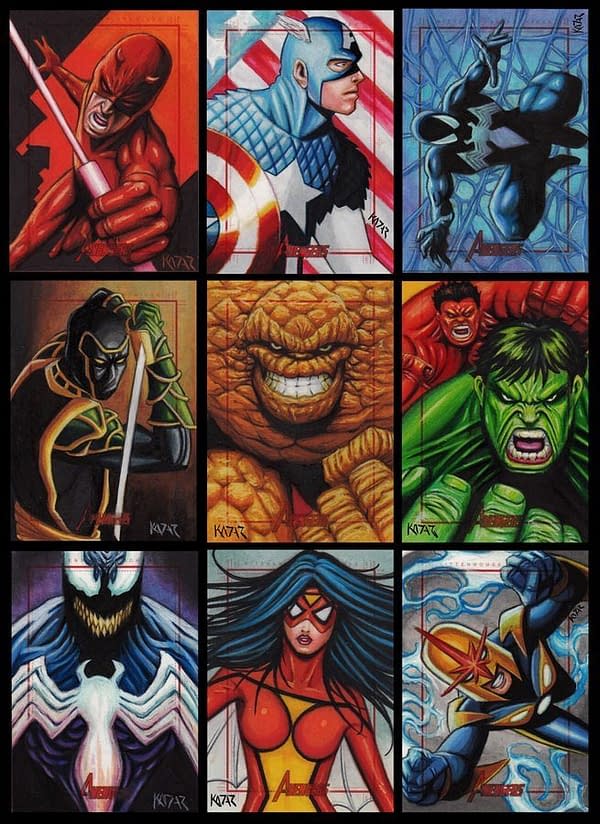 Which you know has to be that old because Marvel Comics still don't let sketch card artists use Fantastic Four imagery after the original Marvel/Fox fallout on 2014. And here is Tejay's more recent print.
What do you think? Look to the lines under his nose and the placement of his fist…
Separated at Birth used to be called Swipe File, in which we presented two or more images that resemble each other to some degree. They may be homages, parodies, ironic appropriations, coincidences, or works of the lightbox. We trusted you, the reader, to make that judgment yourself. If you were are unable to do so, we asked that you please return your eyes to their maker before any further damage is done.
The Swipe File didn't judge; it was interested more in the process of creation, how work influences other work, how new work comes from old, and sometimes how the same ideas emerge simultaneously, as if their time has just come. The Swipe File was named after the advertising industry habit where writers and artist collect images and lines they admire to inspire them in their work. It was swiped from the Comic Journal, who originally ran this column, as well as the now-defunct Swipe of the Week website.
Enjoyed this article? Share it!