"She Is No Longer Royalty" – Frank Barbiere Talks The Big Changes To Dejah Thoris
Frank Barbiere is back, this time talking to Byron Brewer about the recently relaunched Dejah Thoris series for Dynamite. Cover art by NEN.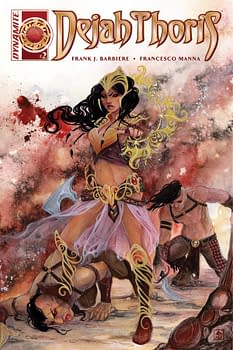 BYRON BREWER: Frank, has it been a challenge to write this very different take on a Dynamite icon, Dejah Thoris?
FRANK BARBIERE: It's been a great experience, as it's really just a new story vs. a new version of Dejah. The difficult part was coming up with what to say with the story, but I'm very happy with how everything is taking shape and think this will be a great Dejah Thoris story that helps further define the character for years to come.
BB: Who is this new Dejah, in your mind?
FB: We've taken Dejah out of Helium and removed one of her main identifiers: she is no longer royalty. This changes how she defines and sees herself, and her resulting actions help shine a light on some truths of her character far beyond her position of power within Helium or royal heritage.
BB: How big a role does John Carter play in this new series?
FB: John plays a supporting role in this story, and we get to see him approach the task at hand and aid Dejah from inside Helium, while she ventures out into Barsoom.
BB: Can you hint non-spoilery about the great mystery here: the disappearance of Dejah's father and what that means to both her and Barsoom?
FB: It is definitely a much deeper conspiracy than it first appears; weaving a complex and interesting political story behind the actions of the characters has been a real joy, and I think readers will be very satisfied with the reveals and what they speak to thematically.
BB: How has it been working with artist Francesco Manna?
FB: Francesco Manna has been bringing a beautiful visual style to the book, and is a great storyteller. It's really a pleasure to collaborate with such great artists as they capture so much emotion and energy in the art and make reading the story, even as the one who wrote it, very enjoyable.
For more on Dejah Thoris #2, click here.