Tomorrow sees the release of Silver Surfer: Black by Donny Cates, Tradd Moore and Dave Stewart. And in the issue, in the backmatter, writer Donny Cates talks at length how this comic, this series is a tribute from him to Stan Lee. And the psychedelic, and florid language that Stan Lee used when writing Silver Surfer is reflected here, as Donny Cates writes page after page of first-person prose-puporting-to-be-poetry, as the Silver Surfer, suffering events seen in Donny's Guardians Of The Galaxy series, is thrown into a singularity and singularly fails to find his way out, stretching, twisting and eventually falling into the dark…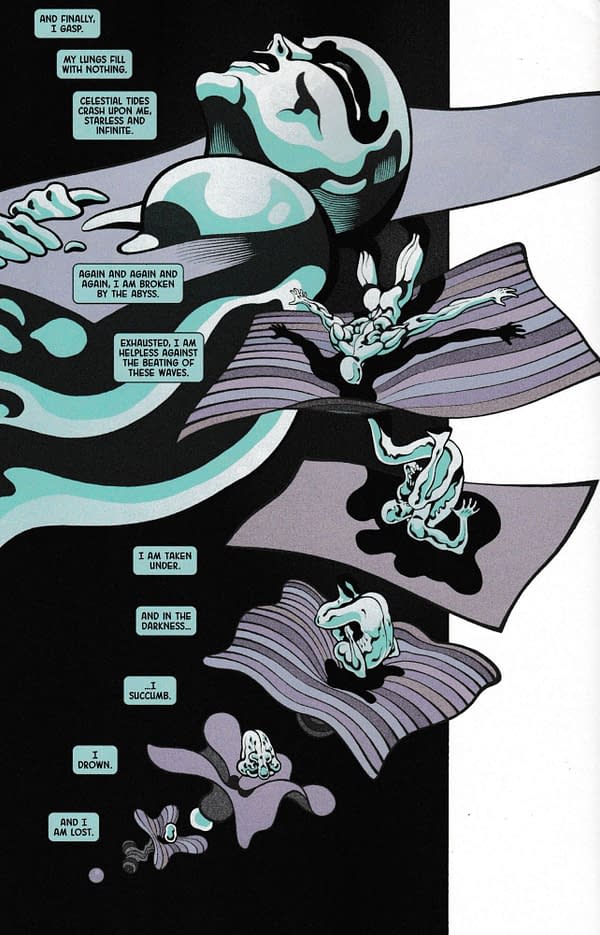 With Tradd Moore eschewing his more usual style for something that reads more like a cross between a comic book and a lava lamp, which fits the language perfectly. Some will mock all this, but it is clearly a sincere move and intended in tribute. But what it also is, is part of Donny Cates grand plan. Whether in Guardians Of The Galaxy or in Venom or in the upcoming Absolute Carnage event – and also carried and set-up by Jason Aaron in The War Of The Realms and previous issues of Thor, Donny Cates is basically writing one story across his titles. And Silver Surfer Black is very much part of that. As in its first issue, at the conclusion of the story, Norrin Radd finds somewhere within the dark…
…and encounters a very familiar voice. Or at least, familiar speech balloon fonts and patterns.
Basically, Silver Surfer Black is an Absolute Carnage tie-in. And part of the big Marvel connective tissue across Thor as well. Out tomorrow…
SILVER SURFER BLACK #1 (OF 5)
(W) Donny Cates (A/CA) Tradd Moore
Spinning out of GUARDIANS OF THE GALAXY #1, almost the entire galaxy's defenders have been blown through a black hole, including the Silver Surfer! But the story doesn't end there… In order to fight back the oblivion, Surfer will have to fight to save his own soul and not lose himself to the void. Follow the Sentinel of the Spaceways on a journey that will change him forever!
From superstars Donny Cates (VENOM, GUARDIANS OF THE GALAXY) and Tradd Moore (ALL-NEW GHOST RIDER, VENOM)!
Rated T+In Shops: Jun 12, 2019
SRP: $3.99
Silver Surfer Black #1 advance copy provided by Marvel Comics.
Thanks to Don for a typo check.
Enjoyed this article? Share it!