Skybound Insiders Meetup at San Diego – Pink Signatures, Free Drinks and a Couple of the Walking Dead
I was lucky enough to attend the annual Skybound Insiders Meetup, a thank you from the fine folk at Skybound to some of its most rabid fans. Taking place at the Harbor House Restaurant on the Friday of SDCC 2019, Skybound provided food and drinks for all in attendance. The event was hosted by Brian Huntington, VP, Online Content, for Skybound Entertainment, and Shawn Kirkham, Sr. VP, Business Development, for Skybound Entertainment, and more importantly the man who sat right in front of me at AEW's Double or Nothing pay-per-view that took place in Las Vegas on May 25, 2019.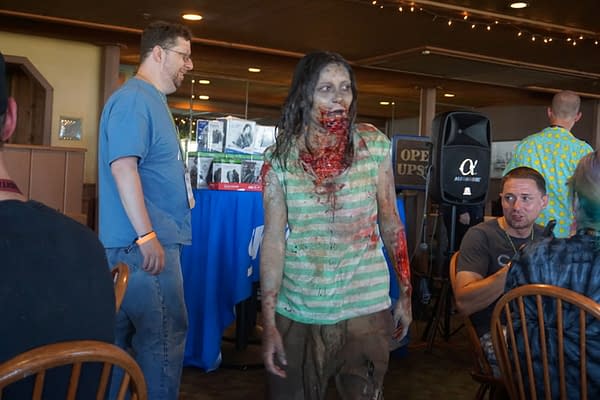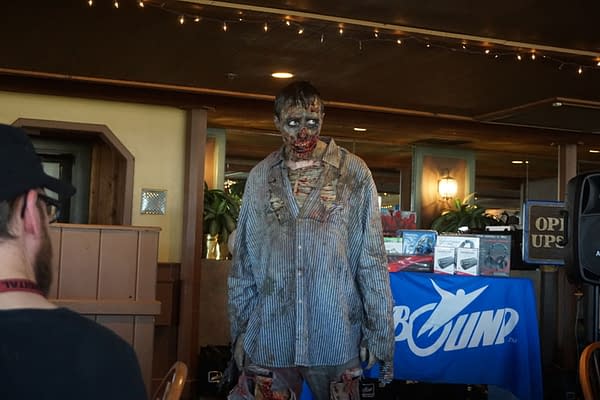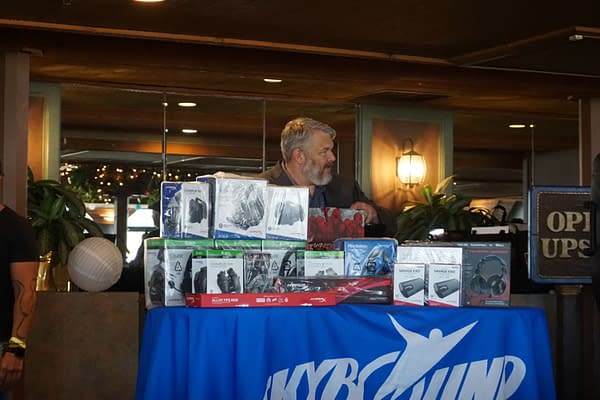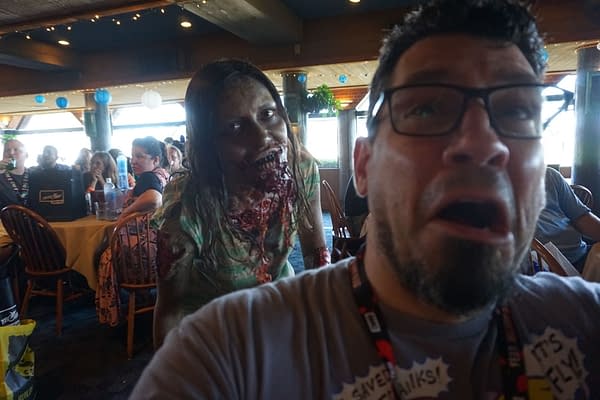 In addition to food, drinks, and two amazing looking zombies walking around the restaurant during the event, there was also swag bags and a raffle. Sadly I, your author, did not win anything in the initial raffle, which included various hardware accessories for the PS4 and Xbox, but also two The Walking Dead mystery boxes that Skybound had been selling at their booth for only $50, they sold out Saturday morning. Included was a CGC graded issue of The Walking Dead, at a guaranteed 9.8 grade. However, there were a bunch of extra swag bags, so they started raffling them off too. Lucky for me I won the second time. Included in the bags were the SDCC exclusive, and also sold out, The End variant of issue 193; Oblivion Song #1, the pink signature variant; issues one of Stellar and Murder Falcon; along with ashcans for Outer Darkness, Extremity, and Crude; two Skybound Minis! mystery boxes; a Lucille pen; a keychain and pin; and lastly a copy of The Long Dark video game in either PS4 or Xbox editions.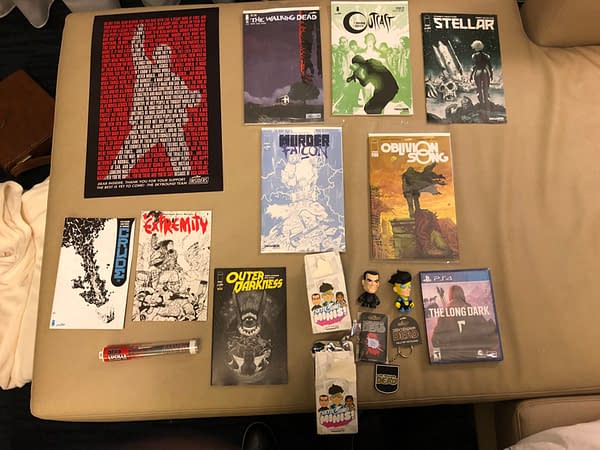 A great time was had by everybody in attendance and I want to thank Shawn and Brian for making it happen, and I'm already looking forward to doing it again next year.
For further musings from Joshua Stone, you can follow him on the Twitter @1NerdyOne.