So… Which 20 Marvel Books Will They Launch In Or Around September?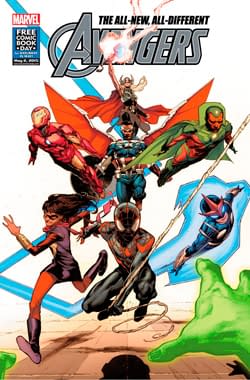 If All New Marvel starts in September, Marvel will be announcing at least twenty new books in a month's time, not including potential relaunches.
It all depending on when the last issue of Secret Wars falls, which Jut's solicitations put up in the air a bit but we know Brian Bendis has a new book launching on the same day as the last Secret Wars issue. Looking at what's announced so far…
All New All Different Avengers. Which should get a bump from the new film.
Gamora by Nicole Perlman.
Doctor Strange, Marvel EIC Axel Alonso said he had a writer in place a while ago.
Extraordinary X-Men.
Defenders (Marvel's Tom Breevort said to start the clock on this. Could Brian Bendis be re-working his Heroes For Hire pitch for a new Netflix generation of readers?)
Uncanny Inhumans.
Maybe an AKA Jessica Jones comic as well? It would make sense… and how about… The Utopians?
So… what are you guessing?