Some Fine (Possibly Out Of Date) Spider-Man, X-Men And Guardians Of The Galaxy Rumours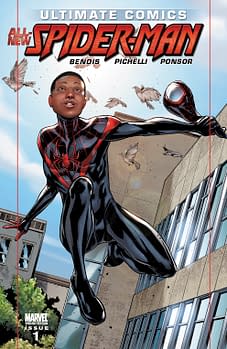 I had a bunch of interesting Marvel rumours earlier this week. Usually when I pass things past Marvel folk I don't hear anything. This time I was asked if I could hold them for a little.
So I did.
I have now been told that it's all fine to run – but also that, since the Marvel Creative Summit has run, that a lot of it is now out of date. While it may well have been true, it isn't now. Not all of it. Honestly, they may have been smiling smugly when they said it.
So, here's what was lined up to run. Your call over what is right, what is wrong and what has changed…
Sara Pichelli will be the artist on the Spider-Men 2 series, teaming Miles Morales and Peter Parker up again, across the universes. Expect it to be scheduled after Spider-Verse.
Look for Ultimate Spider-artist David Marquez to stick with Bendis, either on Guardians Of The Galaxy or the X-books. Expect Marco Rudy to rejoin the Xbooks too.
Also expect Valerio Schiti to take over the new Ultimate Spider-Man title for its second arc…
And look for two new Spider-Man related titles to be announced at C2E2. One written by Kevin Schnick replacing Superior Spider-Man Team Up and one by Nick Spencer replacing Superior Foes Of Spider-Man.
We might also learn who the artist on the Guardians Of The Galaxy Original Sin tie in will be. I'm told it will be a rather cool and unexpected surprise.