 Sovereign is a new comic from Chris Roberson, published by Image Comics in March. If you want a high concept, how about Lord Of The Rings But With Black People As Well.
Clumsily inaccurate, but as Roberson puts it;
So many of the fantasy stories I encountered growing up were set in worlds that were largely modeled on medieval Europe, in one way or another. Lots of white folks in feudal societies, castles and kings, that kind of thing. And I love a lot of those, but I thought it would be more interesting for me personally to look to other cultures for inspiration. Sovereign is set in a world in which there are a number of cultures in the mix, and all kinds of ethnicities and types, and the drama comes as much from the cultural interactions as it does from the monsters invading from another dimension.
Which is much better, but not ten words or less. Here's the rest of the bumf.
In a world where gods, demons, and magic have slipped into myth, SOVEREIGN tells the story of masked undertakers facing the undead with swords while civil wars threaten the delicate balance between colliding cultures. But out of the ashes of history rises a new threat and the promise that magic has not yet faded into mere memory.

Chris Roberson (Edison Rex, iZombie) joins artist Paul Maybury (POPGUN, Catalyst Comix) to bring to life a multi-layered series featuring Tolkien-esque story of war, magic, and the humanity that co-exists in both in SOVEREIGN #1.
Joining them in March is Bryan Hitch's Real Heroes, advertised in a number of this week's Image titles.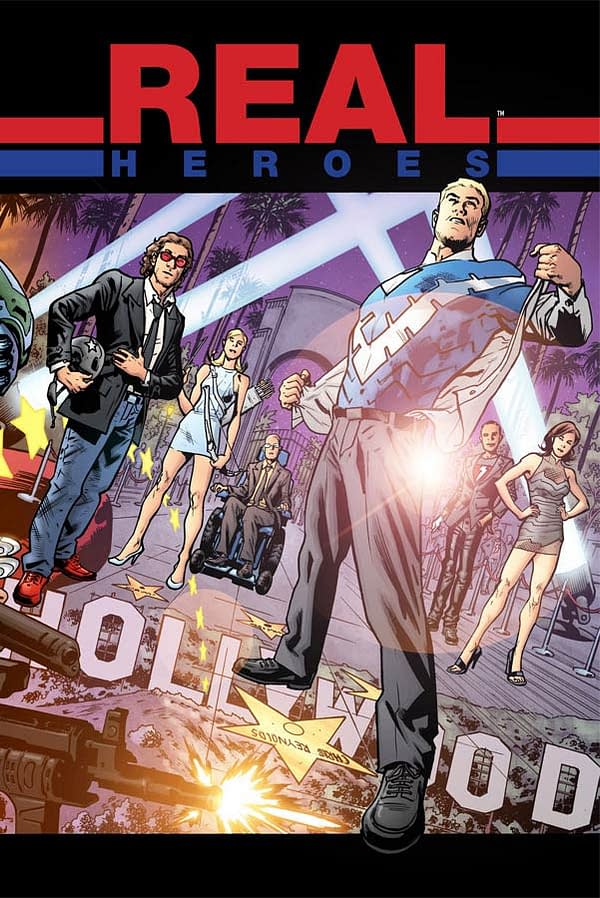 And it's a bit of a superheroes-meets-Galaxy Quest.
The celebrity stars of the blockbuster The Olympians films are about to take "method" to a whole new level. In Bryan Hitch's all-new six-issue miniseries REAL HEROES, a group of actors who are used to playing superheroes on film are forced to don their capes and cowls in real life when a nefarious foe endangers their city.
$3,99, there will be variant covers from Frank Cho, David Finch and Travis Charest…
Enjoyed this article? Share it!