It may be one of the best-selling comics of the month. But that hasn't stopped Amazing Spider-Man #798 by Dan Slott and Stuart Immonen selling in advance on eBay for up to $9 plus postage each.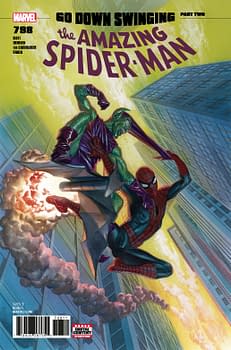 Because this might actually be the first appearance of the Red Goblin, whoever he or she is.
Maybe. Certainly a cameo.
Speculators really want this. Red Goblin has been teased, first as the return of Mephisto with Norman Osborn signalling a return to the Spider-Marriage issue, then Carnage and Norman Osborn getting all smoochy together…
But, you know, Dan Slott never actually wants to give you what you want. You should know that by now. He is an evil, trickster, lying deceiver… otherwise known as a writer of popular fiction.
Speculators ran after previous issues in a similar belief of Red Goblin glory but were denied… however in the last few days, raw copies of Amazing Spider-Man #797 has sold for $10, Amazing Spider-Man #796 has sold for over $20, Amazing Spider-Man #795 has sold for $32, Amazing Spider-Man #794 has sold for $17. and Amazing Spider-Man #793 – supposedly before this madness began, for $12.
Variant and tiered covers can go for a lot more, as can signed and CGC-graded copies.
These are all cover-priced $3.99, all some of the best-selling comics of that month. Nevertheless, if you are a standard Amazing Spider-Man reader you might be quids in if you want.
Good luck getting #798 on Wednesday. Word of warning, UK comic stores may be late with their copies as it's a Bank Holiday weekend. Expect later on Wednesday – or even Thursday if you are unlucky.
AMAZING SPIDER-MAN #798
(W) Dan Slott (A) Stuart Immonen (CA) Alex Ross
GO DOWN SWINGING Part 2
• Dan Slott's final SPIDER-MAN story continues!
• The GREEN GOBLIN HAS RETURNED – and he's exacting his ultimate revenge not only on SPIDER-MAN, but on everyone the wall-crawler loves!
• Norman Osborn's offering NO QUARTER, an ultimatum that threatens to finish PETER PARKER once and for all!
Rated TIn Shops: Apr 04, 2018
SRP: $3.99
Enjoyed this article? Share it!