SPX '15: Kathryn And Stuart Immonen On Finding 'Room For Everything' In Comics
Kathryn and Stuart Immonen were hosted in their first appearance at a Small Press Expo today by Jim Dougan (a comics creator on the digital comics platform ACTIVATE) and thanks were given to Fantom Comics for help arranging the panel.
Asked how the comics power couple met, they related their early days meeting through friends in Toronto in 1986 and discussed the handmade creation of mini-comics with "moderate success", called Playground and Headcheese. They did 3 issues each and they didn't make much money but didn't lose any either, Stuart laughed. Stuart dropped out of college and tried to make a living by contacting publishers for work. Mostly he got silence, but some small publishers responded and he spent several years "building" that body of work until Marvel and DC took interest.
Stuart said that we tend to think of certain kinds of shows these days, like SPX having a certain kind of material for sale, but it was kind of a"mishmash" in earlier days. Their goal was to get comics into the hands of comic stores rather than people at shows in those days, he said. Kathryn reminisced about "Fact Sheet Five", a document that contained listings, like a "phone book for independent publishing" and it was for selling directly to customers through mail order. It was "amazing" and "changed peoples' lives", Kathryn said.
Caliber Press in Michigan also published new material with the same characters from their self-published issues of Playground. They contributed to some anthologies that were curriculum aids in the sciences. Stuart said, "The things that we were doing were more like art objects", in limited editions. Kathryn said doing small number issues is a good way to raise a little money, have the books all find a home, and not have a lot of stock hanging around. Never As Bad As You Think was only postcard-sized, and collected a webcomic they'd been doing. It didn't pan out as a webcomic for them, whether trying to charge for it or making it free. So they put out a print edition at TCAF, where they sold their version. At some point, Ross Richie and Mark Waid at Boom! decided they wanted to publish a version of it. They did a beautiful edition in hardcover and landscape format with added strips. It was unusual material for Boom at the time, so it was a bit of an outlier and didn't get a great deal of attention.
Dougan asked about experimentation and their approach to projects, and Kathryn said they really like personal projects as long as they are "finite". Stuart said they'd always wanted to do "more stuff together" and maybe try longer works, but at that time, working on Never As Bad As You Think, Stuart was often too busy. This seemed like a catatlyst for them to be able to do a small project that could amass a larger piece over the course of a year. He carved a day a week out to pursue it from his schedule as an experiment.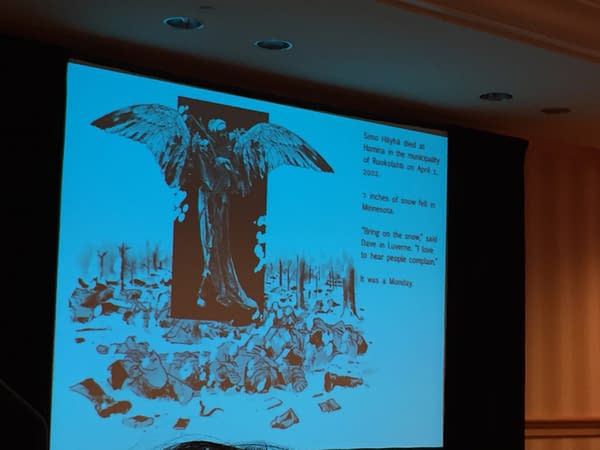 Moving Pictures has been their next independent project, now available. It was intended to be a longer work, but it was released as a page a week to "get it done" as a commitment to a publishing schedule, Kathryn said. It still took 4 years to complete. It was a self-imposed structure that created a sense of obligation. When working for Marvel, for instance, Stuart couldn't simply take off a few months to finish something personal, but he could set aside a Sunday or a holiday to try to get it done. When they put it together, at 150 pages, in a form that was more book-like, it still took a couple of months to do corrections that had changed over time because of the long timeframe. Many pages had to be redrawn. Set in Paris during the Nazi occupation, the book is about commodification of objects, at least in part. Dougan said that they "obfuscated" the setting intentionally, blacking out Nazi flags, for example.
It's a "small story", Kathryn said, with action only contained in taking off a jacket. There's a "veneer of stillness" over the book, she said, but it's based on historical events that have been recorded, like the photos of soldiers uncovering art stashed underground in mines by the Nazis. The book isn't about adding to the historical record or works of fiction or nonfiction about that time, but they were interested in "this moment and what it could say about two characters", Kathryn said. It focuses inward on one room, really. It was heavily researched and made accurate, but the more they added signs and symbols, the story got "overwrought" and "stupid looking", she explained. There's heavy shadow in the book, so blacking out references worked well graphically but narratively, Kathryn added. Stuart did some more lavish versions of panels in different art styles trying to decide what would be most appropriate for the story. And what he could "come back to" after several days a week working in a Marvel "house style", and make unique. The style got "simpler and simpler" in relationship to the script. The script was written as a play or screenplay. It wasn't written for that purpose, but in form. There were no page or panel breaks and there were no set number of pages and no deadline. They waited to see how long it would end up being. Formalizing the "look" of the comic was part of the process. When they presented works of art, they were the objects that mandated existence outside the story as well. It flips the relationship between us being "real" and looking at a painting and thinking of it as "fake", In this story, it seemed more appropriate that the characters could be literally, sharply defined by linework whereas the paintings and sculptures had a realistic quality instead.
Their newest work, Russian Olive to Red King is now available from Adhouse Books, and is a "romance that isn't romantic and a ghost story that isn't frightening", according to the creators. Kathryn Immonen did a residency at the Women's Studio Workshop in Upstate New York, where you learn to hand-make books. While she was there, Stuart sent her images he was working on, and she'd reply in a response to the images. They put the book together over 4 or 5 years out of several pieces. They had a script, a prose work, and some illustrations, and they knew they were "connected" but continued to put the book together and pulled it apart over several years. It became clear that it was a series of events between two characters, involving a plane crash, and the male partner "knowing" somehow that his female partner is "gone" without any actual information. It sprung from Kathryn being gone for 56 days in a place with almost no phone reception, which led to e-mail correspondence. They had this material, but it sat for a couple of years. Then Kathryn re-wrote the draft, and Stuart approached illustrating it in comic form.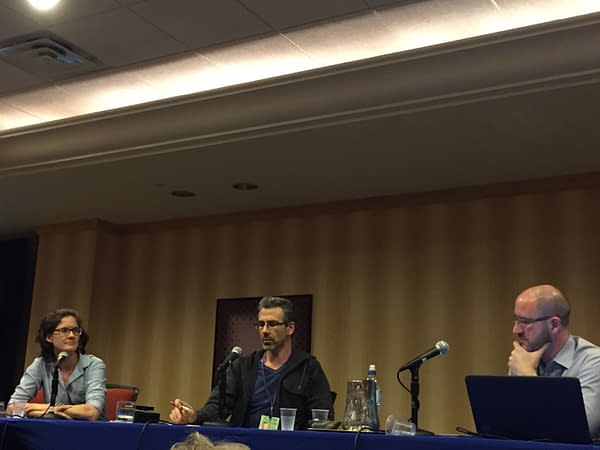 The last portion of the book is mostly prose with a sequence of images which are almost like "found comics" to Kathryn and Stuart. For literally "years and years", they didn't understand how to fit the work together. They went on a roadtrip together to try to figure out the last portion, but it was a "miserable trip". They ended up at an abandoned building, a candy factory, in Ontario, and they found that all the windows had been broken "systematically". They were looking at the windows, kind of "fascinated" by the industrial landscape. They saw the windows as if they were "isolated images" and comics as windows, a landscape of isolated spaces. The broken parts of the windows started to look like shapes, animals and people. Both Kathryn and Stuart started to tear up a little trying to explain their process. It felt like "found comics" created by rocks thrown through the windows. Kathryn said that if you "pay enough attention" and invest enough "energy" to the project, eventually a project will come together. This experience helped Kathryn and Stuart finally bring the project together and finish it.
Asked by a fan about the relationship between Marvel and DC work and personal projects, Kathryn said the "rigor" of the mainstream helps develop skills that helps you with all your work. Because they do that work within a structure, it helps them to "cut loose" and apply the same in an "arena where there are no rules". She wants people to continue to be "curious" as readers and creators to help ensure the future of comics, Kathryn said. Also she'd like to see comics that are being developed purely as film pitches to "go away", she added. They don't do anything to help the future of comics, Kathryn feels.
Asked to share tips about storytelling process, Kathryn said she sees people not actually paying attention to the mechanics of comics. If you like a comic, count the panels, see the page turns, notice the key panels, etc. She sees a lot of scripts that "come in" with writers not writing "visually". There are "solutions" for each page, but you need to be able to find them and "see the shape of it in your head". For comics storytelling, "see the page", she advised.