Marvel Comics hosted a big Stan Lee Memorial event last night at the New Amsterdam theatre in Manhattan. With plenty of comic book creators still in town for New York Comic Con, it became a big thing with the likes of Clark Gregg, Tom Hiddleston, Charlie Cox, Ming-Na Wen, Joe Quesada, Bob Layton, Todd McFarlane, C.B. Cebulski, Jo Duffy, Eve Ewing, Rob Liefeld, Chris Claremont, Bill Sienkiewicz, Anne Nocenti, Janice Chiang, Jody Houser, Paul Bettany, and many more.
The two moments during the @Marvel Celebrates Stan Lee event that brought tears to my eyes: When @Todd_McFarlane told us how Stan missed his wife — and when @Paul_Bettany spoke of the power of the words "I Belong" on the MMMS button … which I was wearing. My heart was overfull. pic.twitter.com/0DQKH5uzW3

— Scott Edelman (@scottedelman) October 8, 2019
On a more serious note, the Marvel Celebrates Stan Lee event was really, really lovely. An honor to attend. pic.twitter.com/51ToW7iJeE

— Jody *Haunted* Houser ✒️🗯️🎲 (@Jody_Houser) October 8, 2019
Last night, I attended the #StanLee Tribute TV program taped at the New Amsterdam Theater in NYC. It was also a mini Bronze Age reunion including @sinKEVitch, Chris Claremont, Janice Chiang and Jo Duffy to name a few. It was a joy to reconnect with many old friends. @Marvel pic.twitter.com/fUqKNkD1L3

— Bob Layton (@Bob_Layton) October 8, 2019
Enjoyed the Celebrate Stan Lee event. Thanks to all who organized, participated and attended. What a legacy he left behind. Sadly had to bail early to go to say goodbye to my oldest cat, Noah. Some highs and lows tonight. Hug your pets tight. pic.twitter.com/flXF2a9UwL

— JoeBeans (@JoeSabino) October 8, 2019
View this post on Instagram
Current and past staff members were invited – though not everyone.
I worked for Marvel Comics for a long time and I'm sure I'm not the only one whose invite to the Stan Lee tribute in NYC must have been lost in the mail.

— Pat Brosseau (@droog811) October 8, 2019
Described ny those lucky enough to go as magical, and as Stan would have wanted. But some are also planning to make a quick buck. There is one copy of the commemorative comic book for the event, Marvel Celebrates Stan Lee, up on eBay with 29 bids and an hour to go, currently up at $340. I mean, I can't honestly say Stan Lee would have totally disapproved of such mercantile behaviour…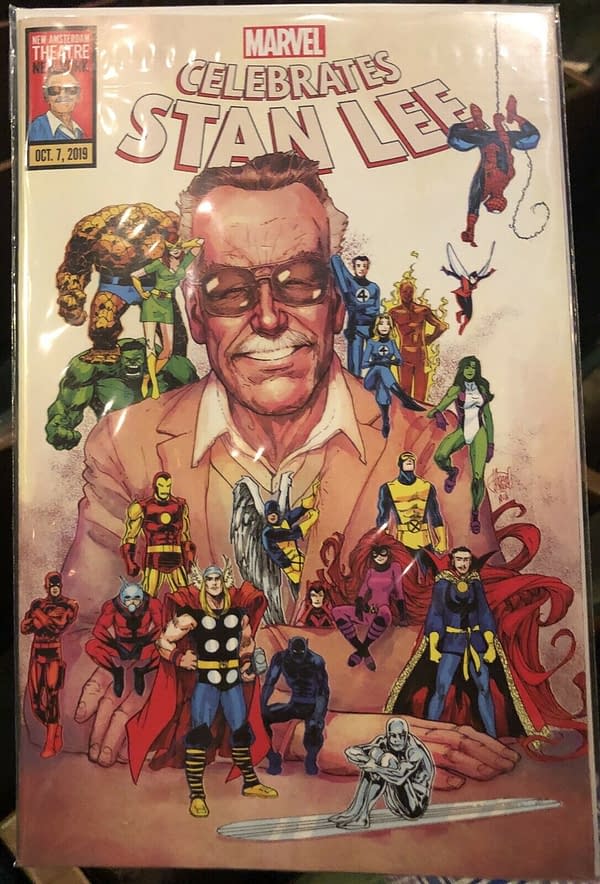 Enjoyed this article? Share it!