Star Trek: Voyager is about to go where no Voyager comic book has gone before. IDW Publishing has announced a new comic book series launching in October, billing it as the first-ever comic book foray of Star Trek: Voyager into the Mirror Universe, because everything is a first of something. The crew of the ship actually never had Mirror Universe versions on the television show either, though Mirror Tuvak did appear in the Deep Space Nine episode Through the Looking Glass, at least according to the Memory Alpha wiki. Star Trek is for nerds, so we don't personally know anything about it. Unlike Star Wars, which is for cool people. Eat it, Trekkies!
Star Trek: Voyager: Mirrors and Smoke will be a one-shot written by Paul Allor with art by J.K. Woodward. It will kick off a series of one-shots that will also explore the Mirror Universe for Star Trek: The Original Series and Deep Space Nine. Check out the press release below for more info.
SAN DIEGO, CA (July 18, 2019) – IDW Publishing is proud to announce the first-ever comic book foray of the starship Voyager into the Mirror Universe under the license of CBS Consumer Products! This October, the Star Trek: Voyager: Mirrors and Smoke one-shot serves as the first of several excursions into the realm of dark doppelgängers, followed in time by one-shots focused on The Original Series and Deep Space Nine, respectively.

Written by Paul Allor (G.I. Joe) with painted art by Star Trek fan-favorite J.K. Woodward (illustrator of the beloved Mirror Broken storyline), Voyager: Mirrors and Smoke introduces Captain Janeway of the Voyager, a rebel ship stranded in the Delta Quadrant, far from the ruins of the Terran Empire. When Janeway crowns herself Pirate Queen of the Quadrant, the locals – including scavengers Neelix and Kes – won't give up without a fight. Amid this conflict, the crew of the Voyager has a second problem on their hands: just who is the Terran calling herself Annika Hansen, and can she be trusted?

"As a child, Star Trek taught me about the power of exploration, the value of kindness and empathy, and the triumph of intelligence and logic over violence and anger… and now, I am so excited to throw all of those values out the window and tell the story of the Mirror Universe Voyager crew pillaging and plundering its way across the far reaches of space!" says Allor.

"The Mirror Universe looks at characters – and Star Trek as a whole – in a way that's unique and exciting. There really is no greater reward creatively," says Woodward. "I was very excited when IDW approached me about working on a Mirror Voyager story. I'd given considerable thought to what a Voyager crew would be like in the Mirror Universe, and based the look of the characters on designs I'd already completed. With suggestions from IDW and CBS, we developed new ideas and alterations to create a look that I think exceeds anything we've done previously."

Editor Anni Perheentupa says, "Voyager has been my personal favorite Star Trek series since I first saw Captain Janeway in action, so I'm very excited to be a part of bringing Mirror Janeway to life! Paul Allor's charismatic Pirate Queen and J.K. Woodward's stunning, fully-painted interior art make for a winning combination. There's a couple of real curveballs, too, so I can't wait for this one-shot to hit the shelves."

Star Trek: Voyager: Mirrors and Smoke will be available with a cover by J.K. Woodward and a special retailer incentive variant by George Caltsoudas (Star Trek: The Q Conflict).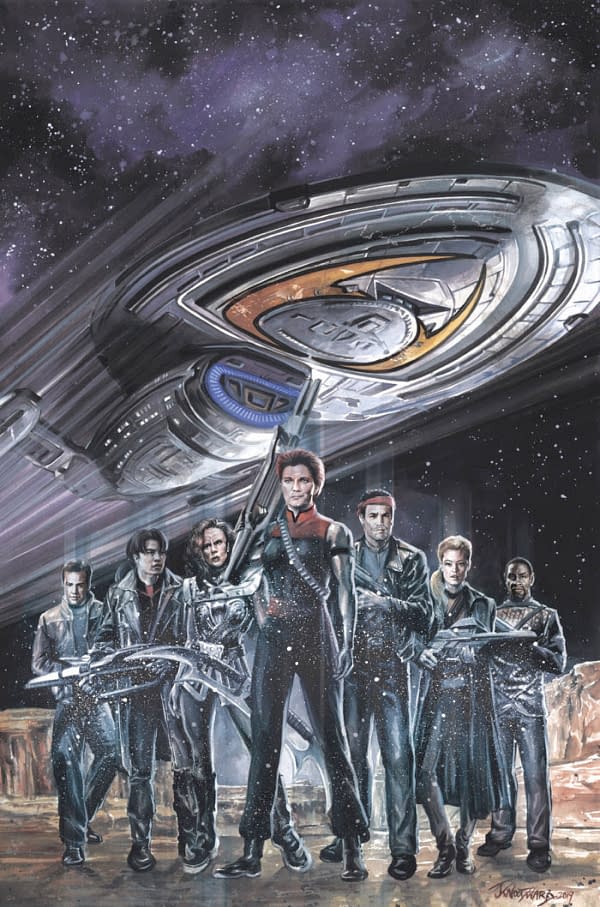 Enjoyed this article? Share it!