Michael Kingston, the creator of the premier ongoing wrestling comic book, Headlocked, is back with another Kickstarter. Headlocked: Tales From The Road is an anthology collecting one-off stories Kingston has collaborated on with stars of both the wrestling and comic book art world. Bleeding Cool spoke with Kingston to talk about the Kickstarter, which is already funded but still running until July 27th, as well as to shoot the breeze about wrestling in general.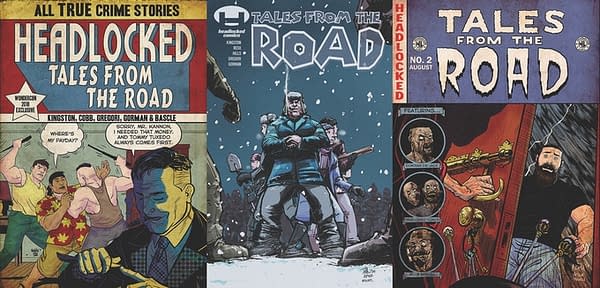 ---
Headlocked: Tales From The Road is already fully funded on Kickstarter. You had a goal of $12,000, and you're up over $16,000 right now as I'm writing these questions. But how are the numbers that really matter? How are you doing with the 18-49 demographic?
All joking aside, we do okay with it. I find the younger wrestling fans are more open to "wrestling" stuff more than just WWE stuff. I think the over 40 crowd grew up when WWE was really the only game in town, and they're actually a tougher sell to me than folks who grew up during the Monday Night Wars. One of the things that I am really proud of though, is that because we sell at a lot of wrestling shows and operate outside the direct market that we have been a ton of people's first comic book. It's definitely a gateway drug for wrestling fans to get into comics and vice versa.
I understand this volume of Headlocked is an anthology collecting one-off stories you've done in collaboration with wrestlers. What can backers expect from this book? Who are the wrestlers? Who does the art? The Taya Valkyrie and J. Gonzo one looks incredible, and I want to read it.
The main Headlocked series is told from Mike Hartmann's perspective, so you just see things from his limited worldview. With Tales From The Road, we collaborate with wrestlers to create stories that build out the corners of the universe…some stories feature characters we've seen before, and some feature characters that will play a bigger role down the line.
As for the stories themselves, some of them are adapted from real-life experiences, and some of them are just pure fantasy. And we play around in all different genres, so we get into some really fun stuff like Taya's Agent Loca story and Gangrel's Bigfoot tale but also some real serious stuff, like Mustafa Ali's story about representation. We also have stories from Dolph Ziggler, Joey Janela, Samoa Joe, MVP, Dominik Dijakovic, RVD, Young Bucks, Christian, Hurricane, and Christopher Daniels.
In keeping with the idea of building out the universe, we'll have a pinup gallery featuring a lot of brand new characters. I've got Ed McGuinness, Jill Thompson, Lauren Moran, and independent wrestlers G-Raver, Lee Moriarty, Sloan. Treehouse Lee, and Danhausen creating brand new characters that we'll be debuting in these pinups.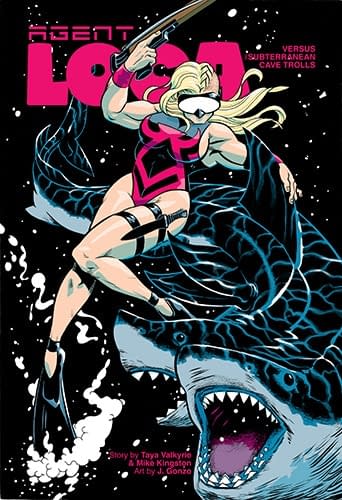 We last spoke here on Bleeding Cool back in 2017, when you were doing the Kickstarter for Headlocked: The Hard Way. A lot has changed in the wrestling landscape since then. Most notably is the rise of AEW and the Wednesday Night Wars, and then, of course, there's the crowd less wrestling of the Pandemic Era. Even in these strange times, I feel like it's a pretty great time to be a wrestling fan. What are your thoughts on it?
It's been good and bad. AEW feels like they've found their rhythm with the crowd less shows, but WWE still feels like a work in progress to a certain degree. I think both companies embracing cinematic matches is at least finally pushing things in a fresh direction. The Boneyard Match and the Stadium Stampede have definitely been the two most talked about matches of the year. And I think having some top talent like Roman, Brock, and Becky on the sidelines for the moment allows some other folks to step up and get a crack at the spotlight. I'm extremely happy to see MVP on television again….he's such a good dude….and of course, he's killing it.
For me personally, having so many wrestlers under exclusive contracts limits the folks I can collaborate with or adds to red tape, so it can be challenging. But I am glad that so many of my friends are making good money.
The wrestling comic market has grown a bit too since we last talked. Aubrey Sitterson and Chris Moreno's Comic Book Story of Pro Wrestling did very well as a graphic novel. IDW published a Jim Cornette comic. And there was the BOOM! WWE comic, which you worked on, and its various spinoffs. The Luchaverse. Invasion from Planet Wrestletopia. And pretty much every comic book website has a wrestling section now (to be fair, we gotta get clicks from somewhere). You had a rough time trying to pitch Headlocked when you started, and eventually, you just built it up yourself. Do you take credit as a pioneer of modern wrestling comics?
Wrestling comics have always existed in one form or another, but I do think we helped take it to a different level. One thing I will absolutely take some credit for is opening up comic cons to wrestling. I can't tell you how many shows I tabled at had "no wrestler" policies…at least a dozen or so. One show promoter was offered Roddy Piper as a guest, and he only knew him as the guy from They Live, so he turned him down. Luckily, I was able to get Jerry in the backdoor as an artist….some shows wouldn't even mention that he was a wrestler in their program. And once we'd get to the show, we'd have lines wrapped around the booth. The promoters would then be very eager to have wrestlers after that.
And at the bigger shows, oftentimes, we have the only wrestling-specific booth. SDCC, NYCC, Emerald City, and others…we're out here making sure there's a space for wrestling fans to feel welcome and appreciated because when I started, that wasn't a thing that existed.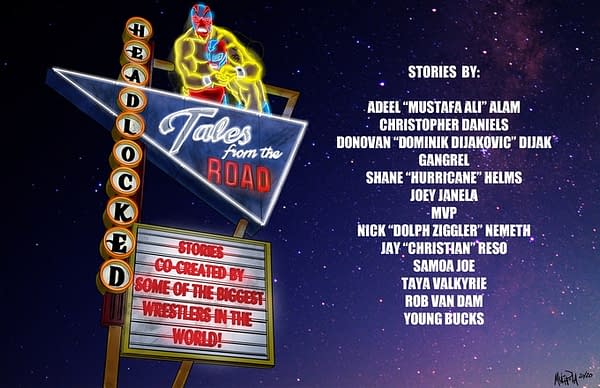 How has not being able to go to conventions during the pandemic affected your ability to promote Headlocked? Are you doing any virtual stuff?
A: The hardest part about doing what we do is being double independent in two mediums that are dominated by companies with such strong brand recognition. For years, we've been largely ignored by the mainstream comics apparatus…so bringing the book directly to the fanbase has been how we get in front of people. I can't understate how much not having conventions (or wrestling shows, for that matter) has affected my business model, but we're working on different ways to pivot. I've been producing comics for Pro Wrestling Crate. We did a couple of virtual panels. We actually had one to kick off the Kickstarter with Shane Helms and Christopher Daniels, and we had Jill Thompson, J Gonzo, Lauren Moran, Michel Mulipola.doing a live art jam while we spoke….you can see the art produced on my IG (Headlockedcomic).
You've got a ton of reward tiers on the Kickstarter for Tales from the Road. How much do the special tiers help in funding a project vs. people just using it to preorder the comic? What levels might our readers be most interested in?
It's a mixture, but the high dollar tiers have certainly helped tremendously. One of the most popular and successful tiers we have is to be drawn into the comic. There are probably a dozen characters in the book that we've created using the likeness of backers. It's one of my favorite things because this book would literally not exist if it wasn't for Kickstarter, so we're rewarding the people who've helped us the most by making them an actual part of this thing they've helped bring to life. For this book, we have a tier where Ed McGuinness will turn your facial likeness into a wrestler, and we debut that character in his/her own pinup. We have similar tiers for Jill Thompson and Lauren Moran, but they're both sold out.
Who's the mystery competitor in the main event at Slammiversary this Saturday?
They've gone out of their way to make you think it will be EC3, which is why I think it won't be. I'm guessing it's going to be Bully Ray, Gallows, and Anderson reforming Aces, and Eights and EC3 makes an appearance post-match to run them off.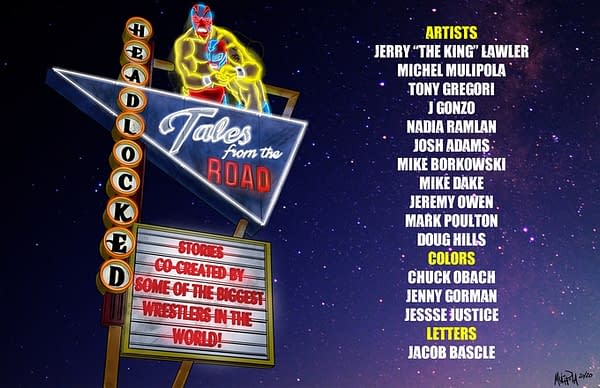 Have you got any other projects in the works? Any progress on getting the Leprechaun comic book license?
A: No luck on Leprechaun yet, but I've managed to stay busy. I mentioned the Pro Wrestling Crate comics before, and they've been fun…I have a really cool collab set for the September Crate. I also wrote a graphic novel prequel to a movie that stars a few prominent wrestlers. The comic hasn't been announced yet, so I can't name the movie, but I'm sure you can figure it out. I co-wrote a horror movie script that we're hoping to film once we resume some semblance of normalcy. And we're also working on a project with a very prominent wrestling podcast, and that story is..ahem…a hoot.
When are we gonna get another volume of the main Headlocked story?
A: I'm writing it right now, so once Tales From The Road is finished, we'll begin production on that…and I gotta tell you, it's wild. I've been waiting to get to this part in the story for at least three years, so I'm really motivated to get it done and out into the world.
---
Check out the Kickstarter for Headlocked: Tales From The Road here.
Enjoyed this article? Share it!