Steve Austin Vs. Ninjas and Nukes in "Six Million Dollar Man" #1 (REVIEW)
If I were in a position to advise anyone on how to adapt The Six Million Dollar Man to a contemporary medium, I would have a few "musts" that absolutely would have to be in place in order for the adaptation to work. Luckily, Dynamite Comics managed to get most of those down without me.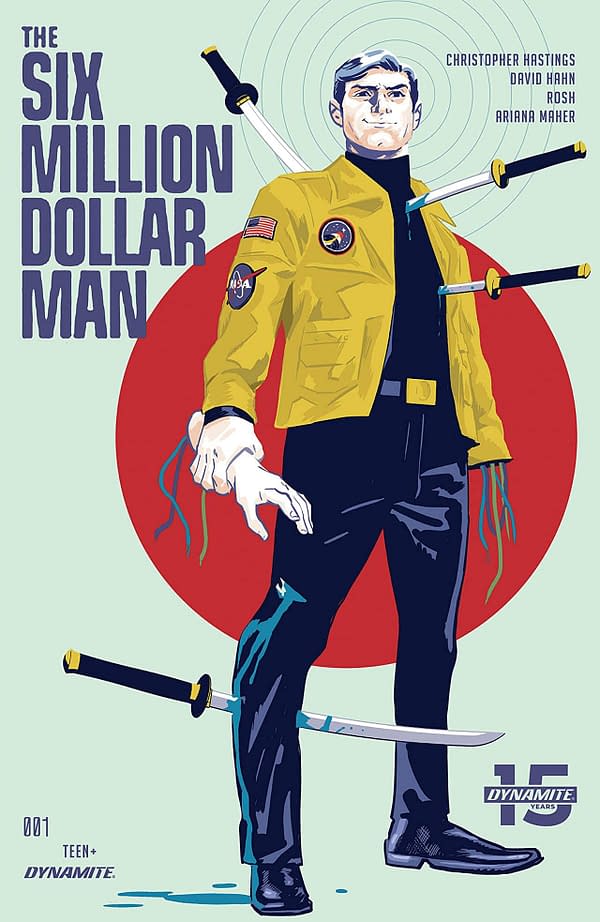 First off, The Six Million Dollar Man needs to be set in the '70s. The story would fall apart in any decade since, and it's a already a plausible stretch for that time frame. We don't know if six million dollars would build a bionic super spy in that era, but it wouldn't even buy a bionic butt cheek right now.
Second, your Six Million Dollar Man reboot would need to have a sense of humor. Whether it's mild humor, or a full blown absurdity fest ala Danger 5, this property is too ridiculous to take seriously.
Third, Patrick Warburton needs to play Steve Austin, whether your adaptation is live action or animated.
I'm happy to say that Dynamite managed to check off two of those requirements, and since it's a comic book you can just pretend Warburton is reading Austin's lines. It works really well, and lifts up some of the less effective parts of the book.
Christopher Hastings delivers a fun, light spirited story, in which Colonel Steve Austin, newly minted cyborg spy, lands in Japan on his first mission. He is met by Agent Niko Abe, who has information on a potential nuclear threat.
Austin is completely full of himself, much to Niko's dismay. He's also something of an oaf (check comedy on the above list), and there's an amusing enough fight between Austin and some ninja's that leads to a pretty dramatic conclusion.
David Hahn's art has a nice, Archie comics-like feeling to it that carries the story well, although I would have loved to see a more 1970's style approach to the art. Is that a failing on Hahn's side? Absolutely not. I just feel like a Hanna-Barbera style would have worked better, but I am seriously being fussy here. The art you see on the cover is about what you're going to see on the inside.
The whole comic feels like a less absurd early issue of Ben Edlund's The Tick, with a wise-cracking moron trying to fight off a legion of ninjas while the truly competent member of the team suffers through the mission. It's a fun read, and I'm definitely intrigued to see where Hastings and company take The Six Million Dollar Man in future issues.
Is The Six Million Dollar Man worth your hard-earned $3.99? That depends. If you're a die-hard fan of the '70s series, you might not like the humorous approach. If you can handle that, then maybe this is for you. This feels like it would be a little more value for your buck as a graphic novel when the series is finished, though.
SUMMARY: Script: Christopher Hastings; Art: David Hahn; Colors: Roshan Kurichiyanil; Letters: Ariana Maher; Editor: Nate Cosby; Publisher: Dynamite Comics; Release Date: March 6, 2019; Cover Price: $3.99; 31 pages.