 It's the comic that everyone expected to be cancelled and yet never was.
It also happened to be repeatedly really, really good.
With a title that spun out of Superior Spider-Man, despite having nothing to to with that book, it continued its Hawkeye-inspired merry way after the main book snapped back to Amazing Spider-Man, telling the mundane, everyday stories of a bunch of Spider-Man's costumed gallery of foes trying to make it through the days.
But all good things come to an end. For November…
THE SUPERIOR FOES OF SPIDER-MAN #17
NICK SPENCER (W) • STEVE LIEBER (A/C)
• This is it! The end! The finale! The big wrapuperoo!!
32 PGS./Rated T+ …$3.99
And of course, artist Steve Lieber was telling the truth… And it seems that New Warriors is also for the chop as well…
NEW WARRIORS #12
CHRISTOPHER YOST (W)
MARCUS TO (A)
Cover by STACEY LEE
• SERIES FINALE! It's been a hard road for the New Warriors, and after fighting the Evolutionaries, and saving the planet once or twice, things reach their shocking conclusion!
• After months of battling, the New Warriors finally find some measure of peace, but will it last?

32 PGS./Rated T+ …$3.99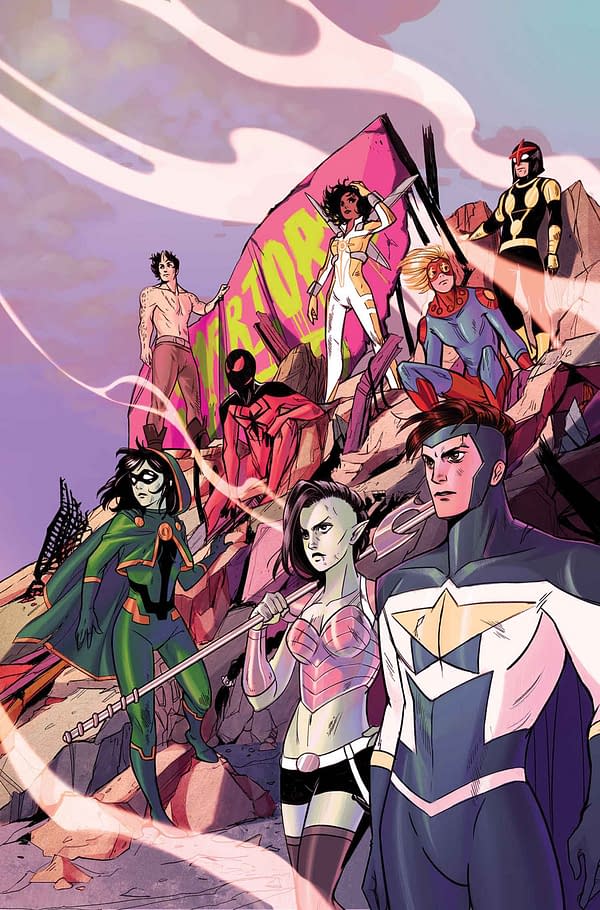 And it looks as is Kyle Higgins and Christopher Yost are off Amazing X-Men, replaced by James Tynion… the ex-Bateditor, now is X-editor Mark Doyle at work there perchance?
AMAZING X-MEN #13
JAMES TYNION IV (W) • JORGE JIMENEZ (A)
Cover by NICK BRADSHAW
ROCKET RACCOON & GROOT VARIANT BY TBA
• Anole's deepest fears are unleashed on the streets of New York City!
• Can Nightcrawler and Northstar break through to him before they rip him apart?
32 PGS./Rated T+ …$3.99
Enjoyed this article? Share it!