Superman #40 Tackles Science vs. Religion – Guess Which Wins? (Spoilers)
Over in today's Green Lanterns #40, Simon Baz was lauding the lack of politics in his recent exploits.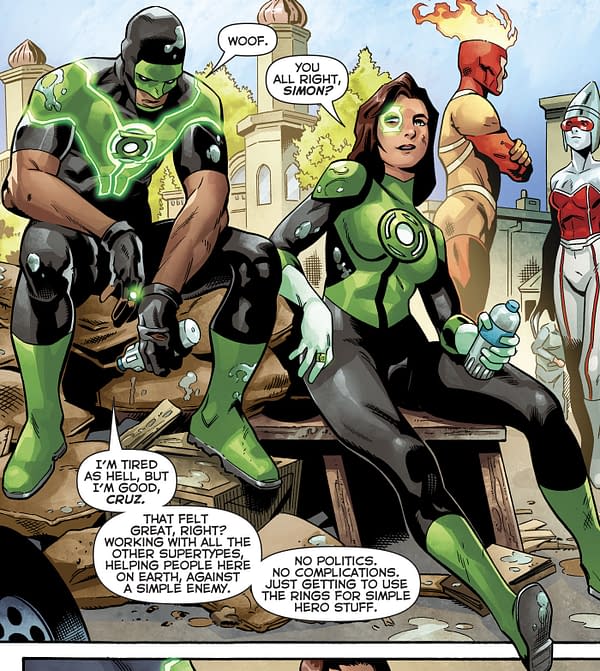 Though in today's Justice League #38, we know how long that lasted, with Jessica Cruz talking to Batman.

Though if they can't keep politics out of superheroes, what about religion? Superman #40 manages to mix both with Superboy, Jonathan Kent, kicking it off in an ironic fashion, as Superman seeks to stop another inhabited planet going the way of Krypton, by invoking a certain god…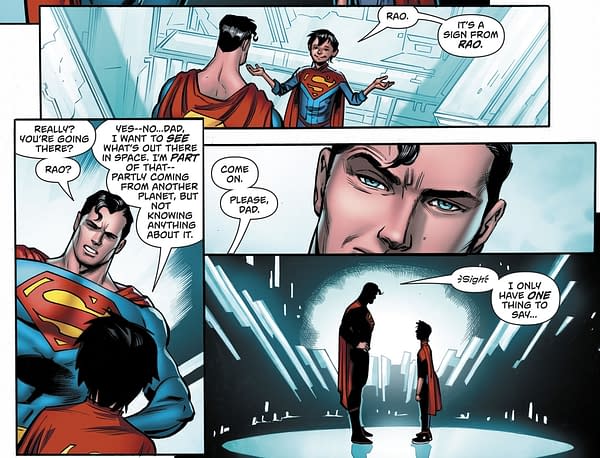 Is it "don't invoke the name of the Krypton god of the sun, Rao, unless you are prepared to undergo some kind of ironic parallel situation to Earth's own battle with climate change, and all the science vs religion-and-business that will bring to the surface"? No? That's a shame.
Because when he meets the alien race in question, it would have saved a lot of time.
But Superman doesn't believe in the prime directive. And thankfully this planet has a Lex Luther.

If this was the movie Don't Be a Menace to South Central While Drinking Your Juice in the Hood someone would be shouting "Message" at this point.
Yup, definitely Luther. And a Science vs. Religion storylines pulled right out of the headlines.
Sorry, Simon Baz.
SUPERMAN #40
(W) James Robinson (A) Doug Mahnke, Jaime Mendoza (CA) Viktor Bogdanovic
"SUICIDE PLANET" part one! Far away in a distant solar system, a world stands on the brink of destruction, much as Krypton did so many years ago. As Superman and son venture off into space to help, an unexpected adversary stops our heroes dead in their tracks: these people wish to die.In Shops: Feb 07, 2018
SRP: $2.99
GREEN LANTERNS #40
(W) Tim Seeley (A) Barnaby Bagenda (CA) Will Conrad
"INHUMAN TRAFFICKING" part one! An unassuming dating app turns dangerous for Earth's Green Lanterns, as heroes looking for love begin to disappear around the world. Jessica Cruz and Simon Baz discover an interplanetary superhuman trafficking network preying on super-powered seekers of love and romance, but with their hearts and heads on the line, these Green Lanterns may need more than willpower to win this fight.In Shops: Feb 07, 2018
SRP: $2.99