Tara Normal – Celebrating 10 Years of Hunting what Haunts You!
Back in 2009 New Jersey based cartoonist Howie Noel began a webcomic about a young woman who investigates, and combats, supernatural threats. Starring the titular Tara Normal, the strip is celebrating its tenth anniversary this year. To commemorate the occasion Noel is producing a new collected edition of all previously available material as well as new bonus pages of content.
Bleeding Cool spoke with Noel about his project, his career, and what fans can expect going forward.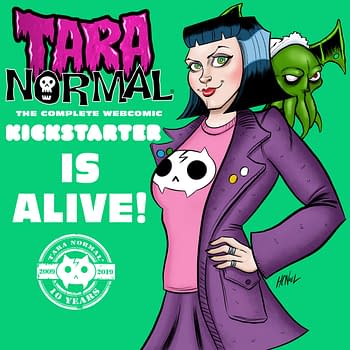 Bleeding Cool: For those not already aware, who is Tara Normal and what can people expect from the comic?
Howie Noel: The webcomic began in April of 2009. It is about a paranormal detective who solves supernatural mysteries with the help of her potato chip loving, interdimensional traveling, best friend, Shadowman. The series covers five large chapters featuring different paranormal mysteries. Villains include Baby Cthulhu, Painbow Fright, and Frankenstein Lawyer.
BC: What inspired you to create her and what drives your passion to stick with it for so long?
HN: This is inspired by all the spooky movies I watched growing up in the 1980s on shows such as Up All Night and Commander USA's Groovie Movies. Tara Normal features creepy stories but told with tons of humor and colorful art.
BC: The book is being crowdfunded (https://www.kickstarter.com/projects/hcnoel/tara-normal-the-complete-webcomic-series). How much of it is already complete and how much would need to be made if the funding goal is met?
HN: The main stories in the 152 pages of the book, that is our main goal are all 100 percent completed. All drawn, inked, colored, and lettered. We're all done! And the bonus pages that I want to add in later as stretch goals are done as well. I may add some surprises in there if we hit a larger, later stretch goal. Part of the reason I do these campaigns is to have copies for the many shows I do so we can make new Tara Normal fans.
BC: Outside of the webcomic, where else has Tara Normal seen print?
HN: Tara Normal has appeared in many forms over her first decade. The series began as a weekly webcomic. Then as a comic strip version that was published in 2010 in every issue of TAPS Paramagazine. In 2012 I wrote a young adult Tara Normal novel about her first case. In 2014 I premiered an ongoing graphic novel series of Tara Normal that follows her in another timeline focusing on her battles with demons and ghosts. That series is darker and more serious, but still fun.
BC: Is the webseries still available online or are the collected editions the only place that fans can locate the works?
HN: The webcomic is returning to my website (https://hcnoel.com/tara-normal-the-webcomic/) with more pages being added on an ongoing basis. The first Tara Normal webcomic story was printed in a handmade edition for New York Comic-Con many years ago.
BC: Is there an overarching story arc for the series or is it more self-contained adventures? What made you end it when you did and do you feel as if the entire story has been told?
HN: Tara's story is a search to discover who she is and why she feels such a connection to the paranormal. Each adventure has an ending but leads into the next story. There is a complete story with this collection and teases a bigger mystery for the entire Tara Normal franchise.
I wanted to complete the story as I felt the 10th anniversary was the right time to go back and finish it. I like having comic stories that end. Tara's story continues in the graphic novel series but this particular version is done. I also wanted to add new pages to the stories so I could flesh out certain scenes. It's satisfying to be able to finish a project.
BC: You're no stranger to crowdfunding. What makes this campaign worthwhile to fans and what makes the experience one you keep returning to?
HN: We have several unique rewards including Tara Normal shirts, the first-ever Tara Normal necklace and a one-of-a-kind autographed art print of Jason Hawes (star of Ghost Nation on Travel Channel and former star of Syfy's Ghost Hunters). We also have a reward that will allow you to go on an actual ghost hunt with me at a haunted location.
I've run three Kickstarters in the past and all have been funded and delivered the rewards including Tara Normal Volume 1, Tara Normal: Season of Evil, and Float: A love story about Anxiety.
BC: You're an avowed fan of artist Greg Capullo, who is currently celebrating the milestone of Spawn #301. As a fellow artist of the macabre, what influence do you draw from his work?
HN: When I saw Issue #39 of Spawn, Greg's art on the cover popped out to me. I recognized similar artistic influences that I loved, like Mort Drucker and Chuck Jones, great artists that not every comic artist draws inspiration from. Greg has been a giant influence since then and I've been fortunate to meet him a few times at shows.
Todd MacFarlane's Spawn inspired me to do independent comics. I want to make my own characters and tell my stories how I want to tell them because of Todd. Drawing maggots and worms though I got from Greg Capullo!
BC: In addition to Tara Normal you're a prolific colorist and you have a semi-autobiographical OGN about your struggles with anxiety. What has it been like to have that personal story out in the world and do you feel you've worked through any issues now that that story has been told?
HN: I'm a freelance illustrator so often I'm working on work for clients or doing caricature gigs. I always have stories running in my head so if I don't make time to write them out and draw them I get upset. I've been fortunate to do coloring for many cool comic books and projects. I got to color the New York Times tribute to Stan Lee after he passed away. Working with Brian Michael Bendis, Bill Walko, and editor and art director George Gustines, was unforgettable. Getting an email from Mr. Bendis saying my coloring work was great is something I'll never forget. It was truly an honor to contribute in any way to something honoring Stan in the Times.
My anxiety graphic memoir Float changed my life. I've made art and stories before that entertained people but Float actually helped people with their own mental health battles. People went and got help after reading the book. It was scary to tell such a personal story but that's the true nature of art. True art should scare the artist as you're doing something new and challenging. I think Float shows what I can do with sequential art. It shows a lot of my illustration abilities that other books and projects can't show because it's not appropriate for each project. And I love that Float combines poetry with comic book art. It's my dream book and I'm forever grateful so many people support that book.
I want to continue to push to broaden the conversation about mental health in this country. I believe discussing generalized anxiety disorder and depression is a great starting point as so many millions of people deal with it everyday. I want others to know they're not alone and I continue to seek ways to get Float in front of a larger audience.
The Tara Normal 10th Anniversary Kickstarter campaign began October 1st and runs for 31 days. Float is available at Noel's online store.
Thanks for Howie Noel for taking the time to discuss his work and career.