Teen Titans #20 Review: More Than Just the "Edgy" Titans
[rwp-review-recap id="0"]
The Teen Titans ambush a sacrificial ritual being performed by Brother Blood and his followers. As this new group of Titans spread out and subdue both Blood and his commune, we are shown how Robin put this team together. We see Damian meet with each member and make the offer that brings them onto his group. We also learn of a mysterious "Other" that has been operating just outside of Robin's view.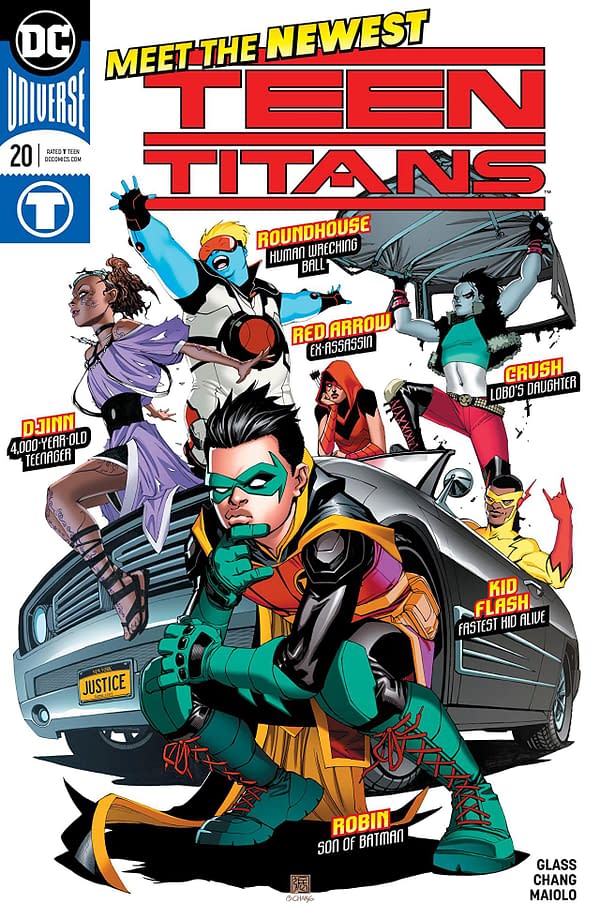 Teen Titans #20 is an energetic and ambitious new start for this book. The team, the attitude, and the methods make for an interesting read.
What is most impressive is how Adam Glass keeps this from feeling simply like an edgy new Teen Titans team. It's more than that; it's genuine disillusionment and a possibly pitch-black path for Damian and company.
Yet, you look at someone like Brother Blood, a man ready to carve up a teenage girl for his macabre beliefs, and you struggle to argue that he doesn't deserve whatever Robin has planned for him.
Kid Flash's representation here does pose something of a weak point in the comic. He's a little too close to the "kids these days" archetype with his references to "ViewTube" and need for selfies and tweets. That's a shame, because I really do like Wallace West.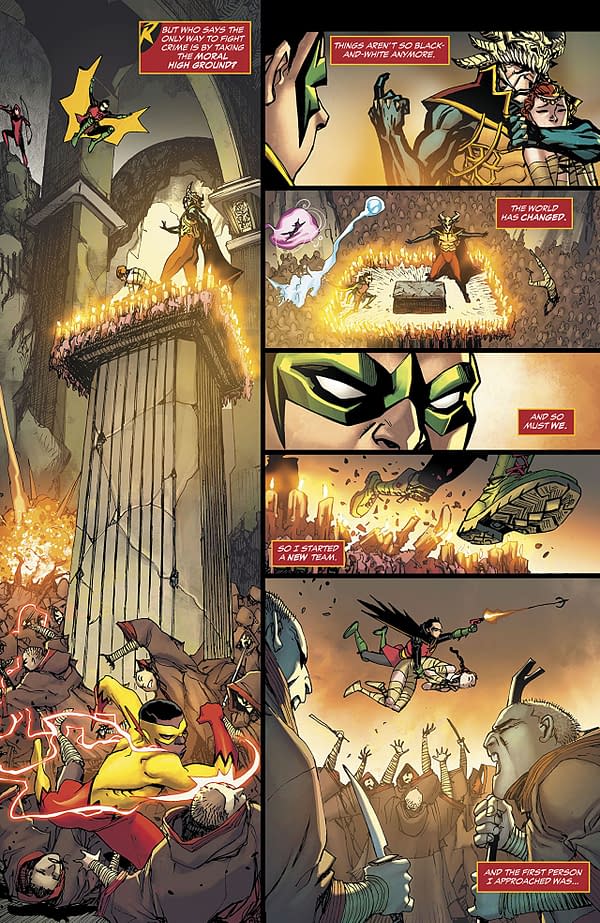 Bernard Chang's artwork is firing on all cylinders in this book. His sleek and lively style is a perfect choice for this new kind of Teen Titans. He does justice to these new character designs as well as the older ones. Brother Blood especially looks pretty fantastic in this issue. Marcelo Maiolo plays to Chang's style and balances the darker and brighter shades as appropriate.
Also, Crush is awesome.
Teen Titans #20 is a genuinely dark turn for this team, and it is handled with the skill necessary to keep it from being the "edgy" Titans. The pacing, tone management, and artwork all work together to make a solid book. This one comes recommended. Check it out.
[rwp-review-ratings id="0"]
[rwp-review-form id="0"]