Terrifics #1 Review: The Fantastic Team We Deserve
Mister Terrific, aka Michael Holt, arrives at Stagg Industries. Simon Stagg, the CEO, has acquired a number of technological prototypes from Holt's now-defunct company. Stagg has also attempted to access to the Dark Multiverse, and this could have disastrous results.
Upon Mister Terrific's arrival, Stagg is immediately hostile. Terrific also sees that Metamorpho, aka Rex Mason, has been chained in front of the portal, raving mad and turned into Nth Metal. Thankfully, Mister Terrific has brought along a little help.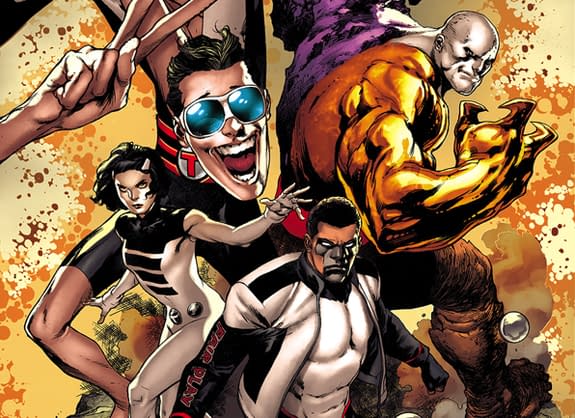 I was really looking forward to this one, and I'm happy to announce that Terrifics #1 is an intriguing first excursion into this new team starring a number of DC greats.
It ties into Metal far more directly than any of the other "New Heroes" titles I've seen so far with the exception of Sideways. It doesn't waste any time getting to the central conflict either. It immediately opens up with Mister Terrific approaching Stagg and finding Metamorpho.
This cast also has me very excited. Mister Terrific, Metamorpho, Plastic Man, and Phantom Girl is an interesting lineup. Plus, it shows that DC is willing to publish a Fantastic Four comic even if Marvel won't.
It does feel like something of a prologue comic, and a lot of time is spent explaining what exactly Stagg is doing. That explanation could have been abbreviated somewhat.
Simon Stagg is behaving a bit out of character here. He's a lot more manic and aggressive than this character usually is. A big part of Stagg's identity is pretending to be the philanthropist while covering for his more illicit experimentation. Plus, he's always been kind to his daughter Sapphire, to whom he is quite cruel in this book.
Ivan Reis' artwork is as strong as ever in this book. Reis is easily among the best artists DC has on tap, and his work remains very appealing in this comic. The characters look imposing and have that air of legendry. Metamorpho has a great look. Joe Prado's inking is good, giving the figures that extra bit of emphasis on the backgrounds. Marcelo Maiolo's color art is very strong in this book too, bringing the visual identity together in an appealing fashion.
Terrifics #1 is a promising start to this Jeff Lemire venture. The team interacts in an interesting manner, the premise is cool, and the artistic team is firing on all cylinders. I can easily recommend this one. Check it out.