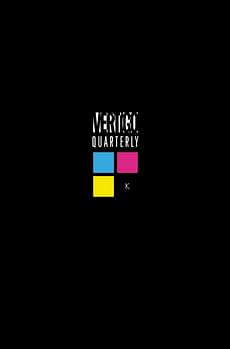 The solicitations for next week's Vertigo Quarterly: Black #1 is listed as being written by Mary H.K. Choi, Francesco Francavilla, Tom King, Jeff Lemire, Steven T. Seagle, Si Spencer and more, and drawn by Francesco Francavilla, John Paul Leon, Jeff Lemire, Will Morris, Fabio Moon and more.
Well, one of those "and more" is Teddy Kristiansen.
He is teaming up with frequent collaborator, Man of Action's Steven T. Seagle, with whom he has created Genius and The Red Diary for Image and It's A Bird and House Of Secrets for DC Comics.
And this time, they have created the comic story Fade…
Seagle told Bleeding Cool, "Vertigo's Executive Editor, Shelly Bond, holds a special place in the hearts of Teddy and me, having been our champion on our House Of Secrets series and Omnibus Edition. She kept asking me when we could come back and do something for Vertigo again, but other commitments are keeping us busy. The CMYK anthology looked to be the perfect opportunity for a reunion, though – a cool theme, eight concise pages, and a color that set an instant mood: black."
Enjoyed this article? Share it!