There's a bad pun in the title, and it was intentional. Terry Moore, creator of Strangers in Paradise, Echo, Rachel Rising and Motor Girl, had a unique sale yesterday morning. It seems that Terry has used a grand total of 30 brushes as an inker in his career. He knows this because he kept them. And decided that it would be a unique collectors item to sell of the brushes (with a nice accompanying card). His plan was to have the sale yesterday morning at 10 am.
And then things went crazy. Seems a whole lot of people wanted these brushes and it created a log jam in the on-line store. All thirty brushes sold quickly, but with the way the on-line store worked, you could put a brush in your cart and then head to checkouts only to find that they were sold out. And since the cart was a queue, may people were left waiting to buy the brush only to finally get to the checkout and discover they were all gone. For Terry's full take on how things went, check out his blog.
The fans were understanding though and Terry has gotten all of the brushes ready to go. Each brush is signed… yes, he signed them… and comes with a certificate of authenticity. The brushes sold for $30 each.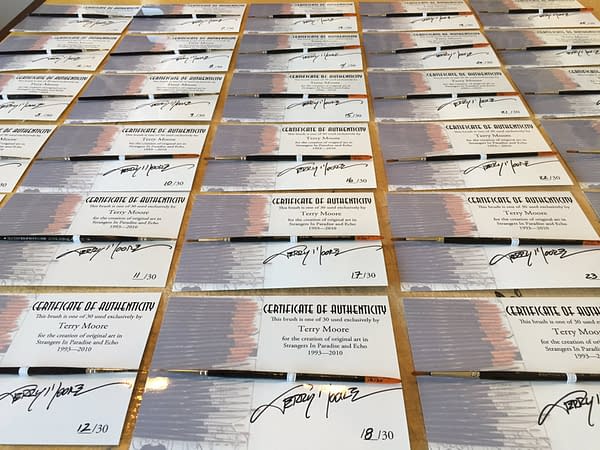 The idea of having the actual tool that one of your favorite creators used to create their books is a pretty cool idea. By they way, all of his 24 years of comics have been drawn with one pencil… but he's not selling that.
Enjoyed this article? Share it!