Thank FOC It's Friday – It's Free Comic FOC Day…
Welcome to Thank FOC It's Friday, a weekly mailing list, similar to The Daily LITG, but every Friday and planned to coincide and cover the demands of Final Order Cut Off. The date when retailers have a last chance to amend their advance orders for comic books without penalty.
A last chance for publishers to promote books while orders can still be added and a time for credits to be amended, new covers to be revealed and a final push given. This is an attempt to sift through them all and find the most relevant items.
You can sign up here or with the form at the bottom.
Now, many retailers will know all this, but some things may slip through even the most diligent retailer's attention. And if nothing else, it may be useful to try for a one-stop shop that may start some thoughts, even if it doesn't finish them.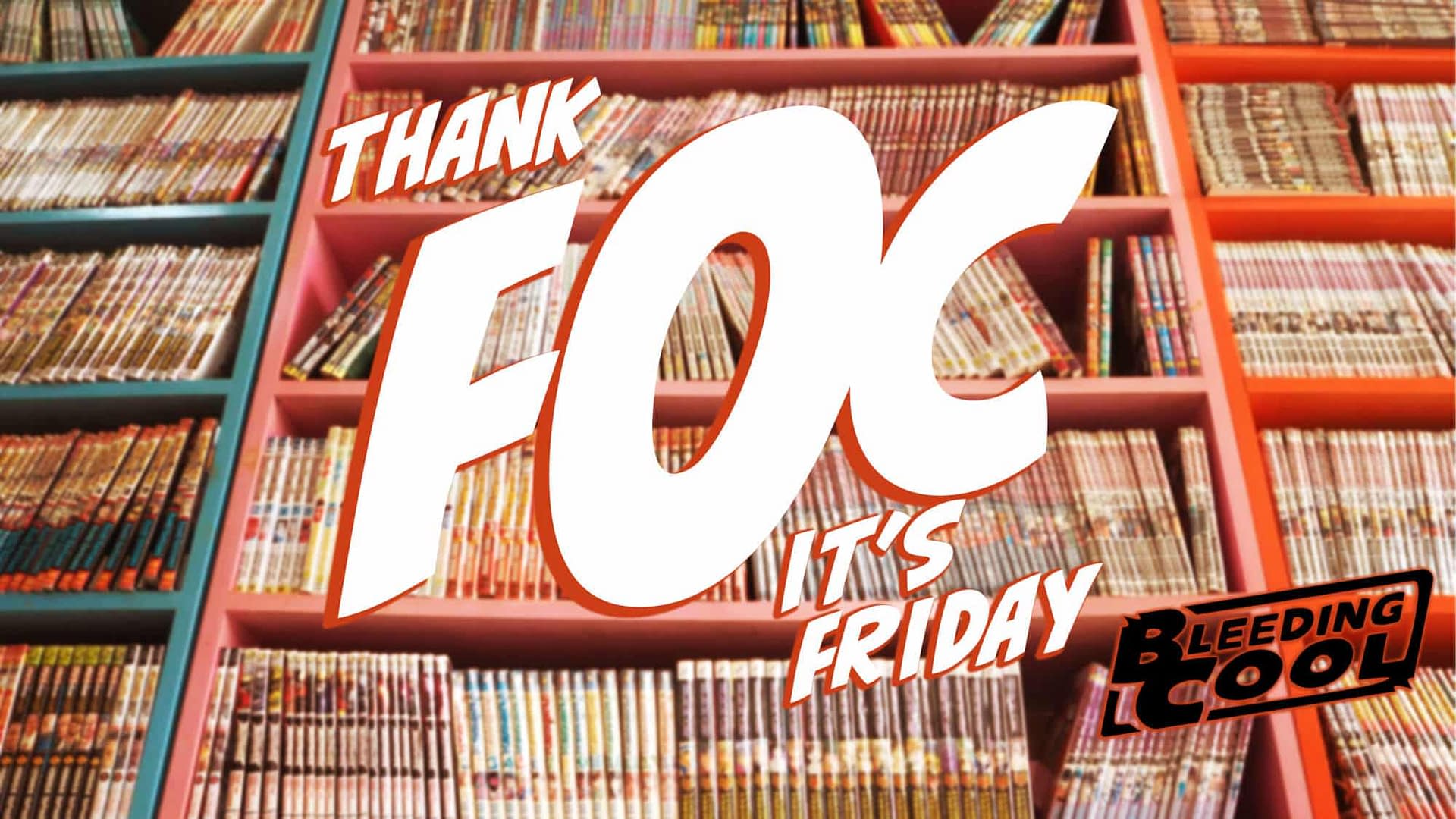 So what's been going on? Well, the big news is that this weekend is the FOC for Free Comic Book Day–every book aside from the Marvel Comics one, yet to be revealed. Bleeding Cool has been running previews for FCBD titles and will continue to do so over the weekend.
DC Comics also revealed their FCBD offerings, previews of upcoming Ink and Zoom titles.
UNDER THE MOON: A CATWOMAN TALE FCBD SPECIAL EDITION (Gold Title)

When fifteen-year-old Selina Kyle becomes homeless, she must confront questions of who she is and who she will become. From New York Times bestselling author Lauren Myracle (ttfn, ttyl) and artist Isaac Goodhart, comes a story about a teenage Catwoman as she struggles to find her own identity while living on the streets of Gotham City. This FCBD special edition features a chapter from DC Ink's upcoming original graphic novel, UNDER THE MOON: A CATWOMAN TALE plus a sneak peek at TEEN TTIANS: RAVEN, another DC Ink graphic novel by New York Times and USA Today bestselling author Kami Garcia and artist Gabriel Picolo.

DEAR JUSTICE LEAGUE FCBD SPECIAL EDITION (Silver Title)

The greatest Super Heroes in the DC universe, the Justice League, answer mail from their biggest fans–kids! Courtesy of Michael Northrop, the New York Times bestselling author of TombQuest, and artist Gustavo Duarte, DC's iconic Super Heroes find time to answer questions both big and small when they are not busy saving the world. Their honest and humorous responses will surprise and delight readers of any age, as it turns out that being a superhero is not too different from being a kid. This FCBD special edition features two chapters starring Superman and Hawkgirl from DC Zoom's upcoming original graphic novel, DEAR JUSTICE LEAGUE.
While retailer-turned-publisher Golden Apple Comics had an added FCBD incentive to order Blastosaurus Free Comic Book Day Annual, so that, for every 15 copies ordered, retailers will receive one free copy of Blastosaurus (from issues #0-#6) to sell as a way to help their fellow retailers to offset their cost of buying the FCBD copies.
Outside of FCBD, there were Detective Comics #1000 exclusive retailer variants popping out which we ran here, here, here, here, here, here, here and here. The Comic Mint destroying copies of their exclusive Detective Comics #1000 to make them more valuable garnered lots of criticism.
But there was a lot of praise for a comic store who kept customers in comics during the Trump Shutdown.
Marvel's Monster Collection of Marvels is shrinking. While everyone is getting God Wheels. And there are eight Marvel retailer variant opportunities to choose from. Will anyone? And can you think of a better name for them than virgin covers?
Morales, Hulk, Blossoms, Young Justice and Naomi get second and third printings… while Guardians Of The Galaxy #2 topped advance reorders.
DC Comics outed Crush this week. We also had a look at some of the Missing Books of DC Comics and followed the appearance and disappearance of Crossed over at MyComicShop.com. Worth keeping an eye on Heavy Metal in the most recent Previews, as their new series Iron Maiden: Legacy of The Beast Vol 2, ties in with their Summer Tour.
And we named The Prince And The Dressmaker by Jen Wang topping the 149 Best-Reviewed Comics Of 2018 List.
Also for FOC, Dynamite has FOC covers for Elvira: Mistress of the Dark #5, tiered to 5 and 15 copies.
IDW has the launch of Dungeons & Dragons: A Darkened Wish, Punks Not Dead: London Calling,
Marvel is launching Age Of Xavier: X-Tremists, Captain Marvel: Braver & Mightier, and Ziggy Pig: Silly Seal.
Buffy The Vampire Slayer #2 is returnable for Boom Guarantee registered retailers, and now includes 2 all-new, open-to-order, virgin art FOC variants by Miguel Mercado following their #TeamSlayer/#TeamVamp program with Giles.
Bone Parish #7 now includes an all-new, open-to-order, virgin art FOC cover by Jakub Rebelka (Judas). Mighty Morphin Power Rangers #30 now includes an all-new, open-to-order, virgin art FOC cover by Miguel Mercado.
And Steven Universe #25 is returnable for registered Boom Guarantee retailers and now also includes an all-new, open-to-order, virgin art FOC cover by Jen Bartel, featuring the first comic appearance of White Diamond.
Action Lab Entertainment is launching Sweetie. Black Mask is launching Nobody Is In Control while Valiant has The Forgotten Queen. All FOC'ing this weekend.
What's on your FOC?
Sign up below and we'll see what Thank FOC It's Friday brings next week…