Max Miller writes for Bleeding Cool:
In the bright, flashy world of webcomics a story where three people have a long conversation in a single hotel room sounds like a hard sell. Shattered With Curve of Horn has been running as a weekly webcomic for nearly a year at www.Artagem.com, and I can tell you nothing has been more rewarding than hearing from readers about how much they connect with the characters. It seems there is room after all for a deeply introspective, tense and uncomfortable conversation as a preamble for the larger dramatic strokes of a story.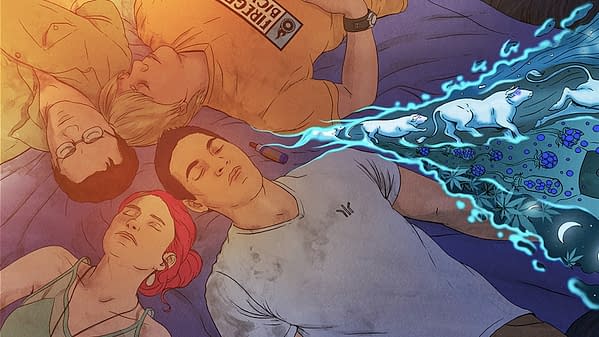 Of course besides the talking there's experimental drugs, shared hallucinogenic dream states, and a mysterious death. But you'd have to read the book to find out more. From the outset I wanted to write a story with certain parameters: a small cast, a limited environment, and a set timeframe. This allowed the story to naturally unfold at a deliberate and cinematic pace. But it's been slow, with an update of two pages a week.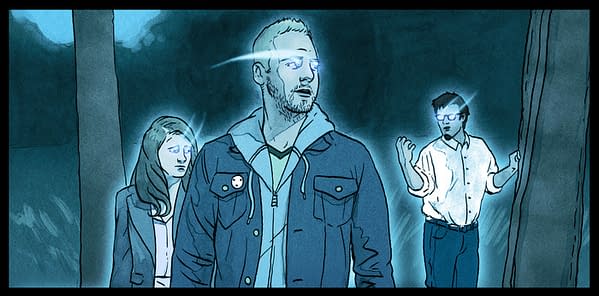 Accordingly Shattered With Curve of Horn's audience has grown slowly. Sometimes I've felt like a secluded hermit, chiseling this tale out of stone tablets; but mostly I've felt like a gardener, watering a tiny seed, conscious of the tree it would grow into. With my Kickstarter (http://kck.st/18hmD7H) now well underway I can firmly say I've started to see that seed sprout. What's even more amazing is how many friends, family, neighbors and strangers have come by to help water this little sprout too.
As a first-time Kickstarter creator I've been overwhelmed by the support of a community of people willing to put up their own money to fund another's creativity. Writing and illustrating a book by oneself can be a lonesome pursuit, especially if you're spending most of your time in your own characters' heads, so it's edifying (and a little scary) to take something that's been painstakingly crafted and set it out into the bright light for everyone to poke and prod. But you know what? People are nice. People want to see good work, and more importantly they want to see good work succeed, even by an unknown. That's the most important lesson I've learned by slotting Shattered With Curve of Horn into the Kickstarter system.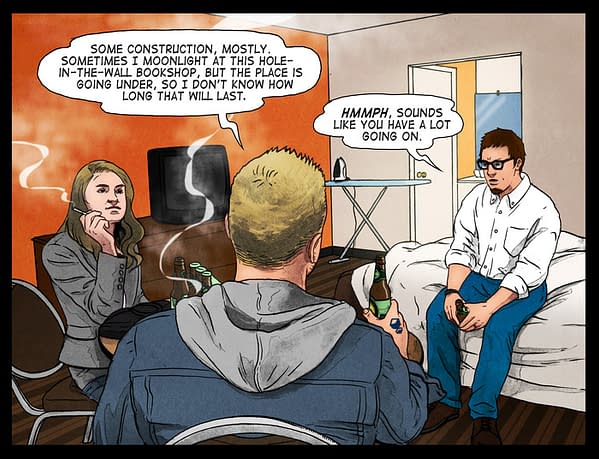 I've completed my work drawing and coloring Shattered With Curve of Horn, and it will only be online for a limited time. A print edition is its natural format, and you can get your hands on a handsome print before the story concludes online by jumping in and supporting the Kickstarter too.
Anybody who pledges at least $20 over the weekend and messages me with the "I'm Bleeding Cool" passphrase, will receive a small "Thank You" sketch and a button with a significant image on it (if you've read any of Shattered With Curve of Horn you'll recognize the button). Currently I'm sitting right at 39%. If we can hit 50% by Monday morning then every contributor above $20 will receive an absolutely free, 6 page minicomic (http://www.artagem.com/2013/09/13/mini-time/).
Additionally I wanted to take a moment to reveal my first stretch goal. My newly completed, 32-page black and white sci-fi comic entitled Greasemonkey. This will be included with every order over $20 if we can reach a $9500 goal by the end of the Kickstarter funding period!
Enjoyed this article? Share it!