The Bleeding Cool Top 100 Power List 2018 Countdown: #55-51
This is where it all goes kablooey.
Every year, Bleeding Cool runs its Top 100 Power List of members of the comics industry. And every year we get told how wrong we are. Somehow, it's always for completely different reasons and from completely different directions. Why was X in when Y was not? Why is Z is high when W is so low? And neither U or T should be on this list after that incident involving V… and condemning us for being either infested with SJW virtue signalling or providing platforms for fascists – and sometimes simultaneously. Man, I don't know how Time Magazine manages.
But that's part of the process. This attempt to list the most powerful people working in the English-speaking comic book marketplace is, of course, flawed. It is judged by all manner of attributes, the ability to influence what comics exist and sell, but also the willingness to use that power in the industry to affect things, and the ability to retain said power if a job is taken away. Which is why you will see a number of people on a higher spot than their bosses.
The Power List rewards those who combine roles, creator, publisher, distributor, retailers, those who are double and triple threats, and also where power is concentrated in one person rather than being spread out among many. Some powerful organisations or groups, where power is diffused amongst several individuals, may drop down or drop out altogether.
It does not measure talent or likeability, respect or fairness, and it does not intend to represent diversity or balance. All it does is note power, used for betterment — or detriment — in the English speaking comic book world.
The list was created in consultation with a number of senior figures in the comics industry, and I thank them for their help. Although because they all disagree, they'll all think the final list is wrong, too.
If you really hate this list, then do the obvious thing. Write your own. Otherwise, watch for new batches every day…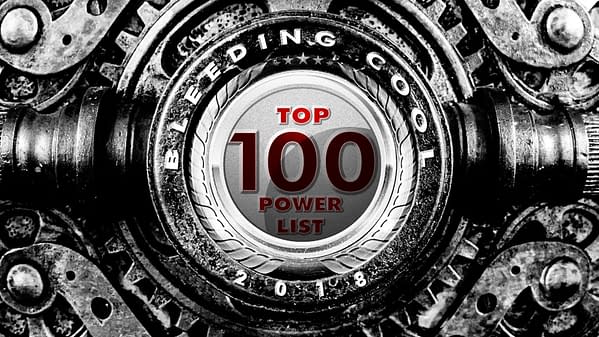 51. Rick Remender. Writer and co-creator of Deadly Class, Black Science, Low, Deadly Class, Tokyo Ghost and more from Image Comics, he has shown a strong ability to get the best talents, strong sales and backed by media deals that will push his prominence even further. If you are looking for the next Mark Millar, with slightly less sexual assault (in the comics), here's your man.

52. Chris Powell. Retailer turned VP Retailer Services at Diamond Comic Distributors, Chris Powell has spearheaded a number of initiatives in the comics distribution industry, encouraging and incentivising retailers to launch new stores or expand, by persuading publishers to offer them very attractive terms. When you see a store opening another location, this was down to him making it at attractive an option as possible and helps him run the Red Queen's Race against the decline of print and comic stores closing. He also pushes increased technology into stores allowing them to monitor stock and increase it where needed.
53. Gail Simone. Leading comic book writer, advisor, social media presence and whose Women In Refrigerators continues to impact all over the place, Simone has also become showrunner of the Lion Forge line of superhero comic books. With a massive social media following and an uncompromising attitude, Simone always brings a lot to the party.
54. Ta-Nehisi Coates. Writer of Black Panther, as well as a literary activist, he has brought attention to this comic alongside the release of the movie, and has created a small but new fanbase for Marvel comic books. His work on Captain America
55. Jeff Krelitz. The man who holds the keys to Heavy Metal Magazine, and licenses heavy metal bands for comic book lines. Combined that gives him the biggest lines at Comic-Con and can bat above his weight when recruiting talent. Who else would Grant Morrison have said yes to be EIC of, aside from Heavy Metal? He has monetized one of the best pools of brand good feeling among comic book creators.
See you tomorrow, if I survive the combination of hate from people angry for saying what I said, and from others for saying anything at all. Happy Christmas one and all.. And keep up with this handy-dandy Top 100 Power List tag.