William Christensen of Avatar Press addressed a lively full room on Saturday night to talk about a "nasty little ditty we do" called Crossed. To applause, of course. Christensen jumped right in regarding the announcement that Alan Moore will be writing Crossed +100 in December.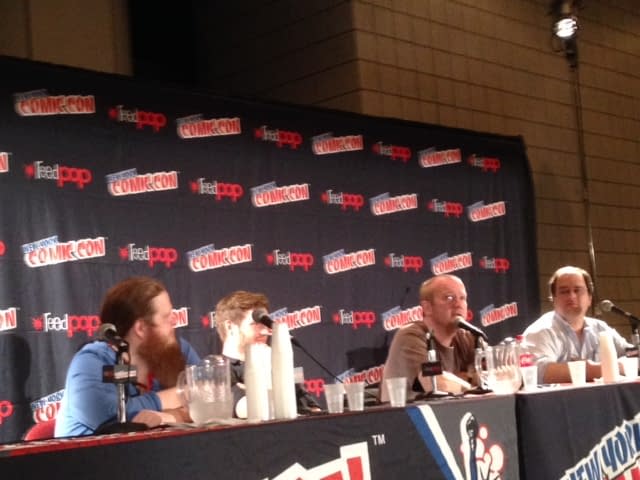 Garth Ennis said, "I think this Moore chap has a little talent", to applause. Moore's work on Crossed began with reading Crossed and talking to Ennis about it. Initially it was a little extreme for Moore, but reading further, he started to ask questions about it. Christensen and Ennis gradually began to realize that Moore wanted to write it.
Avatar has recently wrapped up Crossed: Wish You Were Here by Simon Spurrier. Spurrier discussed his autobiographical self-inclusion in the Crossed storyline that's "all about the slow burn", now collected in 4 volumes in trade after running as a free webcomic.
A more recent author added to Crossed is Justin Jordan, Christensen introduced. He did a 6 issue arc after Garth Ennis' #50-55 and recently did a Crossed special. Jordan said his recent special is set in a prison because the idea of being locked in an enclosed space was particularly dramatic and enjoyed writing a story in "one chunk". Christensen it's a great example of how to do "one powerful issue" in a small environment, which is difficult to pull off. William Christensen announced Kieron Gillen will be returning to Crossed with #75 onward and they are "thrilled to have him aboard". Normally every 25 issues, Garth Ennis returns, but now Ennis will be doing a double-long arc starting with #100. It will be a sequel to Fatal Englishman and completes a "trilogy". It's the first time Ennis has felt that he has legitimately gone "too far" with this arc called "Once a Warrior King". Gillen's book is going to move further into the past in relationship to Moore's comic that moves further into the future.
Kieron Gillen joined the panel to talk about the history of human population in history, and how few breeding pairs have been present at certain points to keep the species going. Gillen postulates a Crossed story wherein there have been plagues far back in human history that have nearly wiped out the population, and that a Crossed outbreak may have been responsible. His story will move between events 70,000 years ago and a more current time researching this possibility.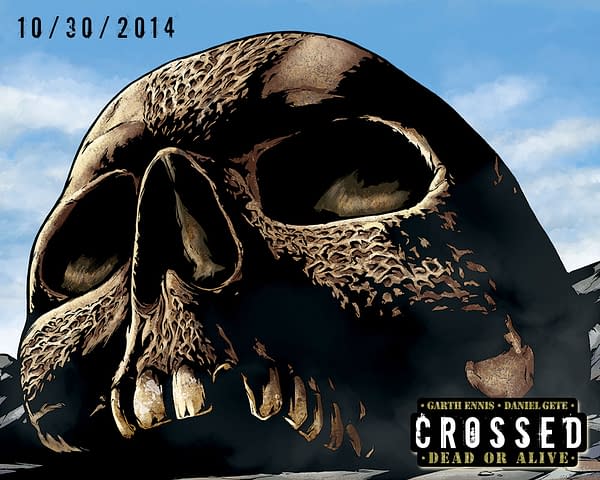 William Christensen announced at NYCC on Saturday night that the Garth Ennis created webcomic coming October 30th entitled Dead or Alive will also be part of a series of filmed live action webisodes directed by Ennis. The comic will run over 12 weeks starting October 30th, running 12 Thursdays in a row except for Christmas.
On the back of that they'll be doing fundraising for the webisodes. The funding will be gathered through Avatar Press's own infrastructure rather than through a site like Kickstarter. Rather than a system of donation, there will be paid tiers that result in specific products. Buying from the tiers will support the filming of the webisodes and all items will ship by December. Since it take so long to make a filmed series, rewards won't be delayed until after production. It will be "exactly what Garth wants" in terms of content and direction.
As the funds start coming in, pieces will be put together on professional budgets for large-scale scenes and special effects teams. There will be an ongoing multi-month fundraiser, Christensen said. Unlike Kickstarter, there won't be a limiting goal to reach before moving forward. It'll take some time, he said, and their initial goal is $100,000 for Season One. They are hoping to surpass the goal and put the extra money into higher production quality. They want to develop 3 or 4 seasons of webisodes that then move into a Feature Film. Ennis reportedly already has the Feature Film script written for Crossed. PR will be forthcoming about these plans.
An audience member asked how Christensen has been able to become successful with Avatar Press and he described taking the "path of greatest resistence" along with an "awful lot of fans" who have come along on the ride and supported his vision. When the fan asked how Christensen managed to recruit such stellar talent and Garth Ennis chimed in to tell the story of Christensen approaching Warren Ellis some years ago and offering to publish what he had, supply an artist and support the book. By making good on promises, Ennis said, Christensen has built up Avatar. Ennis said this is the "tip of the iceberg" for Avatar Press with amazing things coming in the future.
When the panelists were asked what their favorite Crossed character is, Gillen, like others said "Shaky" and quite likes Spurrier in fictional form. Justin Jordan, like Christensen, said "Horsecock".
A fan asked if in Alan Moore's Crossed +100 story we are going to get to see Crossed societies at last. Will we see the "Super Crossed", all at once, he asked?
Christensen said that "Alan is taking all the threads that everyone has ever created in Crossed and taking them to their logical conclusion. The Crossed we see in this story have clearly changed by this time, but how, when, where and why" we will have to wait to see.
Spurrier commented, based on his knowledge of the upcoming story, that Moore's vision helps answer the question of how the Crossed have possibly survived so long.
A fan asked how they will handle the casting on the Dead or Alive webisodes and Christensen said that they are not looking for major stars, but if the budget allows, they may get bigger names. As the project gains momentum, they are likely to have celebrity fan support, Christensen postulated.
A fan asked if Christensen feels that Avatar gets a lot of loyalty from employees and fans based on personal feeling. Christensen that Avatar is built on his "friends" and a lot of personal connection.
A fan asked if Crossed might ever cross over with the Bible due to Biblical apocalypses. Gillen said he initially thought of doing a story set in the crusades but it didn't work out. Christensen said there will never be a "Crossed crossover". Ennis said that in the "Fatal Englishman" arc, the leader of the SAS patrol, Harry, postulates that the way that the Crossed act is close to a form of religious hysteria, granting them the rights to do anything they wish.
A fan asked if the Crossed webisodes will be NC17 and Christensen responded firmly, "No it won't be rated at all because it's webisodes. And rating would be part of a system. And Fuck the system!" to loud applause.
Regarding extremity in Crossed, Spurrier said he has a purpose in the extremity, putting it up front in a comic and making readers giggle, then question their humor reaction to extreme violence and imagery.
When fans asked whether Moore is a fan of other of Ennis' work, Ennis credited Moore with his entire career trajectory in comics, since Moore's work kept him from giving up on comics as a teen. Moore is a fan of Rover Red Charlie, Ennis said. Moore has commented on Ennis's Crossed, he found it "one of the most profoundly moral things he'd ever read", and that led to Moore's writing Crossed.
Enjoyed this article? Share it!