Welcome to the pretty-much-mostly-daily Lying In The Gutters. A run around the day before and the day ahead. You can sign up to receive it as an e-mail here.
The 10 most-read stories yesterday
What's happening today?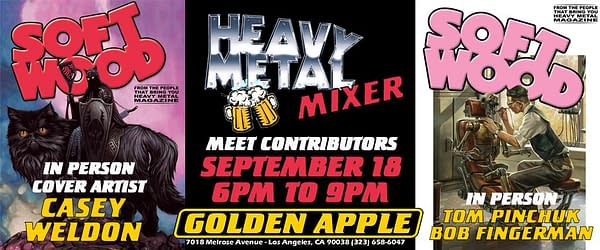 Heavy Metal mixer for Soft Wood #1 – Golden Apple Comics, Los Angeles, California, 6-9pm.
Raina Telgemeier appears in conversation with Jerry Craft at Greenlight Bookstore, Brooklyn. New York, 6:30pm.
Andrew Maclean, creator of Head Lopper and ApocalyptiGirl, at Paper Asylum, Beverly, Massachusetts
Mae Vol. 2 premiere with Gene Ha, Chimera's Comics, La Grange, Illinois. 4-7pm.
Fairlady writer Brian Schirmer signing at Brian's Comics, Petaluma, California, 11-1pm.
Simon Says signing at Odin and Sons: Comics and Collectibles, Savannah, Georgia, 3-6pm.
Mario Mytch signing at Speeding Bullet Comics, Norman, Oklahoma, 3-5pm.
A happy birthday to…
William Schanes, founder of Pacific Comics, former VP Purchasing at Diamond Comic Distributors.
Stephen Sadowski, artist on JSA, Fables, Red Sonja.
Grant Perkins, artist on WWE Kids.
Chris Noeth, artist on Tales From The Crypt
William Stout , artist for Heavy Metal, Cadiallacs & Dinosaurs, Alien Pig Farm 3000.
Schimerys Baal, comic book colourist.
Dan Davis, artist on Crankshaft and Garfield.
Brian Garvey, comic book inker.
And a year ago…
Subscribe to our LitG Daily Mailing List
Enjoyed this article? Share it!