The Dead Hand #5 Review: More Cold War Intrigue and Danger
[rwp-review-recap id="0"]
Harriet has come face-to-face with Roger, aka the Dead Hand. Roger panics, but Carter calms him as best as possible. Carter and Renae get her out of the room, but Roger wants to talk to Harriet again soon. Carter and Renae are now forced to explain what the Dead Hand and what Mountainview really are to Harriet. However, the council informs Carter that Ellis and Vil are on their way to Mountainview.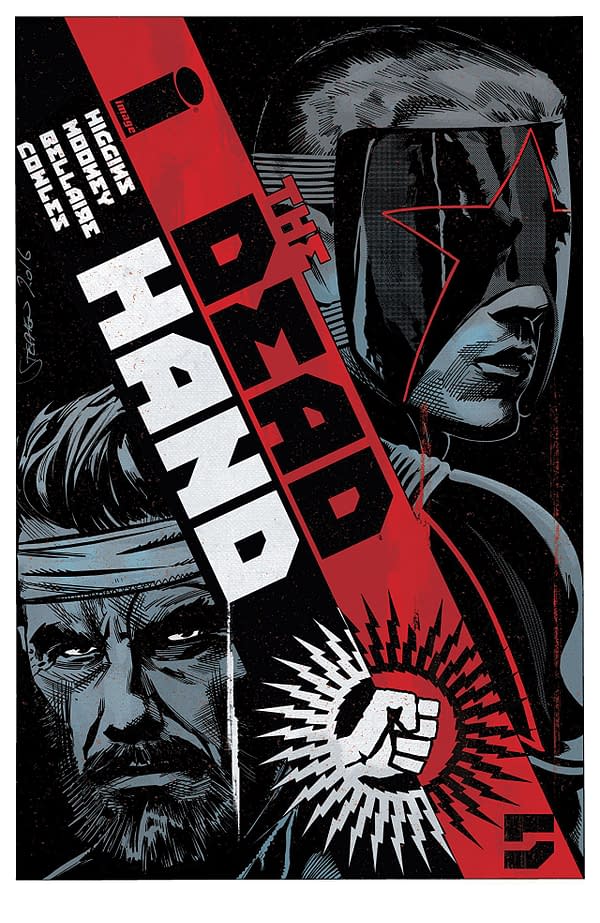 The Dead Hand #5 gives a more in-depth look at Roger, his creation, and what he was intended to do. It serves as a solid allegory for the last few years of the Cold War; the USSR was running out of money but still trying to create practical doomsday weapons and few remaining resources to sustain what they've made. In this case, the doomsday weapon was the Dead Hand.
That backstory is the bulk of this issue, being bookended by Harriet discovering Roger and the council telling Carter and Renae about Ellis and Vil.
I've yet to mention how clever it is that we get the POV from Roger as well as the real-world look at the same interaction. It allows the reader to understand Roger and even sympathize with the AI.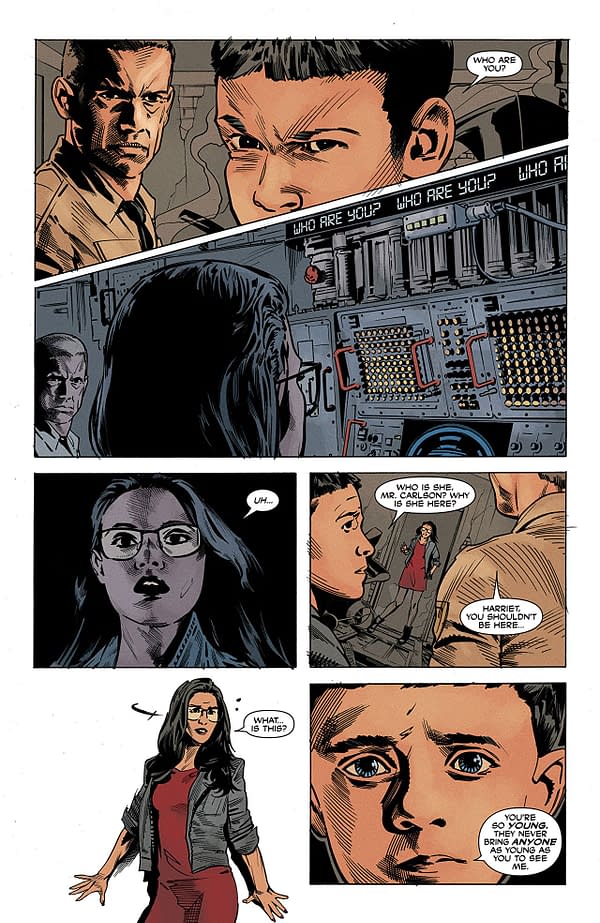 Stephen Mooney's artwork remains impressive in his ability to both craft a fleshed-out world and give it a gritty and foreboding texture. The stylism that goes into the flashback sequences is quite stunning too. Jordie Bellaire compliments this with an appealingly grim color palette that switches to a blood red in the flashback scenes.
The Dead Hand #5 provides an intriguing backstory for Mountainview while ramping up the tension on the Ellis and Vil front. It's another damn good issue from Kyle Higgins, Stephen Mooney, and Jordie Bellaire and well worth a recommendation. Check it out.
[rwp-review-ratings id="0"]
[rwp-review-form id="0"]