The Flash #32 Review: Problems In the Jailhouse
[rwp-review-recap id="0"] The Flash is managing to gain control of his Negative Speed Force abilities with the help of Kid Flash, aka Wally West. However, their relationship outside of the superheroing is still strained, and, worse yet, Barry Allen is starting a job as a CSI in Iron Heights.
The warden is a hard-ass who believes his inmates are scum of the Earth, and Barry's partner, Kristen, still doesn't like him.
Meanwhile, some unnerving moves are being made in the Central City underworld.
This slightly upwards turn in the Flash's world, at least in relation to his powers, is a welcome change. The new job in Iron Heights does promise some interesting things on the horizon in the plot. However, there is an uncomfortable moment when Barry, Kristen, and the warden are discussing the latter's methods.
Kristen calls the warden out on his abuse of the inmates, such as letting them openly fight instead of intervening and his use of heavily armed guards with borderline torture devices to keep prisoners in line. Surprisingly, Barry takes the warden's side.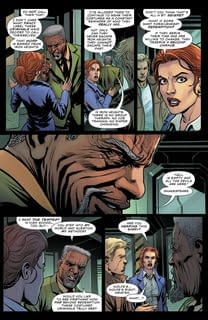 Make no mistake, what the warden does to the inmates is wrong and reminiscent of some real-world prisons. I'm given the impression that Barry is doing this in an attempt to keep the peace as well as his job, but it isn't the most heroic moment of Barry's career. Kristen is in the right, and Barry leaves her to flounder before the warden.
Beyond that, the comic's acknowledgement of these problems and that the warden is a bit of a psycho does help the comic maintain some depth and nuance. The warden also has an interesting policy on the Rogue's costumes which I wasn't expecting. He lets them keep them.
There is also a change of artist with the addition of Christian Duce. His style is a bit more detailed while maintaining that kinetic energy needed for a Flash comic book, and it's a great change of pace for the Flash comic. Ivan Plascencia's color work is top-notch too.
Despite that one major flaw, Flash #32 begins a promising new arc for the Scarlet Speedster. Barry is mostly as lovable as ever, and the changes with his Negative Speed Force powers are interesting. This one gets a recommendation. Give it a read.
[rwp-review-ratings id="0"]
[rwp-review-form id="0"]