The Full Back-Up Story From Cougar And Cub #1 Nick Marino writes,
The deadly FOC looms over Cougar and Cub #1! Our delectable duo are set to make their debut courtesy of Action Lab in January 2017. With the deadline to order our first issue approaching like a speeding bullet on Mon Dec 12, we want to give Bleeding Cool an exclusive chance to share the backup story from our first issue. This suspenseful mini-tale is written by Rosie Knight, formerly a retailer extraordinaire at London's Orbital Comics. The shop was an incredible resource for researching generations of comic books as inspiration for our Cougar and Cub backups. (Plus, it's where Daniel and I met Rosie during our Holy F*cked signing last February!)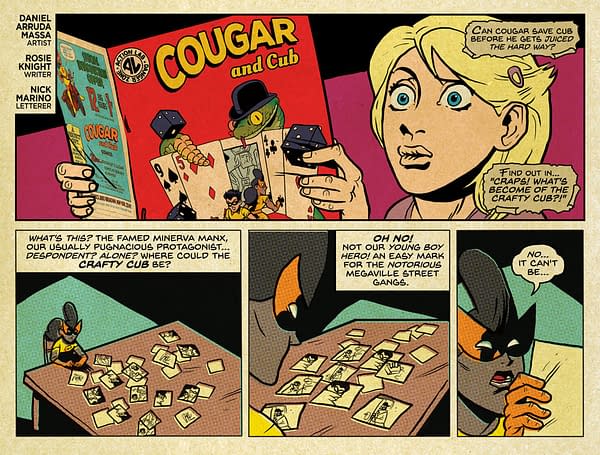 Each backup story takes place in a different era of comics. This first one focuses on the superhero comics of the golden age and Daniel Arruda Massa really made the most of this opportunity to take our heroes into the past. Plus, it begins with a timeless meta *cough*Watchmen*cough* setup that establishes the entirety of the five backups you'll see in our miniseries! To cap it off, we've got a Flashback variant cover that's ripped from the pages of our story. So, yeah, basically we're psyched about this book and this backup and we can't wait for everyone to have it in their grubby lil mitts in the new year.