Posted in: Comics, Marvel Comics | Tagged: marvel, punisher
---
The Future Of The Punisher At Marvel Comics (Very Big Spoilers)
Bleeding Cool has covered criticism of the use of the Punisher skull by police, army, militia, white supremacists, QAnon, and Sean Hannity.
---
Bleeding Cool has covered increasing criticism of the use of the Punisher skull by police, army, militia, white supremacist groups, QAnon events, and Sean Hannity on Fox News, even Trump Punisher pins have been popular. And then during the January 6th Insurrection at the Capitol building in Washington, many Punisher skull insignias were seen. This also followed Black Lives Matter protests and a focus on real and fictional police behaviour, including the use of Punisher imagery by the police. Amidst calls for Marvel and Disney to cancel The Punisher as a character, Bleeding Cool observed that this may have happened already and that there had been no published or solicited Punisher comic books since November 2020. There was a collection of Punisher Vs Barracuda – but that series was never completed. It was initially postponed by the pandemic but then abandoned altogether, despite completed issues having been completed. In July last year, Bleeding Cool ran the news that Jason Aaron was to reinvent The Punisher for a new age, adding the headline story "Jesus Saiz and Paul Azaceta Join Jason Aaron on Punisher No More". Then we ran the official news that Jason Aaron, Jesus Saiz, and Paul Azaceta are indeed launching a new Punisher series in March 2022. And the Punisher as featured seemed to be sporting a different skull. One that Marvel has trademarked.
During the series, we have seen that The Punisher has allied with The Hand, to use them as a tool to take down the worst people in the world. While the Hand is using The Punisher to be its Fist, for as yet unseen purposes. It has also been revealed that The Hand were keeping an eye on Frank Castle long before he went to war and long before he became the Punisher. Because even as a child, Frank Castle was committing such works of lethal justice in his neighbourhood.
In order to acquire his services, The Hand brought back his wife Maria Castle from the dead, though her return seems to have spaced her out. And they couldn't bring back the kids. It was the moment in Central Park when his family were gunned down by crossfire of warring gangs that was meant to be the moment of inception for The Punisher, though his role in Vietnam and now as a child has also been brought into play.
We have seen both Frank and Maria looking back at their lives before that fateful moment, and how Frank Castle had already become distant and destructive, playing the part of a devoted family man, while revealing this was little more than a front, he was a psychopath who had created his own theatre. Then, while the superheroes were trying to exorcise Frank Castle from the influence of The Hand, it is Maria Castle who tells the reader that they are looking in entirely the wrong place. Frank Castle was always like this. They were the Walking Dead, playing their part in a world which had abandoned them. And in those moments before the massacre that lit the fuse that was the Punisher…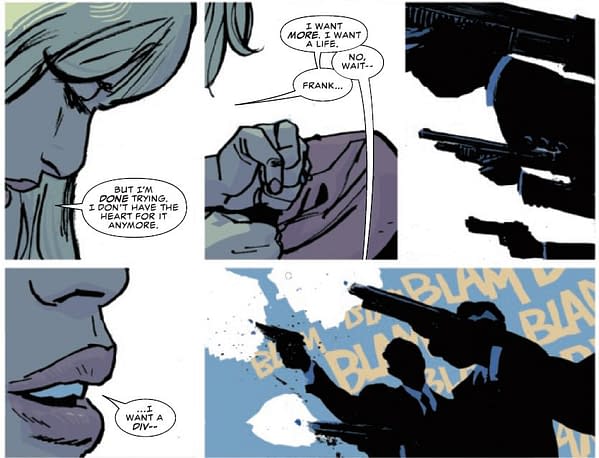 …the realisation is that this may have always been an excuse. The Punisher, was always there. he was already doing the very things he would one day be famed for, just without the Skull on his shirt. And maybe, just maybe, it was a different sense of loss that Frank Castle had experienced that day. He had lost the game of life. And for a psychopath, that's all it can be seen as, a series of checkboxes, ticks on a list, accomplishments unlocked, trophies on a wall. And just as Maria Castle wanted to be done by Frank Castle, denied the chance to win her back by the gunmen who were "coincidentally" there… though no doubt, this will be revealed to have been a deliberate act by The Hand to give Frank Castle the push into the Punisher, for Frank maybe it's been a different delusion, a different battle, a different struggle he has been fighting all these years. Anything to blot out his wife's final words.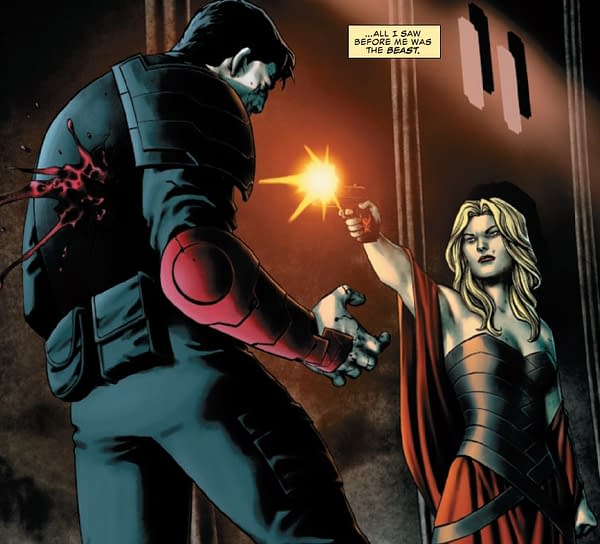 And now it's her turn to strike back for herself. Seize the agenda. Put the dog down. Is it possible that the title of this series, Punisher, rather than The Punisher, was meant to refer to Maria Castle? For punishing Frank Castle? And what comes next? But The Hand is not done with The Punisher. This version has failed, they can always bring back another. So in tomorrow's Punisher #12, that's exactly where they go.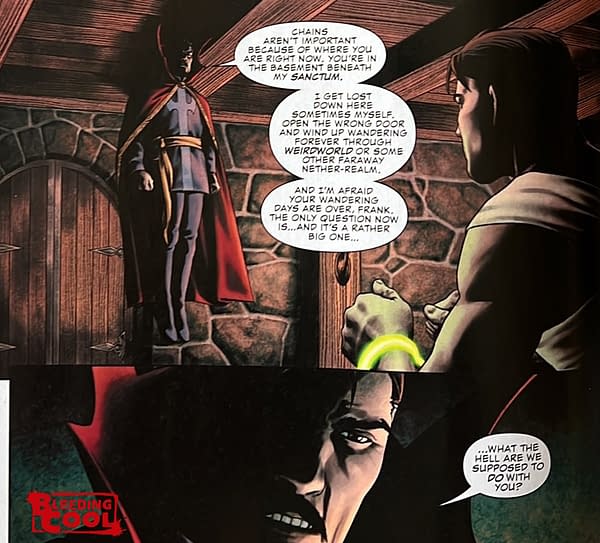 As Doctor Strange has managed to kidnap the Punisher from The Hand, though at a loss what to do next.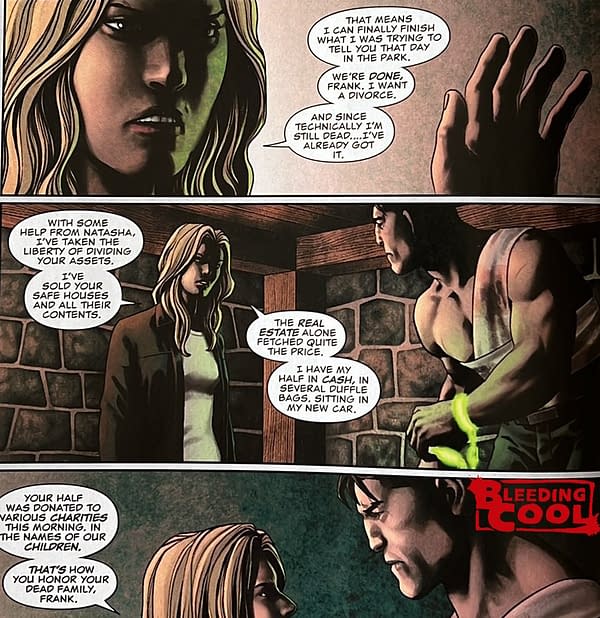 While Maria Castle hasn't changed her decision despite the decades between those two moments. And she is both destroying him, and raising him up in his own way. But Doctor Strange has a history of how to deal with a monster. Remember Hulk #300?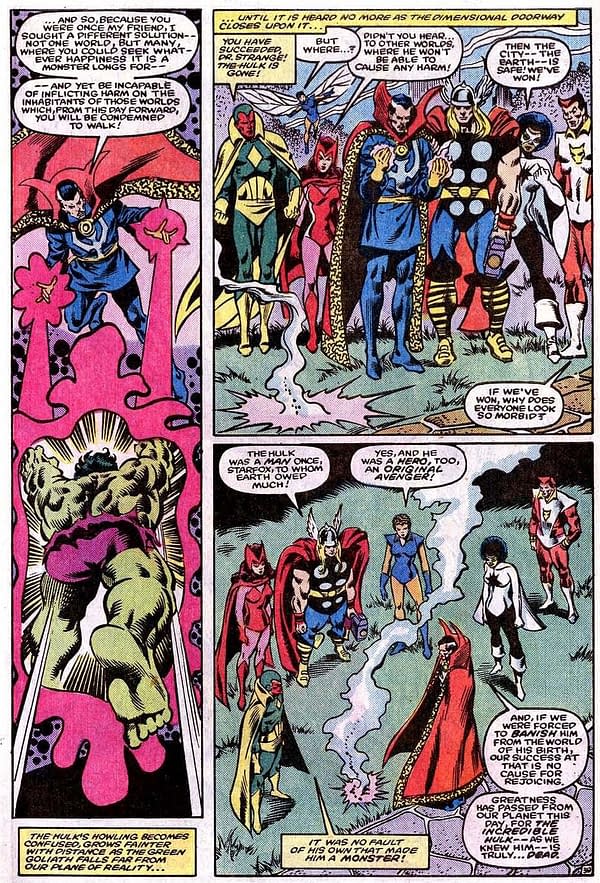 Reprised for Plameyt Hulk and the Illuminati?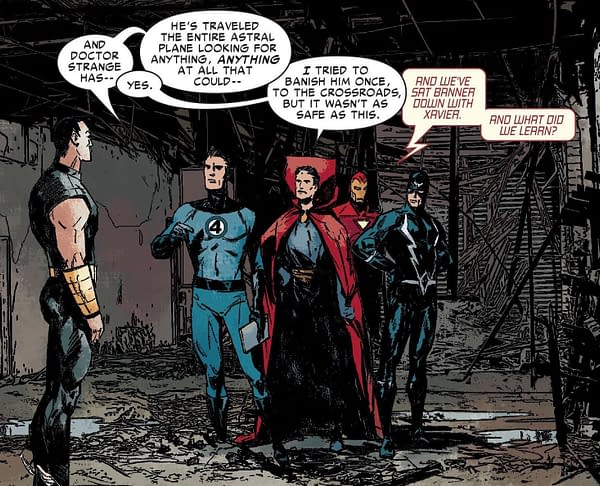 Doctor Strange does like to banish people somewhere far away where they can't do any harm. And maybe find redemption. And so to the Punisher…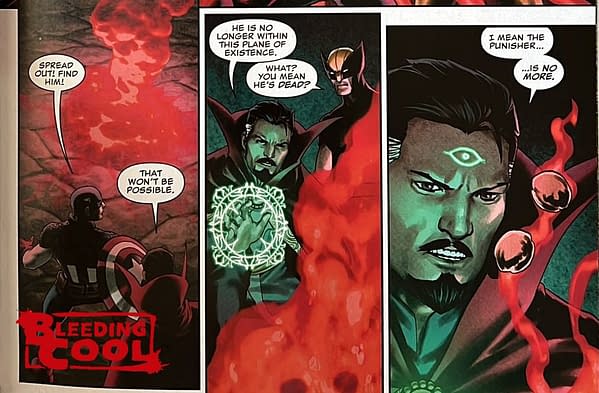 He's gone, from the Earth. Forever? We'll see. And he's chosen new name in his new role.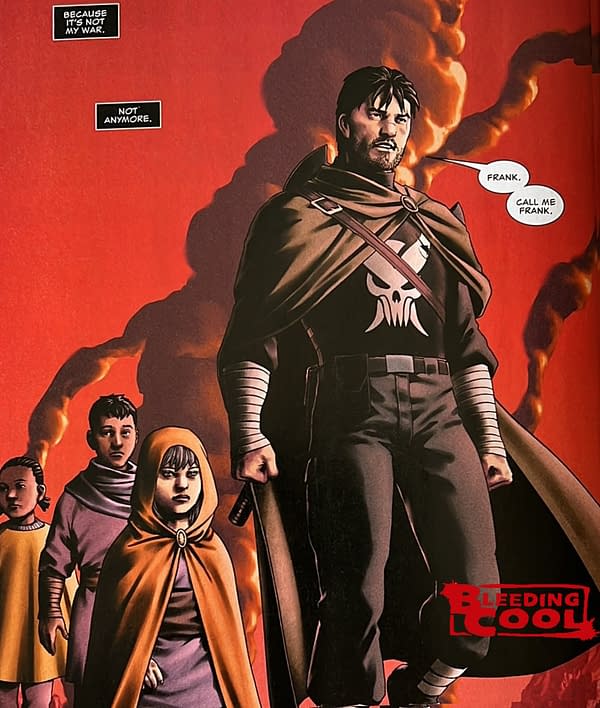 Frank Castle is in Weirfdworld, a Protector not a Punisher. And with new kids to look after. No longer the gun-toting agent of justice, Frank Castle has a new purpose. Maybe he can put himself back together… could that be the weirdest thing of all? Plenty more to be revealed in Punisher #12, out tomorrow…
PUNISHER #12
MARVEL COMICS
MAR230875
(W) Jason Aaron (A/CA) Jesus Saiz
PUNISHER… NO MORE.
Rated T+In Shops: May 31, 2023
SRP: $4.99
---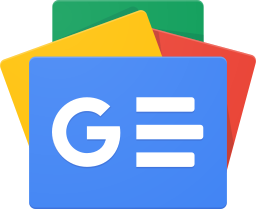 Stay up-to-date and support the site by following Bleeding Cool on Google News today!