The Grey-Haired Superman Conspiracy, Revealed In Action Comics #1036
DC Comics initially planned to publish Superman & The Authority by Grant Morrison and Mikel Janin as a way into its new 5G publishing initiative, which would see the main DC Comics characters aged up and replaced with newcomers. Batman, Superman, Wonder Woman, Aquaman, The Flash – even The Joker – would all be replaced by a new crowd. That all changed with the firing of publisher Dan DiDio and the pandemic shutdown gave DC Comics a chance to cancel some projects, pulp others that had been printed, and repurpose other books as either Future State of Infinite Frontier books, with I Am Batman, Superman: Son Of Kal-El and Wonder Girl carrying through those 5G initiatives, even if no one was getting entirely replaced.
While Superman & The Authority featured an elderly fading grey-haired Superman on a final mission, and a history in an extended DC Timeline that saw him interact with President Kennedy, help the moon landing in the early sixties, and saw Kennedy plan a Mars mission for the end of the decades showed a different DC continuity than Infinite Frontier was cobbling together. With Superman looking to create his replacements.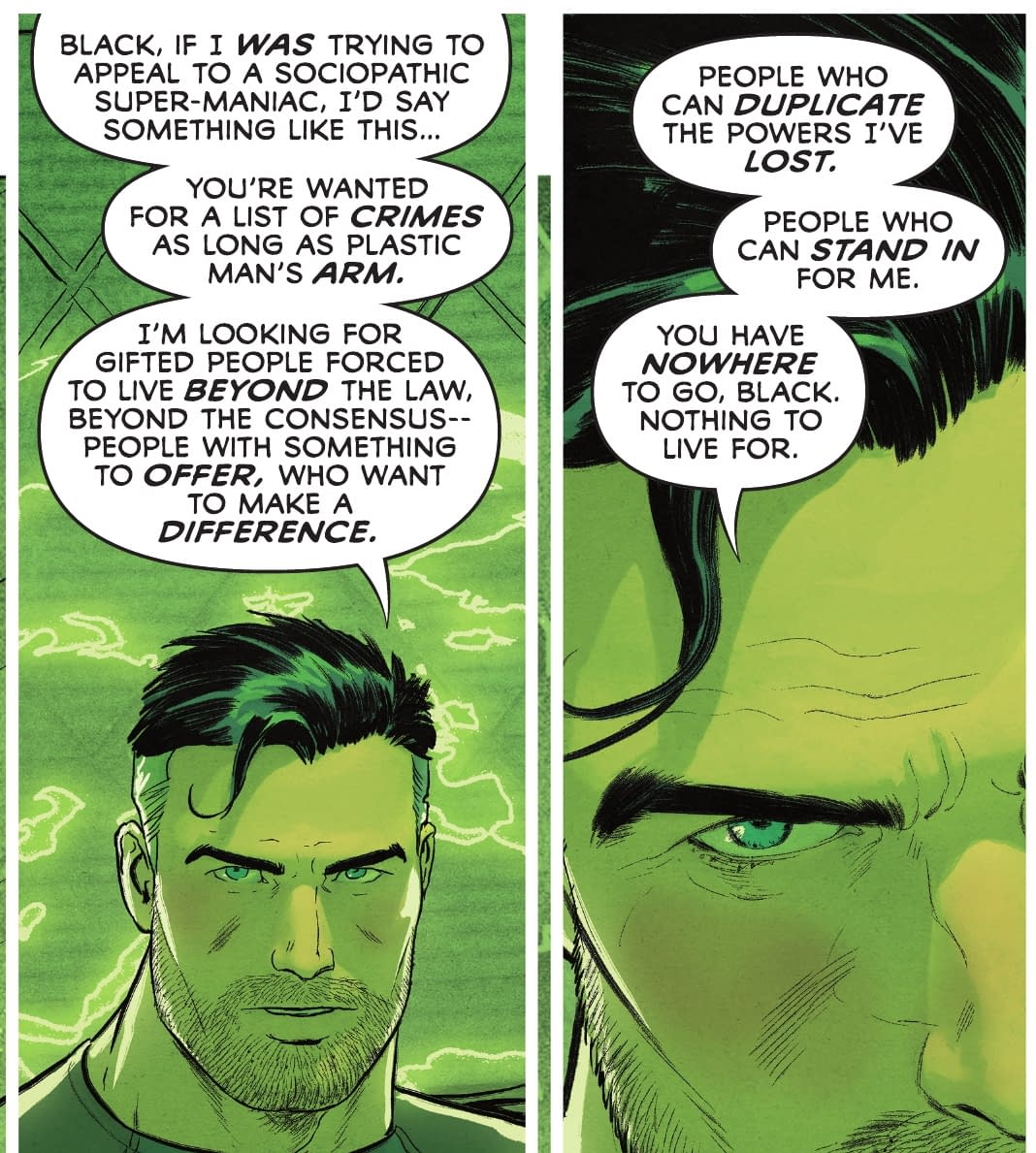 So how to marry the two worlds together? Today's Action Comics #1036 reveals all. Because the Superman books were matching the Superman & The Authority storyline to some degree. They had a Superman hit by a dimensional breach that was harming his powers. They also had a mission to WarWorld being prepared. Some of these were parts of the 5G plan for Superman, which would have seen Superman stranded on WarWorld and Jon Kent become the Superman of Earth.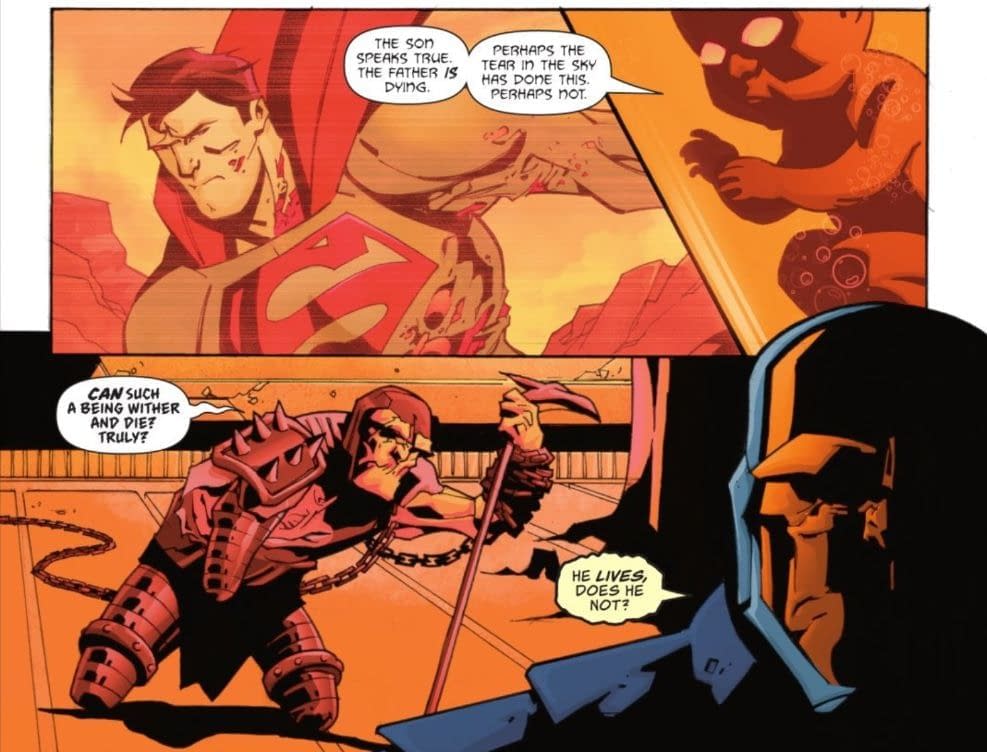 While the Superman books written by Phillip Kennedy Johnson – who had been appointed to the role under Dan DiDio's stewardship -were planning a WarWorld event, matching the Future State versions of Superman, and also have Jon Kent step up to his role as Superman, as written by Tom Taylor. But without Dan DiDio's extensive planned timeline, how to marry up the two realities as the same one?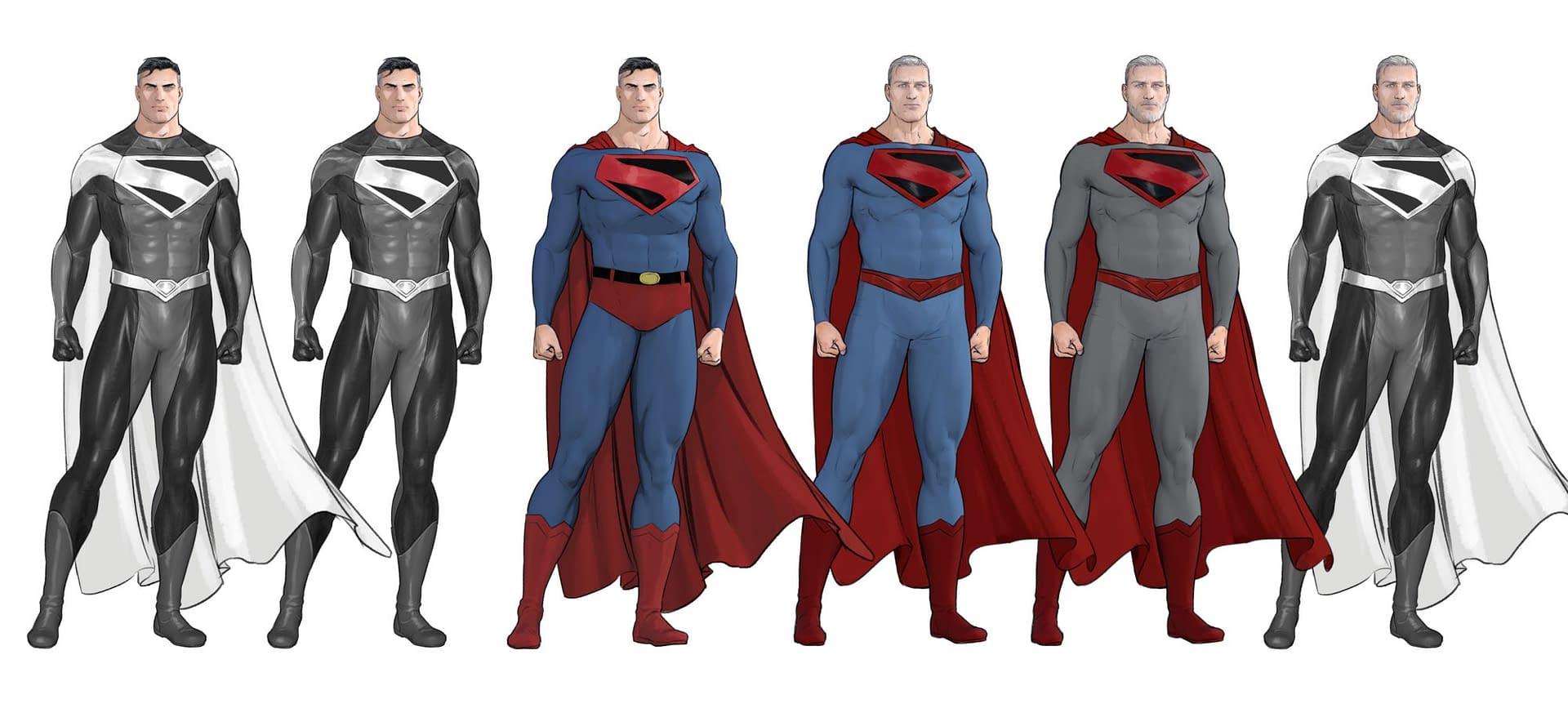 A lot came down to how Superman was being portrayed. In Superman & The Authority, he was grey-haired, elderly, and wearing a future Kingdom Come-styled supersuit. In the recent Batman/Superman & The Authority Special, which saw them decapitate the Dan DiDio avatar character who would have led 5G, Tempus Fuginaut, the covers changed in solicitations. From a grey-haired Superman to a dark-haired Superman on publication.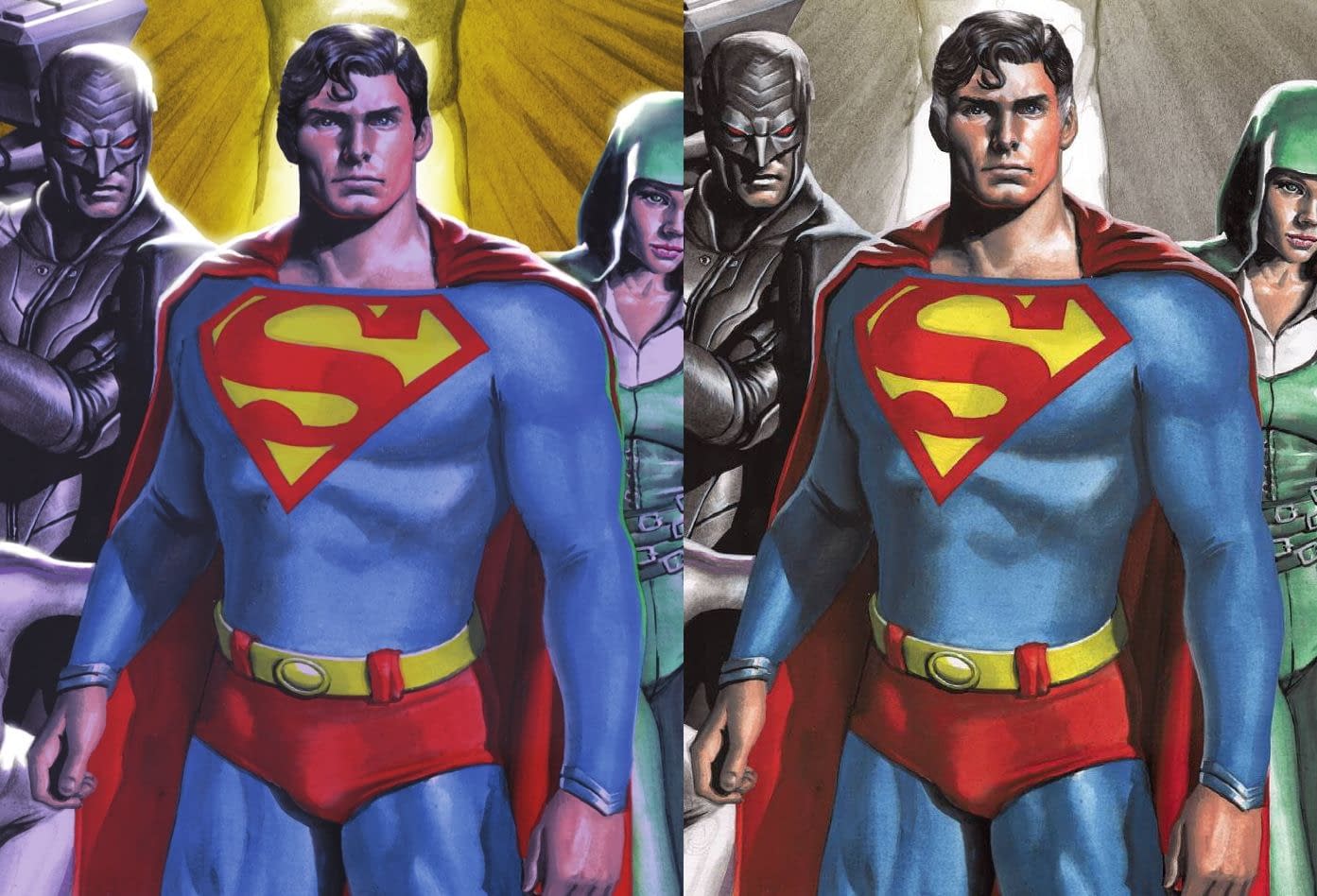 On arriving with The Authority on WarWorld in Action Comics #1036, he discovers that his coming has been prepared for, and those he sought to save slaughtered – enough to make the point, anyway.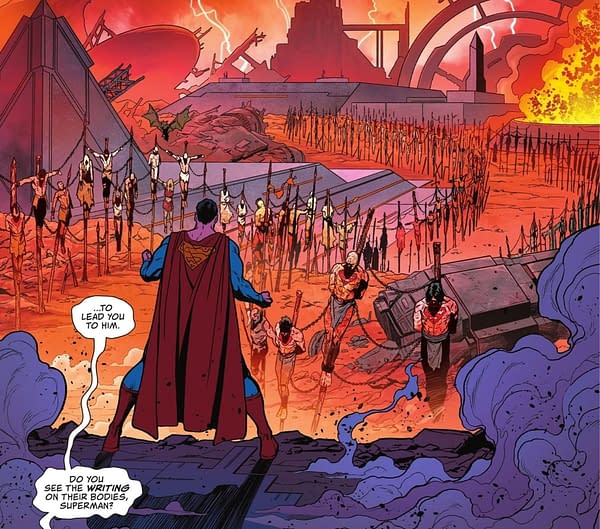 And as Superman takes his mission to the great arenas of WarWorld…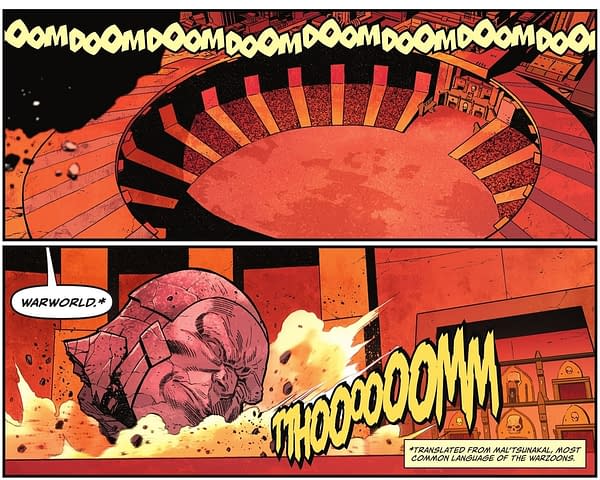 …it is a rather familiar look compared to Future State: Worlds At War.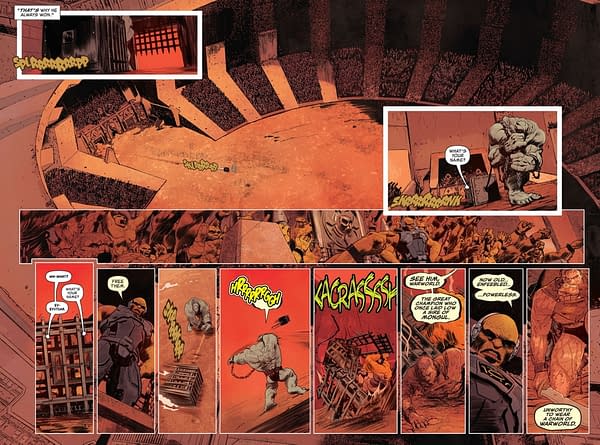 With a Mongul very much in control and a grey-bearded Superman enslaved as the others.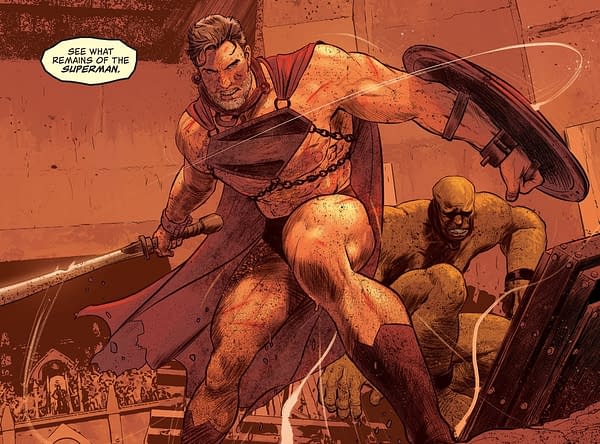 So when he does his Great I Am inspirational speech to the enslaved masses of WarWorld in Action Comics #1036, the odds aren't good. Could he really have gone to another planet expecting that his values and beliefs would simply win the day?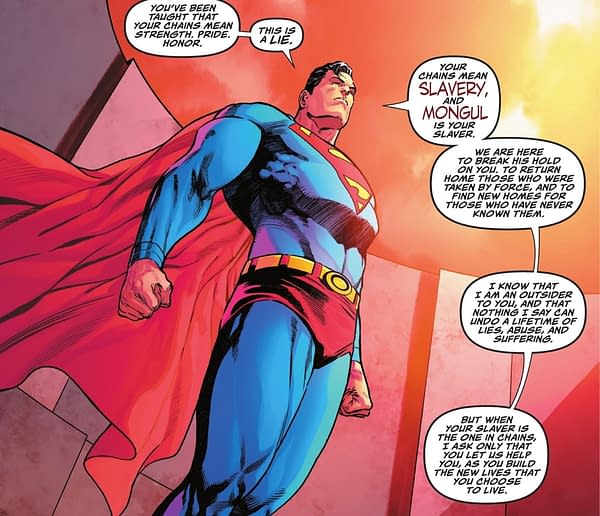 It doesn't entirely go over well, as the population is entirely conditioned to the way things are, something Superman might have seen coming as to how his interactions with the refugees went. From Action Comics #1033…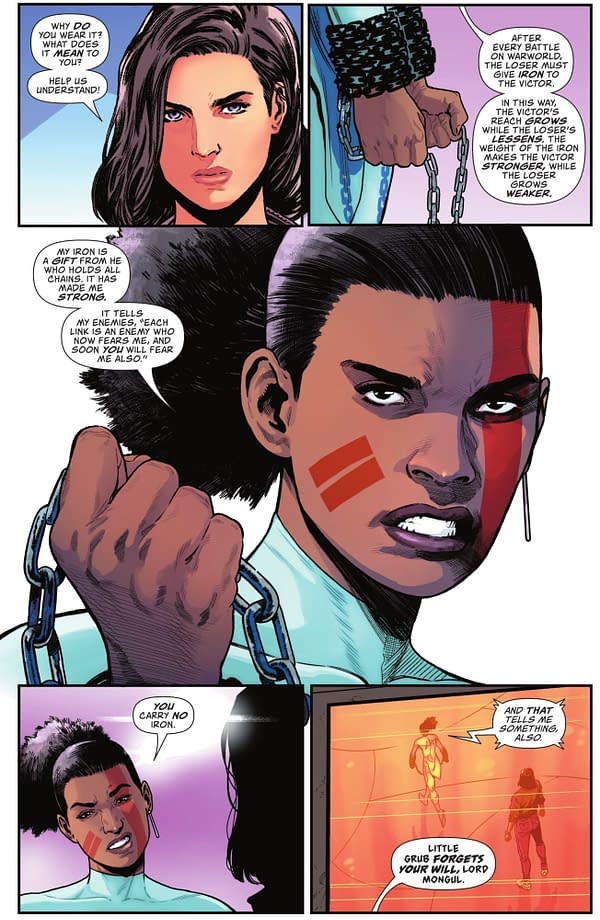 And so we have Chaytil, the oldest warrior of WarWorld, who is quite happy with the things they are, thank you very much.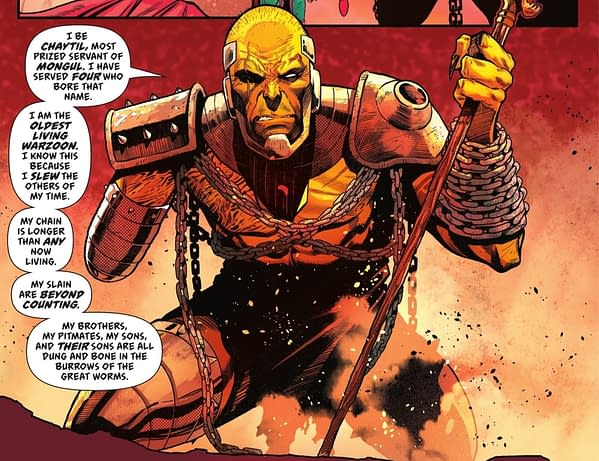 And Mongol has known this was coming. And, as we saw before, he knew about Superman's brush with power loss.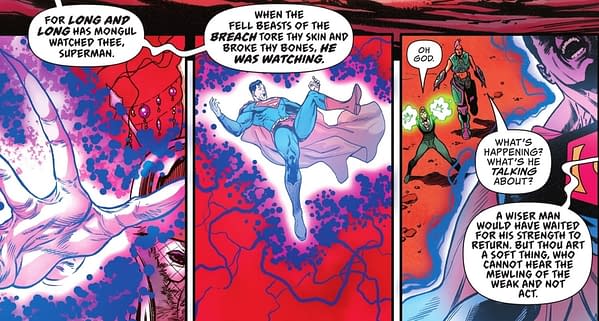 And as to how Superman has been getting by since? That was all a scam too…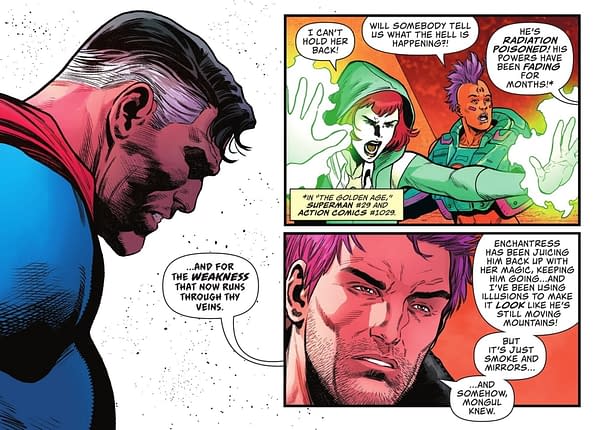 Enchantress has been touching up his grey hairs. While Manchester Black has been looking after surface details. But it's all a lie. Not exactly "Truth" in the "Truth And Justice," is it? Though Future State: Superman: Worlds At War did show us a future where those chains were broken…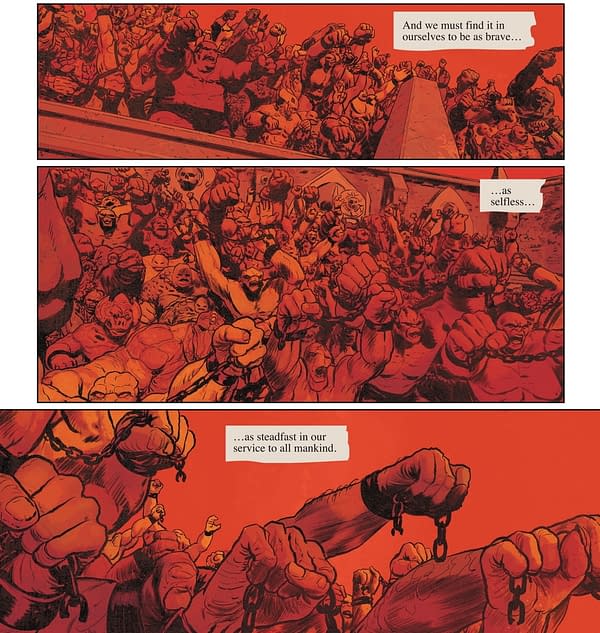 But it just took decades to get there…
ACTION COMICS #1036 CVR A DANIEL SAMPERE
(W) Phillip Kennedy Johnson, Sean Lewis (A) Daniel Sampere, Sami Basri (CA) Daniel Sampere
THE WARWORLD SAGA BEGINS! After learning of an enslaved race with mysterious ties to Krypton, Superman and the Authority travel across the galaxy to dethrone the new Mongul and liberate Warworld. Introducing new characters and a new corner of the DC Universe, the biggest Superman event since the Death and Return of Superman begins HERE!
Retail: $4.99 In-Store Date: 11/09/2021