The Image Expo After Party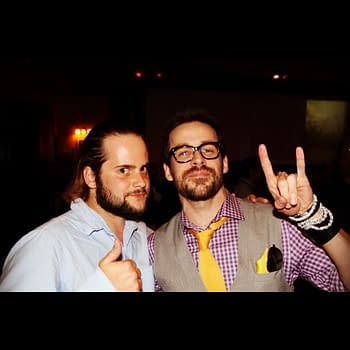 Frazer Brown writes;
I was going to break down my thoughts on the Image Expo which I attended LAST week, but I got Jesse James'd! He covered the event in detail for Bleeding Cool already, and as I pretty much was in agreement with everything he said, I thought I'd give you the lowdown on the Image after-party.
After a great time at the Expo, which had a very relaxed feeling, great information about upcoming projects and complete access to the creators, we were ushered to 'Jillian's' in San Francisco, a great little bar, with a roped off catered area, for a post-Expo mixer with retailers, Image employees and premium ticket holders.
The thing that worked the most for me during the entire day was the welcoming relaxed atmosphere of the Image staff and creators, complete access was given at all times, and the creators had the patience of saints as endless questions were asked and books shoved into their hands for signing. Everyone remained upbeat and jolly the entire time. And whilst the Expo venue itself felt a little overcrowded at times, the party was a very relaxed and a friendly place to be.
Drinks coupon in hand, I mingled with the other bloggers and retailers, nobody had a negative thing to say about the day. The staff from Image from the publicists to the admin' staff were all great to chat with.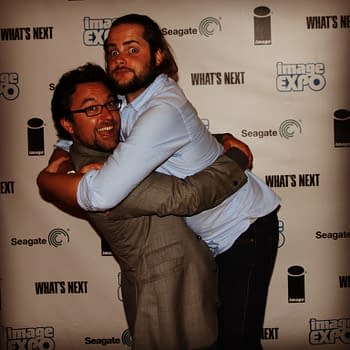 I was a fan of Image Comics on their initial launch(I paid £30 for Spawn #1 whoops)* , but lost interest in their range after the age of 16. We all know that Image dominate the market in terms of creativity and thanks to some useful statistics apparently they dominate some of the market financially as well.
There was an emphasis on "what's next" at the Expo and a general avoidance of the 90's image of er IMAGE, but with such a bright future , who wants to talk about the past? (the Guy with the Shadowhawk poster aside).
It was great to be able to mingle with creators and to sit and chat with comic legends like Erik Larson (although I had to apologise to him as I didn't recognise him until a fan put a Savage Dragon #1 under his nose). This kind of informal setting, meant I could shoot the breeze with one of my childhood heroes and not even know it! (I'm not in the habit of googling creators photo's)
I managed to fit in time with Matt Fraction (a very cool guy) as well as a lengthy chat with Robert Kirkman and Rick Remender, all of whom were more than happy to discuss their upcoming projects (covered already in detail here on Bleeding Cool) and in the case of Matt our mutual love of Shane Black movies.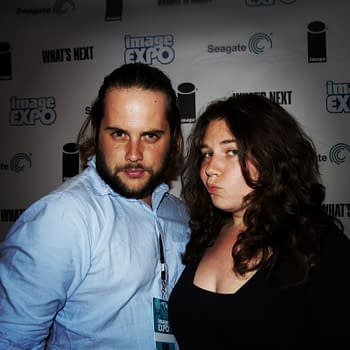 Image Comics seems to be a very cool, relaxed and refreshingly tight-knit company, with a fresh approach to publishing and investing time in interesting/groundbreaking / thought-provoking projects and creators; a million miles away from its early nineties EXTREEEEME persona. I personally will be picking up some of these titles later in the year (a big achievement; the last floppies I bought was the slew of New 52 no 1's).
Eric Stephenson, Publisher, took the time to chat with me about pitching ideas and the process of finding an artist (his recommendations were Deviant Art, Penciljack.com and the Image Forums if you'd like to know) he was also generous enough to review a fellow guest's self-published comic book.
A great evening all round and I had the hangover to prove it when walking around Pixar the next day (which I'm not allowed to talk about!).
Now where did I file that pitch?
* I sold Spawn 1- 50 for £20 last year. Whoops x2