The Inspiration Of Peter Repovski Peter Repovski is a comic book artist who appeared at Toronto Comic Con this past weekend. Though some thought his work he was selling as prints looked a little familiar. Courtesy of Kraig Alexander, Ty Templeton and my own two eyes.
As Templeton states,
I've been to the website, and there are TONS of full out swipes there. I recognize only one image swiped from me, but many swiped from Timm, a few swipes from Romita, Buscema, etc. The entire "art gallery" is a plagiarism celebration. When we're at the next convention, I will go talk to him and the organizers. This prick is Granito-2015.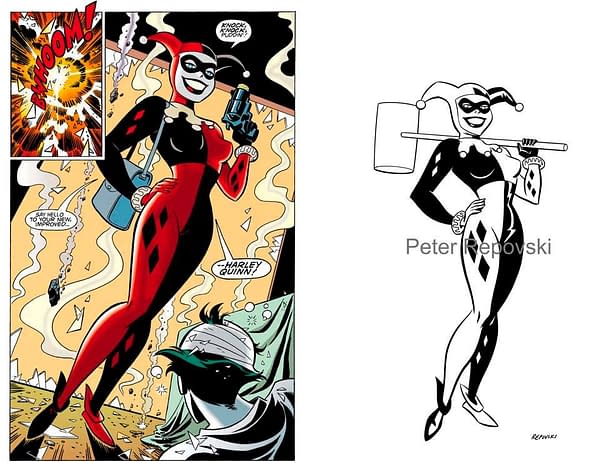 Ha! I emailed the guy (there's a contact on his website), and he SWEARS these are originals…he has the ink and paper versions to prove it! The poor lad doesn't quite understand what the word "plagiarism" means. He genuinely believes if he hand copies something, it becomes his own artwork. His letter is a treasure.
…this Repovski character is a legitimate inker of small press comics. That part is all on the up and up. He's just confused himself into thinking eye/hand copying excuses you from plagiarism. I find it funny that his name is literally a pun on "rip-off-ski". For half a second, I thought it was a knowing nom-du-plume, but no, he's a local Toronto guy, and he did work for Mr. Comics very briefly after I left.
Oh, now he's sending me threatening emails telling me he's going to ruin my reputation for slandering him. Granito Haunts the Halls!
Do be aware, however, as his website states, that his prints, all for sale, are copyright Peter Repovski.