A recent installment of The Issue featured The Daily Graphic No. 283 January 31, 1874, and referenced an 1889 article that discussed story paper circulation in that era. A "story paper" is simply an illustrated weekly periodical that features fiction, in what we think of as a newspaper format. The serials featured in story papers were often collected into complete stories called libraries, in a stapled-together quarto format (roughly the size of a golden age comic book or a modern magazine). The story paper format was thus analogous in a general way to the comic book from the perspective of the newsstand patrons of that era, while libraries were equivalent to the modern collected edition — though almost always much slimmer in page count. Some story papers of this era letter columns full of fan questions that might be answered by the editors. There was already an organized fandom and perhaps by no coincidence, in the same year that this article appeared to tout the financial success of story papers, publisher Norman L. Munro held a national convention for fans of his story paper Golden Hours.
The Issue is a regular column about vintage comics and other vintage periodicals from throughout world history. The idea behind The Issue is simple: for each post, I'll choose something from my collection and talk about what's going on in it, and discuss the publishers and creators behind it. And essentially I'm just going to end up stepping through comics history one issue at a time. There is just one rule in The Issue: No recent stuff. Everything will be from before 1940, and most of it will be from before 1920.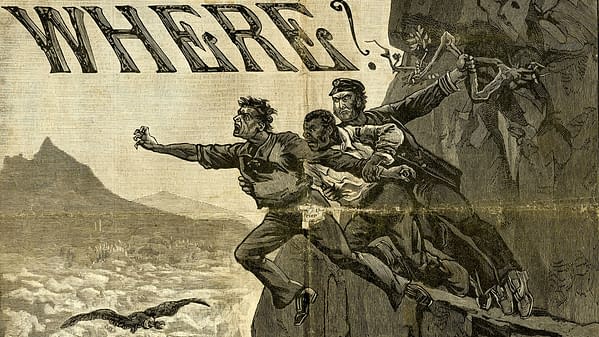 The following article about story papers and their publishers appeared in an 1889 Garden City, Kansas newspaper (and presumably elsewhere). While the numbers are pretty dubious, the "pecking order", so to speak, is more or less correct. A glance at Ayer's and Rowell's American Newspaper Directories for the decade prior to this article tells me it's extremely likely that the top tier of these probably peaked around the 250,000 to 350,000 range. The 850,000 number for Family Story Paper is unsupportable based on any data I've ever run across.
I think the author's exclusive focus on story papers proper is skewing his perceptions a bit. The success of some of these publishers was built on the library format and other formats that aren't technically story papers. Further, some of these men built their fortunes in part outside of publishing — notably, Norman L. Munro, who parlayed his Family Story Paper earnings into New Jersey real estate and other businesses.
There are some notable omissions. "Frank Leslie", Beadle & Adams, and Frank Munsey all published important story papers during this period — though it might be said that story papers are not what these publishers became best known for.
All this aside, it's a fun piece, reprinted below as it appeared in 1889 — and I've attached an example of each paper mentioned for reference.
Millions Made in Story Papers
The New York Ledger started in 1854 and in two years had 200,000 circulation. Its highest circulation has been 350,000. Robert Bonner made three million dollars out of it. Two years ago he turned it over to his three sons, and retired from business.
The New York Weekly was founded in 1850 and was sold in 1859 for $40,000. The new owners, Francis S. Smith and Francis S. Street, paid for the paper with five years' profits. By the end of that time the paper had a circulation of 400,000. The young proprietors went into debt $50,000 in advertising a story by Mary J. Holmes, entitled "Marion Grey." The risk was wisely taken for the circulation advanced from 11,000 to 47,000 in three weeks. Francis S. Smith's two sons now own the paper. Each is worth a million. The Weekly used to pay "Josh Billings"$10,000 a year for writing three quarters of a column each week. His chair still stands at his desk, which has not been disturbed since his death. Ormond G. Smith recently showed a reporter nine safes filled with unprinted manuscripts, of a total value of $100,000.
George Munro started the Fireside Companion in 1867 and its present circulation is 150,000. Mr. Munro is worth two millions and a strict church member. He reads many of the manuscripts submitted for publication and is regarded as a good critic.
George Munro's brother, Norman L. Munro, owner of a rival publishing house, started the Family Story Paper in 1873. A circulation of 850,000 is claimed for it. This Munro is probably as wealthy as his brother.
James Elverson, who is worth five million, and ranks among the largest land owners of Philadelphia, owns the Saturday Night, which he founded in 1865. Its circulation is now 125,000. The publisher claims that his object is not solely the pilling up of dollars, but rather a desire to elevate his readers to a high plane of living and thinking. It is stated that he started his boys' paper Golden Days, chiefly with this object in view.
Mr. Elverson is the most eccentric publisher in the country. His "fads" are legion. At the expense of his time and leisure he makes it an inflexible rule to read all the manuscripts submitted to his paper. He pays all bills regularly on Monday, and has been known to chase a man two blocks in order to make him accept money due him on that day.
Frank Tousey, who is worth at least half a million in clear cash, publishes the boys' story papers, Boys of New York and Young Men of America, which have a combined circulation of 175,000.