Nick Carter Stories #1 September 14, 1912 from Street & Smith is the first issue of a 160 issue series (1912-1915), which was a reboot of Nick Carter Weekly (1896-1912) — itself an 819 issue series. The character had previously been featured on the black and white-covered Nick Carter Library (282 issues 1891-1896) after having debuted in the publisher's flagship story paper The New York Weekly with volume 1 #46 on September 18, 1886. One of the most popular detective characters of that era, Nick Carter introduced or popularized several concepts and story archetypes that readers would subsequently come to enjoy reading with the exploits of the comic book detectives.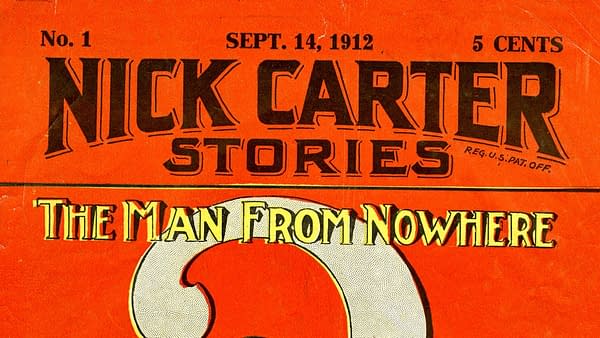 The Issue is a regular column about vintage comics and other vintage periodicals from throughout world history. The idea behind The Issue is simple: for each post, I'll choose something from my collection and talk about what's going on in it, and discuss the publishers and creators behind it. And essentially, I'm just going to end up stepping through comics history one issue at a time. There is only one rule in The Issue: No recent stuff. Everything will be from before 1940, and most of it will be from before 1920.
In 1912, Street & Smith rebooted long-running regular weekly series such as Tip Top Weekly and Nick Carter Weekly with new #1's. This appears to be the result of losing a lawsuit against the Postmaster General (in conjunction with fellow major dime novel publisher Frank Tousey, Publisher) over the disqualification of dime novel weeklies for 2nd class postage rates.
The disqualification hinged on the results of a 1911 study by the Post Office regarding how 2nd class postage was being used in practice vs the letter of the then-current regulations set down in 1901.
Oliver Wendell Holmes Defines the Newsstand Periodical
Over the objections of Street & Smith and Frank Tousey, Publisher, the Postmaster General had ruled that dime novels such as Tip Top Weekly and Work and Win were in fact books.
Street & Smith and Frank Tousey, Publisher sued the Postmaster General to challenge that ruling, and the case eventually ended up before the Supreme Court in 1912. Writing for the majority, Justice Oliver Wendell Holmes first called back to a previous Street & Smith case, which dealt with the "thick book" format:
Indeed the latter case dealt with The Medal Library, which was a periodical publication of several issues of the Tip Top Weekly bound together; as the principal plaintiff now puts it, in book form, and it is true, reprinted in a different size and shape. Some attempt was made to reargue the law of the decisions just cited, but we do not feel called upon to reopen the discussion in that part of the appellants' brief.
Street & Smith were denied 2nd class rates for such publications at that time. We can note that while that case was winding towards its conclusion, a Street & Smith representative wrote the postal service that:
I am glad to say that the effect of your ruling covering the exclusion of libraries from the second-class rate has resulted in the creation of three magazines from our house — Ainslee's Magazine, Popular Magazine, and more recently Smith's Magazine. We have an average circulation of 700,000 copies a month.
Justice Oliver Wendell Holmes next turned to the differences between periodicals and books:
The noun periodical, according to the nice shade of meaning given to it by popular speech, conveys at least a suggestion if not a promise of matter on a variety of topics, and certainly implies that no single number is contemplated as forming a book by itself. But we can approach the question more profitably from the other end, and shall have gone as far as we need when we decide whether the numbers exhibited constitute so many books. The word book also, of course, has its ambiguities, and may have different meanings according to the connection in which it is used. For purposes of copyright the common monthly magazines may be books, yet they are not so under the present § 17. As books are not turned into periodicals by number and sequence, the magazines are not brought into the third class by having a considerable number of pages stitched together. Without attempting a definition we may say that generally a printed publication is a book when its contents are complete in themselves, deal with a single subject, betray no need of continuation, and, perhaps, have an appreciable size. There may be exceptions, as there are other instances of books. It hardly would be an exception if, where the object is information and the subject-matter is a changing one, a publication periodically issued giving information for the time should be held to fall into the second class. From this point of view the Tip Top Weekly and Work and Win are books. They are large enough to raise no doubt on that score; each volume is complete in itself and betrays no inward need of more, notwithstanding that, as in the highwayman stories of an earlier generation, further adventures to follow are promised at the end.
The court concluded that Street & Smith and Frank Tousey nickel weeklies were by definition books, and therefore did not qualify for 2nd class postage.
Serial Stories in Newsstand Periodicals
We should note a couple of particular aspects of Justice Holmes' definitions here. He discusses serial vs complete stories and also mentions "a publication giving information for the time" — in other words, news. While this ruling is usually characterized as a blow against the dime novel publishers, in reality, they simply changed their publications in accordance with Justice Holmes' definition and carried on.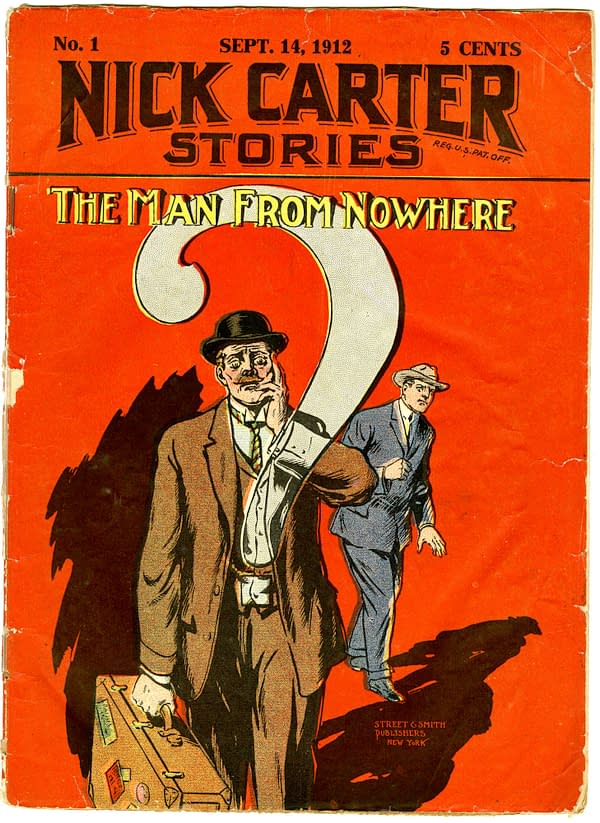 For example, even before rebooting these titles, by mid-1912 Street & Smith had already added a regular news column at the end of each periodical publication, and sometimes specifically characterized the fiction within as "A Serial Story". Frank Tousey, Publisher did something similar, though without the reboot. Perhaps Street & Smith thought that reapplying for the 2nd class permit with fresh titles gave them a better chance at success, and it's indisputable that their ability to shift with the changing time made Street & Smith one of the longest-lived publishers of periodical fiction in American history.
Enjoyed this article? Share it!