After the sudden death of CrossGen founder Mark Alessi last week. I have been aware that some people have been telling one another that Mark took his own life.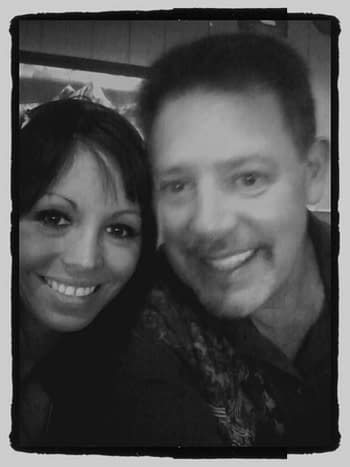 Speaking to his daughter Ashleigh Alessi yesterday,in the Tampa Bay area of Florida, she told me she wanted to set the record straight.
Ashleigh says that her father was found on the bathroom floor, on Friday morning, after suffering a massive heart attack. Unforeseeable, given her father's good health, general fitness, and hungry-for-more demeanour. The cause of his death has been verified through the medical examiner's office.
Talking to Ashleigh, she told me of 'a pain and a loss so deep it feels like it runs to the core of the earth' and how her father was the sun, moon and stars to her, but also how 'the support from the comics community has been overwhelming, truly and completely' and she regards them as an extended family, as she always has.
She talked about being a kid during the CrossGen years – she was the model for the character Sephie in the comic Meridian as drawn by Josh Middleton and Steve McNiven– and being a businesswoman now, she appreciates those who knew her then reaching out now.
Ashleigh says that there is 'no denying my dad had his own way of doing things, some agreed with him, some didn't and she respects those from 'both sides of that line, because people have a right to their opinions, whether they are based off fact or fiction. Why would I want to resent anyone for their opinion, or viewpoints? Resentment is like drinking poison and expecting the other person to die'.
But she also wanted to remember the man (her Dad) who paid for nearly 10 children's college education costs, without any necessity to. And even paid for several divorces that, frankly, had absolutely nothing to do with him either. Getting several women out of what could have been bad and dangerous situations. That Mark was a generous, giving good-hearted man, who quite frankly would give anyone the shirt off his back (even if it was his last shirt), and she wants him to be remembered as such.
But in addition to that legacy, and her own desire to make her dad proud of the Real Estate Business she has developed in Florida, through Keller Williams Realty in Palm Harbor.
Ashleigh also mentioned that her stepmother and several note worthy industry pros are working diligently to bring her father's final project, 'Dad's last dream project' to fruition. And that she is getting behind it in full force. 'It's big, and everyone will know about it in good time so 'stay tuned'
Also, she encourages folks to get their heart checked, even if they don't think they are at risk. 'Because, clearly you never know'
It's good advice. Thank you, Ashleigh.
Enjoyed this article? Share it!