The New 52 One Year On – Week Five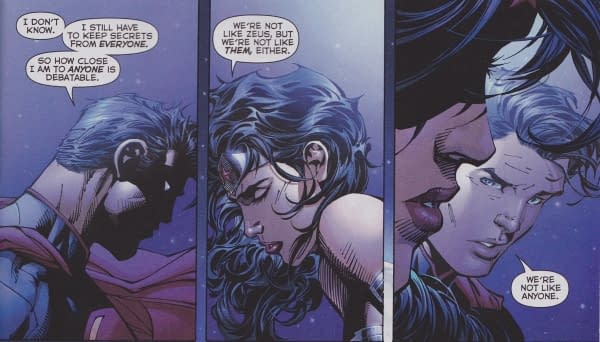 Justice League #12. Yes it's all about THAT KISS. But in the midst of that, you may miss the final battle against Graves, his motivtaion, his powers, laid bare and a convincing portrayal of a man trying to do the right thing – and failing. But in the midst, having a permanent impact on his aggressors, and leaving the League with something they can't shake, rattled and unsure of themselves. Which is just the kind of chemistry for a little lip locking to occur. And more theories on the longterm significance of that to come…
Justice League has been the key book for the New 52, in many ways totemic for what it every book should be. A freshened look at the characters, taking on their heritage, but looking forward, trying to tell new stories, even if that uses elements of the past. It has been structured consistently, even if that has been hidden in plain sight, and has a sense of purpose. It has, also during its run, been frequently dull, melodramatic and has decompressed to a level that would make Warren Ellis embarrassed. But despite all that it has worked in a way we haven't seen since Morrison or Giffen/DeMatteis on the book. These twelve issues are now an instant classic… and what a media frenzy to end the first year on. That was planned well before it began…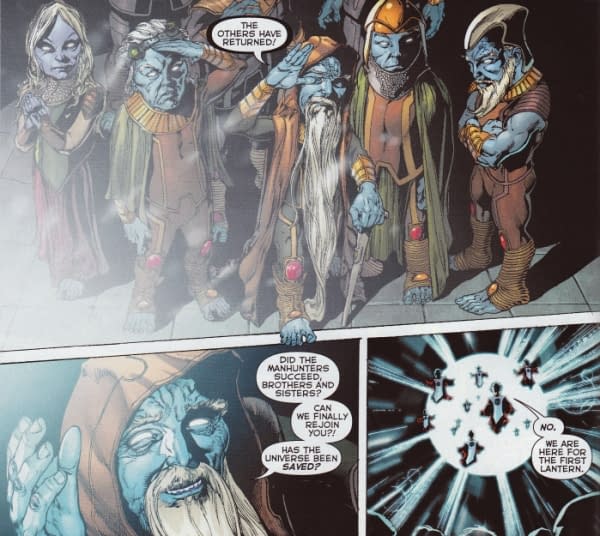 Green Lantern Annual #1 is totally what everything has been building towards. The Third Army. Black Hand. Sinestro and Hal Jordan together. And the Guardians being all sorts of naughty. But that's okay, because in a box somewhere in space, we find a bunch of Hobbity Guardians from long ago to fight them to prevent the release of the First Lantern. Whoever he is. Which means they can hopefully, at some point, replace the naughty Guardians.
Sadly this comic, written by Geoff Johns too, is just not as good as Justice League. As ever it seems more interested in showing fireworks, in infinite variety, than anything else. Maybe Hal Jordan should kiss Sinestro, that might do it.
And in a third comic from Geoff Johns, Aquaman #12, it's one of those comics that will give you a massive cliffhanger which will take two months to pay off. Oh and more tigers, seriously, are they the new gorillas for the New 52? Another note in Dan DiDio's No New Ideas Jar for those involved here. Yes, I know it's a jaguar but the jar does not care.
Aquaman was one of the surprise books of the New 52, with a decent writer and possibly the finest draughtsmen in the line, the book outsold the X-Men books, something it hasn't done since, well, we're talking the sixties, right? I haven't found myself able to connect with the rest of the cast as much, but Aquaman has fought through that, the first time I've wanted to read the character since The Atlantis Chronicles. Some time ago…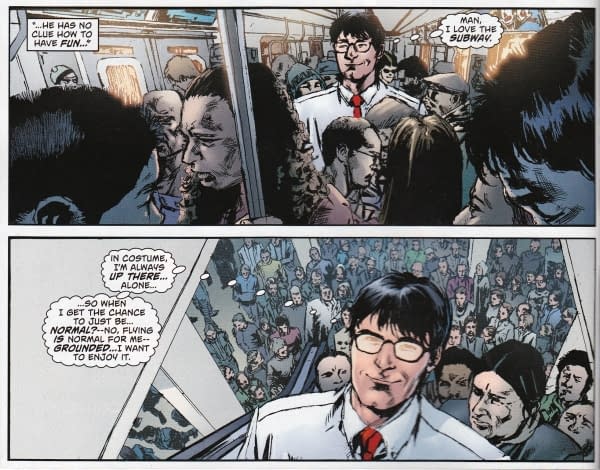 Okay, when was the last time you saw thought bubbles in a New 52 comic? Proper thought bubbles, throughout the comic, asterisked panels the lot. With Superman Annual #1 you get an idea of where Scott Lobdell may be taking the comic. And it's pretty much batshit crazy. Lots of ideas, characters, running around the place, delving into Wildstorm history and back and showing the remnants of the Hawkman Grifter crossover that never was that Rob Liefeld complained about. This comic started out strong but then rapidly fell apart, with repeated attempts to piece something together since. Well, with this Annual, mission accomplished – it still feels in pieces, but it makes that a strength.
There are two very specific moments worth commenting about. The first when Helspont and Superman first meet. A double splash page without an explosion, a fist thrown, a leap made. It's a single solitary moment, and it works better than any double splash page I've seen in some time. You'll know it when you see it. And secondly the end. The thought bubbles do feel clumsy, used as we have been to internal captioning of late. But if you can get past that, it's a rare moment for Superman. And another cliffhanger!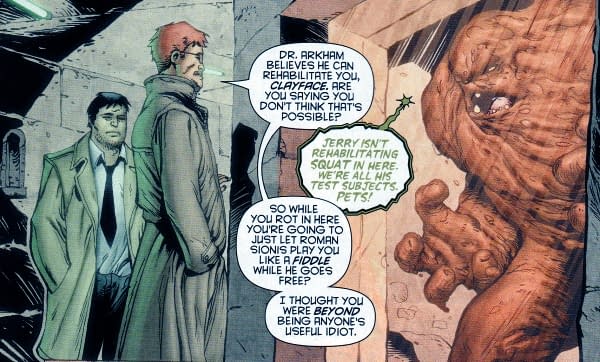 Detective Comics Annual threw me a little. Again, this is a comic that outperformed my expectations of it, but in this annual, given extra space, the story of the Black Mask gaining dominance again seems floppy. Combined with a pull-back-and-reveal that was telegraphed so a lobotomised monkey who has trouble following the plot of Murder She Wrote could understand it, an ending that doesn't so much finish and stop, and a lack of attention to all the sorts of ideas and themes that the very existence of masks cause and you're left with a rather boring book.
The Flash Annual does a better job of using time and space, giving separate chapters (and artists) to tell a story in different times, with different motivations and agendas colliding in a Flash/Rogues battle that had been avoided till now. With bluffs and double bluffs, family and love, revenge and fury, and a cliffhanger to be resolved in two months with… well, not tigers, this is a pretty story that doesn't elevate itself to the usual experimentation of the ongoing series.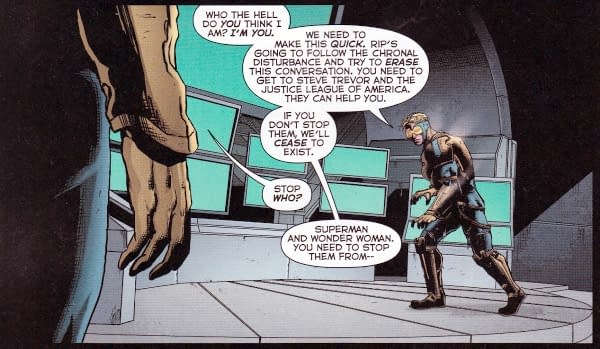 The Justice League International Annual, the final issue of a cancelled book with the creative team thrown out to put a cap on the JLI story, the OMAC story and anything else they have hanging around, and even giving us an idea of what we may expect from the new Justice League teams going forward… and yes there's a big thing here that I'll be talking about later too. There's a lot about changing futures today…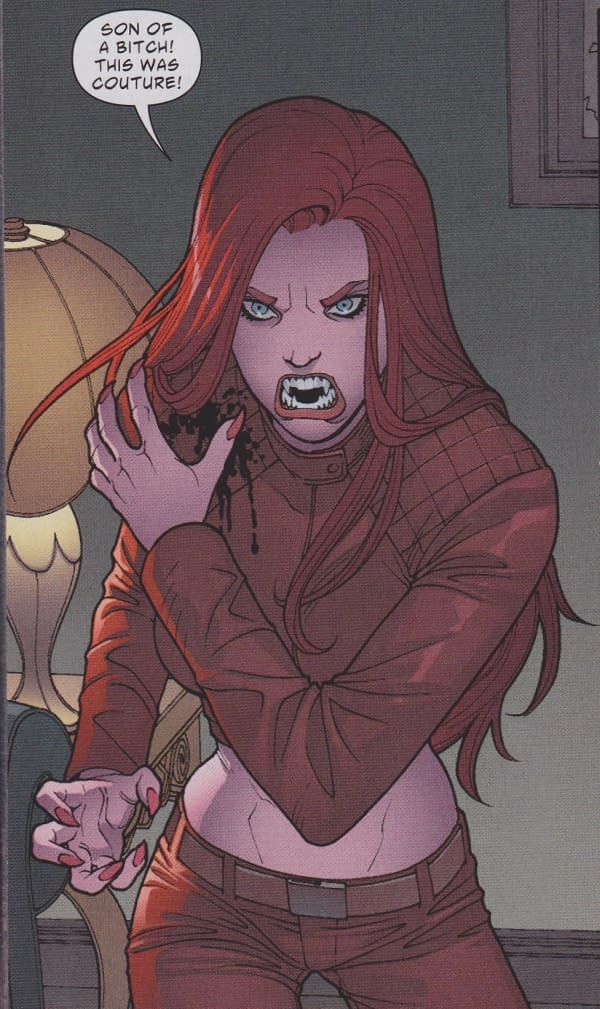 And then there's this. One of the National Comics. And wow. Just wow. I was not expecting much from Warren Ellis-lite Ian Edginton and kid-friendly Mike S Miller on Looker, a comic about vampirism in the fashion industry, a reworking of an Outsiders character I was never enamoured with even back then. Doesn't that feel like an overplayed concept by lesser talents that should be safely ignored?
And instead, it's one of my favourite comics this week. Beautifully played, with a vampiric narrator who not so much lets you get into her head but invites you along for the ride, looking so much like Humberto Ramos' Crimson that it hurts, and giving us all a rather jolly and entertaining romp through this vacuous world, and the many other creatures that might be dwelling under the catwalk. Fresh, funny, leagues ahead of the likes of Bite Club, the Buffy comics, and Marvel's recent attempt at vampires without heading into dark, destructive horror of Dark Horse. I'm staggered how well balanced this is. Oh and look, just a touch of Chew. That can never hurt.
I'm going to go and read it again.
That's the thing about the New 52, It should stay new. And Looker really counts. It's probably not meant to be part of the New 52 per se, but I don't see why it couldn't be.