The New York Comic Con #NYCC Party List, Just For Thursday, 3rd October 2019
We ran the Insanely Big After Party List for all of New York Comic Con 2019 earlier this week. But we're splitting it up for each night, for easier attendee access. This is the list for Thursday alone… though expect some of the events to keep going into Friday…
Thursday 3rd October
Karaoke Kickoff: Anime Fest at NYCC 2019. Japanese Idol Group Dear Kiss will also perform a special set during the night. Cosplay is encouraged, but not required. All ages welcome. Hudson Mercantile, 500 West 36th Street 7-11pm. $10.
SCAD New York Comic Con 2019 Alumni Networking Event, The New York Beer Company, 321 W. 44th Street, 7-9pm.
Funimation + One Piece Experience at Lightbox. Free, open-to-the-public multi-sensory experience celebrating anime with fans. Lightbox, 248 West 37th Street, 8pm-Midnight.
QXT's Open Mic Presents: Cosplay Dance Party, QXT's (Official) 248 Mulberry St, Newark, NJ. $10 for 2. $15 for 1.
COLLECTOR WORLD ORDER NYCC MEET UP, Catered event, with beverages, reserved game area with oversized board games. Mega raffles, door prizes and swag bags, 550 9th Ave, 8.30-11pm. $40.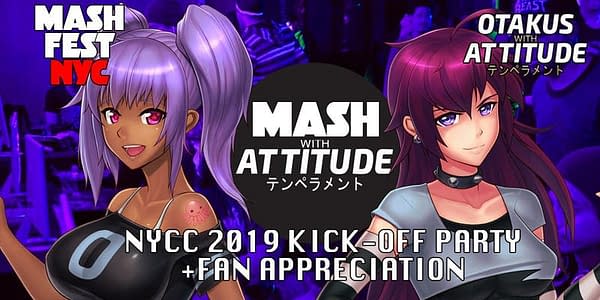 Mash With Attitude: NYCC Kick-Off, Mashfest, Otakus with Attitude, Tailor Public House, 505 8th Avenue, $5 advance, $10 on door, 9pm-3am.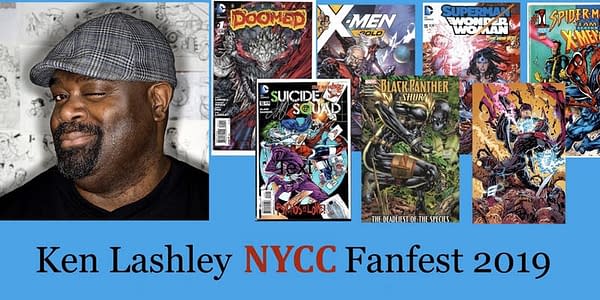 Ken Lashley NYCC Fanfest, Bucca di Beppo in Times Square, 8pm, $300 SOLD OUT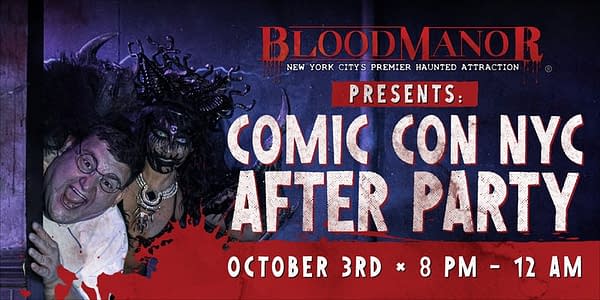 Comic Con NYC After-Party at Blood Manor, live DJ pumping out the jams and special appearances by the real life Peter Griffin, Bronx Spidey and the Evil Enchantress. 359 Broadway, $20
#NYCCAfterParty NYCC Indoor Pool Party! #NYCC Thursday 10/3! Complete with a swim up bar! So put on your floaties and dive in with us!

Posted by Perez Play on Friday, September 13, 2019
NYCC 2019 After Party: Indoor Pool Party, Strip to your Cosplay bathing suit after a long day NYCC, DIP AQUA LOUNGE, 125 W 45th St, 7-11pm.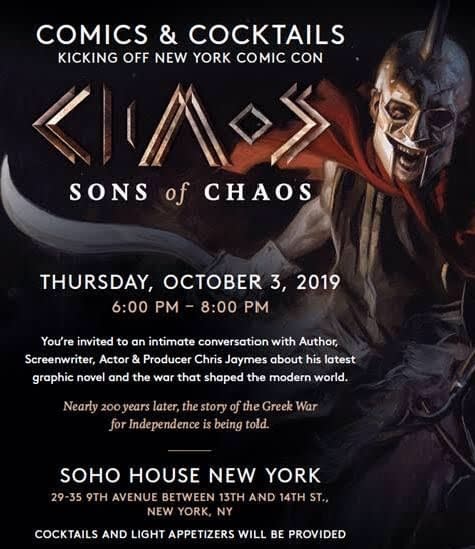 Comics and Cocktails, a conversation with Actor, Writer, Screenwriter and Producer Chris Jaymes and Author of the new Graphic Novel Sons of Chaos. S0ho House New York, 29-35 9th Avenue. Invite Only.
DC Universe Headquarters – DCU subscribers get brunch, talent meetups, screenings, signings and private events. 447 W. 36th Street – third floor.