The Parties Of New York Comic Con 2013 (UPDATE)
This is a list in progress… add more in the comments and I'll update the article!
WEDNESDAY
NYCC Pre-Party At Bergen Street Comics
Zack Soto, Farel Dalrymple, Jon Dermot Woods, and Nathan Fox appear at Bergen Street Comics 470 Bergen Street, Brooklyn, NY 11217 at 8:00pm. RSVP on Facebook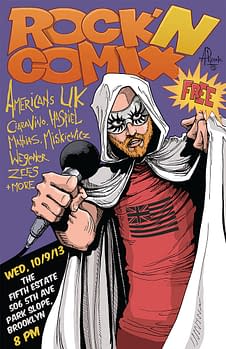 Rock'N'Comix
8 to 10 p.m., sci-fi rock band Americans UK is hosting a night of live comix readings and music for FREE at the Fifth Estate Bar, in Park Slope, Brooklyn, on 5th Avenue, between 12th and 13th Street.
Featuring live readings by Dean Haspiel (The Fox, Billy Dogma), Scott Wegener (Atomic Robo), Paul Ciaravino (SH3: Human Hunter), John Mathias (The Lowbrow Reader) Chris Miskiewicz (Thomas Alsop), Palle Schmidt (The Devil's Concubine – and all the way from Denmark!), ZEES (Just Super), and more!
Americans UK will be playing ambient and light jazz as we project the comix panels against a screen in Fifth Estate's back room. Then once the readings have finished, Americans UK will play their new, live and loud rock-set, featuring never-before-heard songs from their upcoming album, Where Giants Walk!
THURSDAY
Vanishing Points at the Nuyorican Poet's Café, at 236 East 3rd Street in Manhattan. This series of panel discussions and musical performances is dedicated to exploring and celebrating the influence and impact of comic books on personal identity, creative media, and the whole of popular culture.
Programming will begin at 7pm with "Comics: Not Only, But ALSO For Kids", an informal discussion of the universal appeal of comics, the breaking down of boundaries between kids and adult comics, and the role of sequential art in both education and entertainment. The evening will then continue with "Comics & Pop Music", a conversation on the long-standing relationship between music and comics, the two forms' shared history and common inspirations, and the new wave of music-centric titles that are poised to reach an audience beyond that of traditional comic readers. Complimentary cocktails and light refreshments will be offered throughout the panel programming, and then at 9pm, a selection of DJs and musical acts will perform. (Cash bar will be available after 9pm.) Admission is set at $20; New York Comic-Con badge holders receive a drink ticket with paid admission.
MootCon 2
6:30pm
The Australian NYC
20 West 38 St.
Kick off NYCC with fans of Game of Thrones for Fire and Lunch's 2nd Annual MootCon! Join other Game of Thrones fans for a few drinks. Trade theories, argue about when GRRM will finish Winds of Winter and make a few toasts to Jon Snow! Event is free, open to all.
Brooklyn Defender NYCC Pint Night
7:00 PM
Beer Culture
328 W 45th St
New York Comic Con's official beer — the Brooklyn Defender, brewed together with Brooklyn Brewey — will be taking down skunked beer across NYC during the NYCC Pint Night series. Take home a limited edition Brooklyn Defender pint glass when you do your part to Defend Beer (while supplies last). You don't need to RSVP for these events, but it's recommended you show up early to get your paws on these limited edition glasses.
KEVIN SMITH'S FATMAN ON BATMAN LIVE!
9:30pm
Carolines on Broadway
1626 Broadway
Kickoff New York City Comic Con with SModCo podcast FATMAN ON BATMAN! with special guests AMC's Comic Book Men Bryan Johnson, Walter Flanagan, Ming Chen, and Michael Zapcic
FRIDAY
DC Comics' Private Party
Usually near the Empire State Building.
BATMAN: THE BRAVE AND THE BOLD
7:00pm
The Paley Center for Media in New York City
25 West 52nd Street
Warner Archive Collection and The Paley Center for Media, in conjunction with New York Comic Con, proudly present a special event celebrating Warner Archive's upcoming Blu-ray™ release of Batman: The Brave And The Bold. The popular animated television series will be celebrated with an episodic screening and a lively panel discussion featuring Diedrich Bader, the voice of Batman.
A limited number of free tickets are available for the general public. Fans wishing to receive free tickets to the New York event on must RSVP via email to BatmanBATB@gmail.com stating;
Name of the entrant
A valid email address
That you heard it from Bleeding Cool
Tickets will be distributed on a "first come, first served" basis, and fans will be notified via email.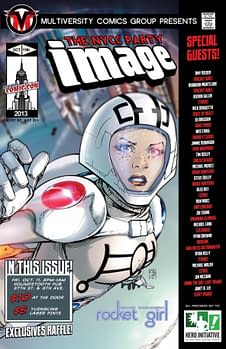 Image Comics/Multiversity/HERO
THE BIG NYCC Party will be held at Houndstooth Pub located on 8th Ave between 36th and 37th (a short 3-block walk from the Javits Center), from 8 PM to 12 AM in the Lower Level of the pub with a suggested $10 donation to the Hero Initiative to get in. In exchange for your donation, you will automatically be entered into a raffle to win one (1) copy of all of Image's exclusives for NYCC 2013! It's a 21+ event and will assuredly be a fun place for friends, fans and creators to meet, share a drink and mingle.
SONICBOOMBOX NYCC AFTERPARTY
Venue fee: $10. Must be 21+. No exceptions.
8:30pm
The Hudson Bond
215 West 40th Street, New York, New York 10018

Dances of Vice: Pulp Science Fiction Party
Time: 10:00 PM – 4:00 AM
Where: The Gallery at LPR
Cost: $8 in advance/ $10 at the door
Dances of Vice will be celebrating the golden age of pulp science fiction at this New York Comic Con afterparty featuring live music by Morricone Youth, DJs, and scifi costume giveaways by Singularity & Co Books! Followed by a special "Dance on Mars" Disko Nouveaux set from 1:00 AM – 4:00 AM! – The Gallery @ LPR, 158 Bleecker St NYC, 21+ dancesofvice.com
Wasted Cinema
Just in time for New York Comic Con, Wasted Cinema will be showing Adam West's 1966 Batman at our favorite Midtown bad movie night bar, Legends, on Friday October 12. At Wasted Cinema, we do more than just watch awesomely bad movies. You're encouraged to interact and take part in our "toastworthy moments" – movie cues that tell you when to drink along with the absurdity on screen. Movie themed-cocktails and drink specials should add to your enjoyment of this already thoroughly enjoyable film. Plus a live Twitter stream where you can share your commentary, Batman trivia and a raffle to win awesome prizes. A full dinner menu is also available. So come early to get a seat, find old friends, make new ones and sharpen up your wit before the movie starts.
What: Batman screening
Where: Legends, 6 W. 33rd St (Between 5th and 6th Ave) NYC
Time: 7:00pm doors, 9pm screening
Price: FREE!
SATURDAY
Marvel Private Party. Somewhere.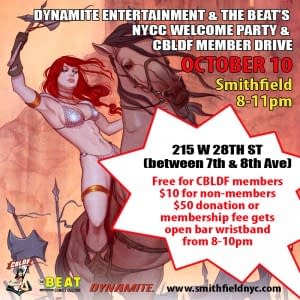 Dynamite Entertainment & The Beat's NYCC Welcome Party & CBLDF Member Drive
Thursday, October 10, 2013
8:00 – 11:00 p.m.
Smithfield
215 West 28th Street (Between 7th and 8th Avenues)
www.smithfieldnyc.com
Free for CBLDF members!
$10 for non-members
$50 donation or membership fee gets open bar wristband from 8-10 while supplies last
ROCK COMIC CON
Time: 7:00 PM
Where: Rebel NYC 251 West 30th St. (Betw 7th and 8th Ave)
Cost: $12 online/$15 Door
ROCK COMIC CON is the first nerd rock music festival of its kind! Now in its 4th year, this comic book/sci-fi related concert event celebrates "Nerd" Rock, New York Comic Con and benefits the Comic Book Legal Defense Fund. It features phantasmagoric, hilarious and face melting nerd rock bands and LIVE ART created by Marvel, DC and Indie professionals! Surprise Special Guests and a chance to rock your inner nerd out! Art to Auction! Costumes encouraged! Buy your tickets today. www.RockComicCon.com
Vanishing Points at the Nuyorican Poet's Café, at 236 East 3rd Street in Manhattan. This series of panel discussions and musical performances is dedicated to exploring and celebrating the influence and impact of comic books on personal identity, creative media, and the whole of popular culture.
Festivities will kick off at 7pm with "Seeing Ourselves In Comics", a discussion about creating work that appeals to diverse audiences, and how comics reflect and affect our lives and society. That session will be followed at 8pm with "Hip-Hop & Comics: Cultures Combining", where an incredible line-up of comic creators and Hip-Hop legends will shed light on the ways Hip-Hop and comics have inspired each other, give historical perspective on common elements and influences, and showcase new and upcoming projects. Again, complimentary cocktails will be provided until 9pm, and at 9:30, a stellar assortment of live musicians and DJs will take the stage with sets tailored to reflect the themes of the evening's programming: inclusion, diversity, and innate funkiness. Admission is $25; New York Comic-Con badge holders will again receive a drink ticket with paid admission.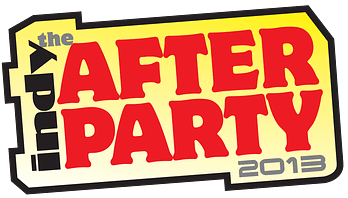 INDY AFTER PARTY
A celebration of the innovators and creators in the Independent Comics market as sponsored by the actual inventors and investors of 21st century storytelling!
When: 8:30 pm – 3:00 am
Where: PIG & WHISTLE Irish Pub
951 Second Avenue (btwn 50th & 51st)
11 blocks East of the Javitz Convention Center
with FREE WiFi, dining areas, smokin' wings, and outstanding service!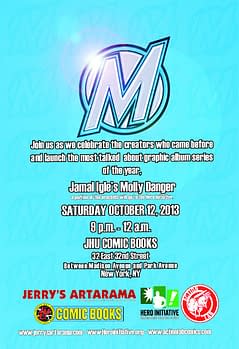 Molly Danger Launch Party and Signing
9:00pm until 12:00am
JHU Comic Books
32 East 32nd St
Sponsored by Jerry's Artarama, Action Lab Entertainment and JHU Comic books cordially invite you to join us as we launch Jamal Igle's graphic album series, Molly Danger.
NY SciFi & Fantasy New York Comic Con After Party!
8:00pm until 2:00am
Harley's Smokeshack and BBQ, 2nd floor
356 W 44th St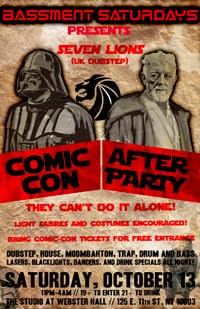 Bassment Saturdays Presents: Comic Con After Party
Time: 11:00 PM – 4:00 AM
Where: The Studio at Webster Hall – 125 E. 11th St. NY 10003
Cost: $30 (FREE to COMIC CON attendees – just bring your Badges for Free Entrance)
Theme: STAR WARS – Empire, Rebels, and all creatures in between – costumes are strongly encouraged!
THE WALKING DEAD ESCAPE NEW YORK CITY
Must be 14 years old
6:45PM-MIDNIGHT
PIER 86- THE INTREPID SEA, AIR & SPACE MUSEUM
GET TICKETS HERE Save $15 with code NYCC
Choose from two ways to participate in The Walking Dead Escape. You can participate as a Survivor and race through the Walker infested evacuation zone; or a Walker who becomes one of the undead.

SUNDAY
Gaimova After Party
A free NYCC Gaming and Drinking Party (Cosplay, anime and games) by GAIMOVA. Must be 21.
There will be Dancing and Singing Karaoke (Cosplay Style)
There will be Anime and Movies
There will be Nintendo DS Lan Parties
There will be PC gaming (Wi-fi enabled)
There will be all 3 consoles (Xbox 360, PS3, Nintendo Wii)
Room 1 (Shooters): Halo 4, COD..etc
Room 2 –Cover Pic (Party): DDR, Mario Kart Wii and Dance Central
Room 3 (Movies): Justice League and Avengers Animated Movies
Room 4 (Fighters): Smash Bros, Ultimate Marvel vs Capcom 3, Injustice
Room 5 (Fighters): Tekken 6, SSFIV AE, Third Strike
Room 6 (Tentative): An expansion of Room 2 Party Gamers or Play room for MTG and Pokemon Card Battles
THE RUNDOWN
Age: 21+
Time: 5:00 PM – 2:00 AM
Venue: Radio Star Karaoke Bar
Price: Free (No Catch…No Gimmicks)