The Sausage Factory – Birds Of Prey Special
Never ask how the sausages are made. You don't want to know…
Jim Zubkavich: Rather than pitching specific plot details or which villain the group would be going up against, I focused on creating a "character matrix" that focused on who the cast was, what they've been through and how they could grow and change as things progress. It was a character-first approach that could be adapted to the upcoming plot needs of the title, and I think it surprised editorial in a good way when they read it. That really got the conversation going and we started building storylines and antagonist options from there
Christy Marx is taking over as writer on "Birds Of Prey." Does Jim Zub also have other projects at DC, like Venditti? Why the switch there?

Harras: Jim had a great pitch for "Birds Of Prey," but as things came together in discussion and the creative churn, we all saw what Christy was doing on "Amethyst," and we were looking at "Birds Of Prey" and internally and editorially we were thinking of taking it in a different direction. The decision was made that we were going to go in a different direction than what Jim had originally envisioned. We definitely, definitely want to continue working with Jim, but at this moment, we wanted to go in a particular direction. Bobbie started working with Jim months ago —

Chase: He's a great writer. He's a great idea guy, and I look forward to working with him again.
(Jim has not appeared on a DC title since)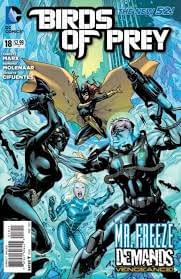 CBR June 17th
While Marx's first storyline incorporated Batman villain Mister Freeze, according to the writer the decision to kick off her run with the coldest of Batman's rogues was less by choice and more by design — literally, in this case.

"When I agreed to start work on the book, the next two covers were already done with Mr. Freeze on them. You could say that I wrote to match the covers," Marx said. "In reality, the major direction of the storyline had been roughly worked out months in advance, which was a good thing because the first issue was due immediately. Beyond immediately. I had to hit the ground running."
Write the covers… just like Julie Schwartz got people to do!
Getting into fan questions, Fluffy6079 wanted to nail down some of the particulars of the finale, asking, "I have a question regarding the resolution of Age of Ultron. Are there now 2 Wolverines and 2 Invisible Women in the mainstream Marvel U? Because Ultron was defeated before he could take over, Wolvie and Sue never would have gone back in time. So, when they come back from their time traveling there should be a pair there that never left. Right?"

Alonso: So it would seem, Fluffy6079. On the other hand, we see no more of that additional Wolverine and Sue after the time-quakes hit, so it's possible that their presence was the last straw on the back of the space-time continuum, and they were swallowed up by it, even as Angela was spat out.
Or, oops? I'm not buying it…