The Thief Who Tried to Sell Comics Back to the Store She Robbed Them From
What's the equivalent of the Darwin Award for thieves?
Martin Casas, owner of the comic book store Apotheosis Comics in St Louis, Missouri, had three thousand comics stolen out of a storage unit in St Louis. Casas stated that 'a lot of my comics were not high in value but mostly were collected for sentimental purposes (trips I've taken, the month my daughter was born, gifts, etc) and some I've had for over 30 years.'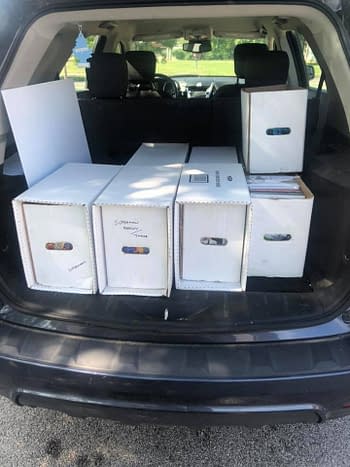 Filing a police report, he put the word out to local dealers in case anyone tried to sell them. What he wasn't banking on was the thief in question trying to sell them to his own comic book shop.
The woman in question left the comics at the store when Martin Casas wasn't there, along with her name and phone number, waiting on an appraisal. On arriving at the store, he instantly recognised his own writing along the side of one of the long boxes.
I immediately recognized MY box of Captain America books (my writing was on the side of the box and, there were specific book in the box). I called the officers in charge of the investigation and gave them the name and number of the woman who brought in my comics (we always get a name and number so we can call people back after we look at their books). They did some investigation (…and of course, I looked her up on Facebook) and we both saw they were selling items on Facebook marketplace that were most likely stolen (I mean, who sells rando TV's and, cash resisters and a hot wheel collection?!?).
He called the police and between them set up a sting in his store. He offered her a very generous sum on the phone and when she arrived to pick them up, she was arrested.
Anyway, I called the woman back and arranged a time to meet with her at the store to pay her for her (my) comics (not really). And because she's a lousy thief she and her boyfriend were late. When they got to the store I talked with her for a bit, and gave a signal to the police that this was the person they were looking for and they appeared from the basement and arrested her.
The police told him that she was part of a gang who were stealing and breaking into storage units across the area. Not only had his unit been broken into but over twenty others as well over the last few weeks and leads were slim.
It was a surreal scene in the shop for sure – cops with their guns drawn, people in handcuffs being questioned. However I, mostly I felt sorry for the two being arrested and the things that happened in their life to lead them to this moment. The days ahead are going to be hard on them and their family and I hope they find a way to turn their lives around. Honestly.
His stolen property has now been returned to him, and to many others as well.