The Walking Dead and Invincible Cartoon News Coming at Skybound Expo
As we get closer to the eve of the first virtual San Diego Comic-Con, comics publishers are rolling out their plans to celebrate the event, roll out new titles, and not facilitate in spreading a deadly virus. We previously covered Zenescope baring all at their upcoming online Beach Con, and now Robert Kirkman's Skybound Entertainment has announced similar plans. Their digital convention, Skybound Xpo, will go live Saturday, July 18th and Sunday, July 19th. The publisher, best known for Kirkman's long-running, iconic The Walking Dead and Invincible, will offer viewers news on those titles and much more.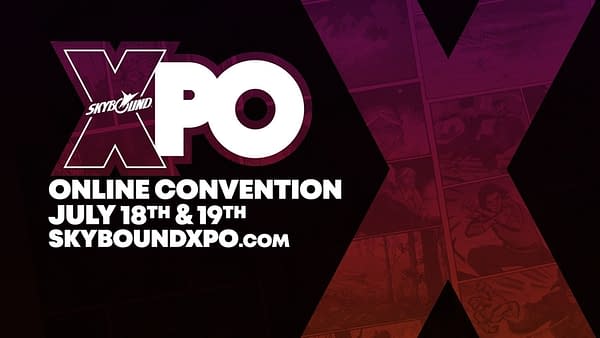 In their press release, Skybound spelled on what those attending can expect to see on their screens:
"Saturday, July 18:

Skybound: Past, Present, and Future: From THE WALKING DEAD to an entire video game division to an INVINCIBLE TV show, and everything in between, Skybound founders Robert Kirkman and David Alpert give an inside look at Skybound's origin story and where it's going next.

Queer Stories: Rebellion, Resistance, Resilience… and Rainbows: Moderated by the President of Geeks OUT, Nic Gitau, a group of creators across video games, novels, and comic books discuss queer themes in their work, confronting old habits in quarantine, and creating optimistic futures in unprecedented times.

Skybound Comics Vault Live: Skybound's Shawn 'Big Clutch' Kirkham brings his rare comics sale to the Xpo! Join live for your shot at some mystery items we're not sharing with you yet…!"
As recently as last month, Robert Kirkman teased that there would be scenes from the Invincible show soon, which he called an "extremely violent cartoon." The publisher did not confirm whether or not there would be a preview of the cartoon, which has long been in development, during Skybound Xpo, but it would be smart to tune in to the Skybound: Past, Present, and Future panel for news.
That's not all, though. Skybound Xpo continues with more on Sunday, including:
"A handful of panels highlighting Skybound/Image comic book series, including a segment on Robert Kirkman and Chris Samnee's recently launched FIRE POWER, Brandon Thomas and Khary Randolph's underground magic society in EXCELLENCE, and an upcoming horror series from Chip Zdarsky and Ramon Perez, STILLWATER.
Attack! With Attack Peter: Come meet artist Peter Santa-Maria, more popularly known as Attack Peter, as he parts the curtains and gives a sneak peek into his printmaking process, including the days of work that go into carving his immensely detailed art pieces. Maybe you can even get your hands on some of his exclusive designs shown for the first time on his livestream.
Skybound X Summoners War: With over 100 million players around the world, Com2uS' SUMMONERS WAR is a global phenomenon. Tune in to find out what's next in Skybound's collaboration with Com2uS."
With news on their slate of comics, television, and games in development, it looks like Robert Kirkman and Skybound have big plans for life beyond The Walking Dead. You can tune in to Skybound Xpo on YouTube and Facebook this weekend.