[rwp_box_recap id="0"]
I really want to love The Witcher: of Flesh and Flame series from Dark Horse Comics. I am a fan of Andrzej Sapkowski's books, and even managed to enjoy a bit of the video games, in spite of my being generally terrible at video games. Sadly, The Witcher comic is, so far, listless and dull. In the words of Marie Kondo, it does not spark joy.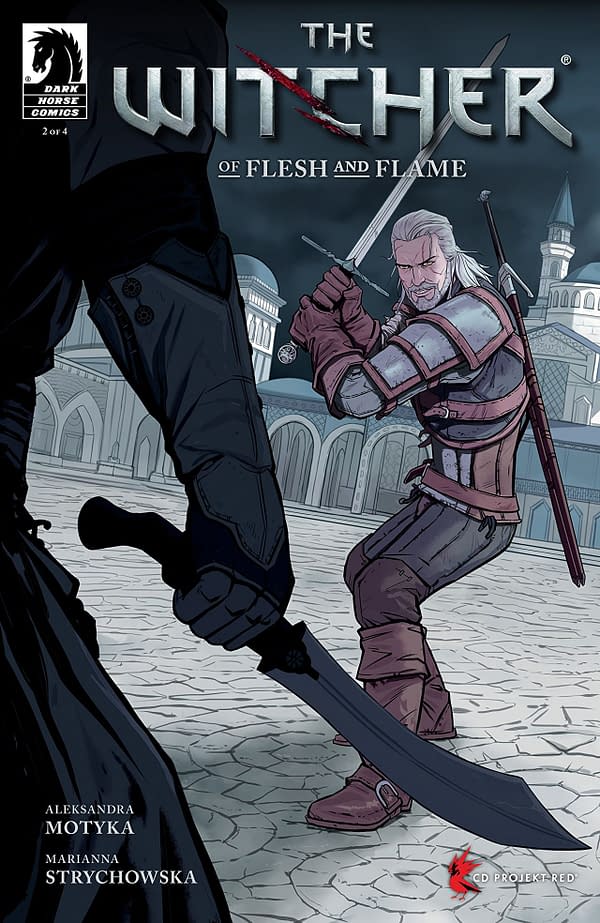 And that's a shame. The Witcher should be an easy world to translate to comics. I've seen adaptations of other classic fantasy works that breath fresh life into their adapted franchise, and Sapkowski's fantasy universe should be a joy to read in four colors. Instead, we get a lifeless mess, with clumsy pacing, sporadic artwork, and limp intrigue. We need a little more than Dandelion acting like a useless, randy idiot for this to be a faithful Witcher title.
Aleksandra Motyka's script is a meandering mess of a detective story, with Geralt conscripted by a court wizard to investigate a series of murders involving a hostile king's harem. Geralt is wanted in this kingdom for murdering the prince, and has to hide his identity from the court. Dandelion is held hostage while Geralt settles his task, and finds himself embroiled in palace intrigue as well. The whole narrative shambles along haphazardly, with some of the most chaotic pacing I've seen in a while.
Sadly, the art from Marianna Strychowska does little to inspire, with flat, lifeless backgrounds, and buildings that lack much more than basic perspective for depth. The characters are drawn uniformly, but there is little detail to armor, fabric, or hair. It's not terrible, by any means, but it would be nice to see the world of The Witcher given a lot more attention.
I will hold out hope that future issues of The Witcher: of Flesh and Flame will improve, and that we'll be treated to a worthy interpretation of Geralt of Rivia. Sadly, after two issues, I'm feeling a little less optimistic. Still, die-hard fans of The Witcher series may find some enjoyment in this comic, just don't go in expecting too much.
Summary: Words: Aleksandra Motyka; Pencils: Marianna Strychowska; Colors: Lauren Affe; Editor: Megan Walker; Publisher: Dark Horse Comics; Price: $3.99; Release Date: January 23, 2019; 26 pages
[rwp-review-ratings id="0"]
[rwp-review-form id="0"]
Enjoyed this article? Share it!