Will Thing Ring Do Its Thing in Fantastic Four? (#12 Spoilers)
The late seventies Hanna-Barbera cartoon Fred and Barney Meet the Thing took rather more liberties with Marvel Comics canon than – anything else ever.
Now Fred And Barney did not actually meet The Thing – outside of the titles, they were just two separate parts of an hour-long show. The first half was a Flintstones spinoff, the second was the adventures of a teenage Benjy Grimm, who had to hit two magic rings on his fingers together in order to become The Thing, while exclaiming "Thing ring, do your thing."
Decades later in Marvel's Fantastic Four and Ant-Man comics, Darla Deering would able to use similar rings created by Dragon Man as a way to create a Thing Exoskeleton to battle in as Ms Thing.
In today's Fantastic Four #12, Ben Grimm, the Thing gets to talk about his own ring. As in, wedding ring. And what it's made out of.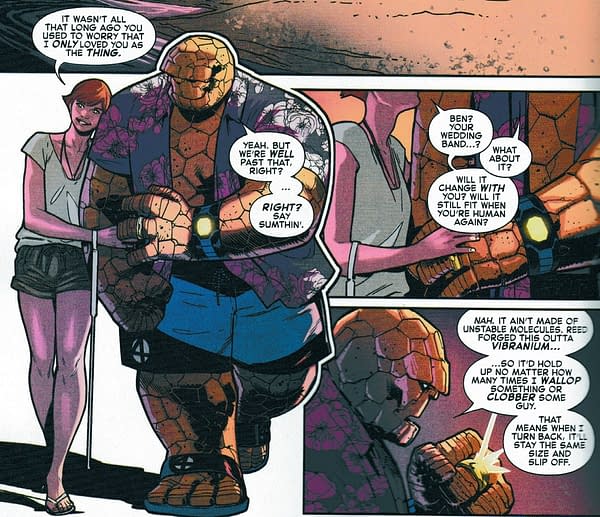 Vibranium, to survive any battles he's in. But as he is due his annual change to human form, timed for his honeymoon with Alicia Masters, it will no longer fit him for that period. Naturally, the comic book throws in a violently possessed Immortal Hulk, just as the Thing's countdown to his human form is due.
But could this be Chekhov's wedding ring? Something to play a greater part as Ben Grimm becomes human at the most opportune time? Could it also have been fitted with Dragon Man technology?
Will this Thing Ring do its thing as well?
FANTASTIC FOUR #12
(W) Dan Slott, Jeremy Whitley (A) Sean Izaakse, Will Robson (CA) Esad Ribic
Ben and Alicia are off on their dream honeymoon in a remote tropical paradise…until someone decides to crash it. Or should we say SMASH IT?! Get ready for the biggest HULK VS. THING FIGHT OF THE CENTURY! PLUS: The saga of the Future Foundation by Jeremy Whitley and Wil Robson!
Rated TIn Shops: Jul 31, 2019
SRP: $4.99