This Is Where I Will Be In London, Tomorrow Lunchtime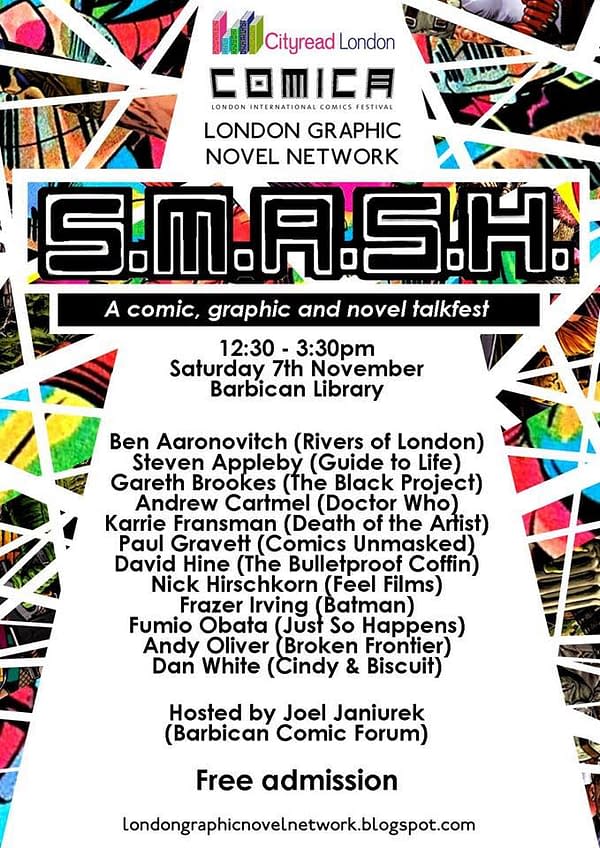 The latest Comica thing, Cityread, and the London Graphic Novel Network will be putting on a panel, S.M.A.S.H. in the Barbican Library.
Three subjects. Three panels. And there's no way I'm missing it.
And we start with an informal chat – followed by a discussion with the audience, featuring:
Ben Aaronovitch (Rivers of London)
Steven Appleby (Guide to Life)
Gareth Brookes (The Black Project)
Andrew Cartmel (Doctor Who)
Karrie Fransman (Death of the Artist)
Paul Gravett (Comics Unmasked)
David Hine (The Bulletproof Coffin)
Nick Hirschkorn (Feel Films)
Frazer Irving (Batman)
Fumio Obata (Just So Happens)
Andy Oliver (Broken Frontier)
Dan White (Cindy & Biscuit)
Hosted by Joel Janiurek (Barbican Comic Forum)
See you there?