Those DC Vertigo Comics Shuttering Rumors, the Day After
Yesterday Bleeding Cool broke the story on new rumours that DC Comics were to be shuttering their Vertigo brand. We had repeat sources of creators being told that the line was being rolled up. This was happening even as some had just received the news that a big Vertigo relaunch for the summer, to be announced at San Diego Comic-Con, including a new line of new books.
Since then, I have only received repeated confirmation from other parties. A few messages of thanks from those who had been in negotiation with DC, were able to ask some hard questions as a result, and a feeding frenzy from the likes of Boom, IDW, Ahoy Comics, AfterShock Comics, Dynamite, Black Mask, Vault, Dark Horse, Image, Skybound and more has ensued as a result.
One thing that has been impressed upon me is that this isn't solely a sales-based decision, more than in the light of the New Puritanism at DC Comics caused by the Batpenis episode of Batman: Damned, it is considered that a) DC Vertigo is too much trouble than it's worth with all of the content issues the books have thrown up, b) for the last few years, the Vertigo brand has dampened demand for a series rather than have increased anticipation c) it's too hard to compete with other publisher on these creator-owned deals when other publishers can provide more favourable terms to creators – and in many cases better sales and higher payments as a result and d) DC Comics isn't that keen on giving away any ownership right now. The Brian Bendis deal may have sneaked under the wire on that one.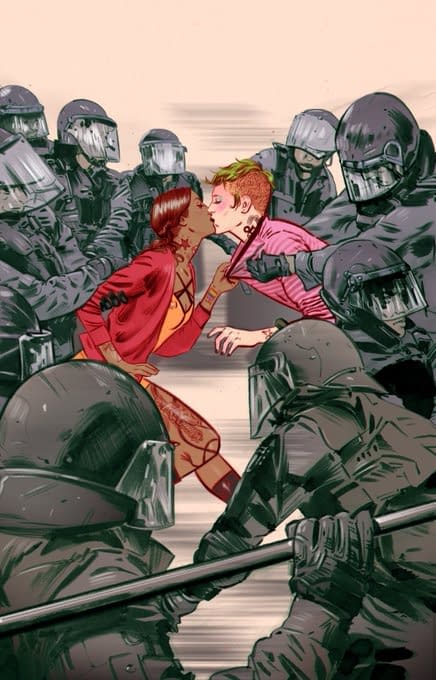 I have been directly told by senior comics industry sources that certain titles will be folded into DC's mature superhero line Black Label, run by Vertigo Executive Editor's Mark Doyle as well as Young Animal.
However that line has had its own issues of late, with The Other History Of The DC Universe being held up over legal issues, Batman: Damned having to be redrawn and delayed over content concerns which have then affected the whole of the publishers line-up, with greenlit scripts for Superman: Year One and Batman: The Last Knight On Earth having to have lines rewritten, under the new puritanism kicking off at DC Comics as a result.
Also, that DC Comics has a number of series in print under the Vertigo brand, won't be changing any time soon. But over time, we may look to see new printings of the likes of Preacher, Transmetropolitan, The Invisibles, Fables, Sandman, Death, Y The Last Man or more move over to Black Label – if it is appropriate for them to do so.
However, this suitability test may mean that the previously solicited-but-unpublished Vertigo series Safe Sex by sex-education podcaster Tina Horn and Unfollow, Judge Dredd and Death Notice's Michael Dowling may have nowhere at DC to go. I am told that, despite being greenlit, it has received similar editorial warnings that Second Coming by Mark Russell and Richard Pace received in the shadow of the mighty Batpenis,. DC Comics let that go and Ahoy Comics were happy to pick it up. Will DC do similar with Safe Sex? Here was Tula Lotay's cover…
If it is let go by DC Comics, expect a number of interested publishers to line up – like Second Coming, offering better deals than DC Vertigo could. It could be quite the business model – and worked for Dynamite with The Boys all those years ago.