Thursday Morning Runaround – All Wars Ended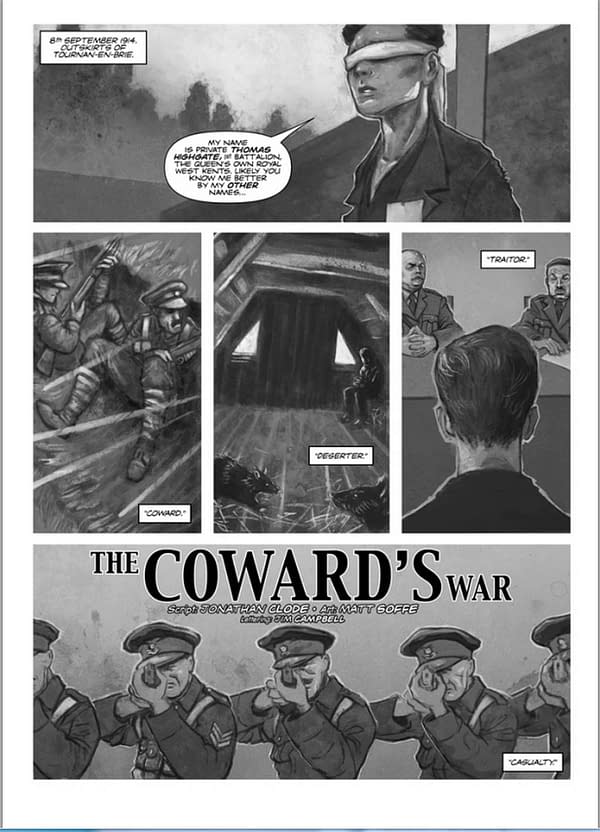 WORLD WAR ONE COMICS
The Independent looks at a new comics volume, intended to be rather topical – even if set a hundred years ago.
To End All Wars, which includes 27 short stories based on real incidents, many told from a soldier's perspective, is intended as a corrective to Education Secretary Michael Gove's insistence that the conflict should be taught as a "just war" fought to halt German expansionism.

The anthology, illustrated in classic "war comic" style, includes The Coward's War, the story of Thomas Highgate, the first British soldier to be executed for desertion during the First World War. It concludes with the posthumous pardon awarded in 2006.
DRAGGED FROM THE RIVER
What would the original founders of Archie Comics think of the company today? CEO John Goldwater lays it out.
So what would the elder Goldwater think of everything going on in Riverdale right now? "I think he would be shocked by 'Afterlife' and 'Kevin Keller,' but shocked in a great way — that these characters that he created decades ago would be able to stand the test of time," Goldwater said. "And for me to be right here, right now, it's very meaningful and very important."
FUTURE PERFECT SHOCK
Pádraig Ó Méalóid talks Steve Moore's life.
In August 1968 Steve Moore organised, along with Phil Clarke and Kay Hawkins, Clarke's then-girlfriend, Comicon '68, Britain's first comics' convention, held in the Midland Hotel in Birmingham. The registered attendance was less than fifty people, but these included comics artists Paul Neary, Mike Higgs and Jim Baikie, and Nick Landau and Mike Lake, who would go on to found Titan Distribution, open the London-based Forbidden Planet comic shops, and publish black and white comics reprint volumes as Titan Books. Also in attendance, although not listed on the membership list, was Derek Stokes, universally known as Bram, who went on to open legendary London bookshop and counter-culture hangout, Dark They Were and Golden Eyed. One other name on that membership list, although only in a non-attending and supporting capacity, was a fifteen-year-old Alan Moore, of whom we shall hear more later.
THE WAY THINGS WERE
Phil Hester returned to his hometown state of Iowa to be a speaker at the mini-comic-con University of Northern Iowa's Rod library. And remembers what once could have been…
"If you go back 20 years, Brian Michael Bendis and I were sitting in a crappy hotel room in Chicago talking about our crappy Caliber comics," Hester reminisced to his fans during the mini Comic-Con at Rod Library on Saturday. "Now he runs Marvel"
I HAVE TO WORK WITH THIS GUY
Kelly Sue DeConnick has been talking to Fast Company about her work process, and living with her husband and fellow comics writer Matt Fraction.
We are in business together, we are partners, but we are also business partners. We have a corporation, we have semi-annual meetings, formal meetings, where we sit down, and the first thing we do, for each of us, is make a list of all of our projects, things that are backburner, things that are active, things that are dropped. We go back to the previous meetings list and see what's changed, what we've decided we're just not dealing with, what's dropped off the list, what are new things on the list, what's moved up on the list, what the status is of each of them. And then we go through together and set six-month, one-year, five-year, and 10-year goals. We look at the meeting that was six months ago, and the list of the goals that we set six months ago, where are we on those? It's cheesy, but I highly recommend it. And we write off our coffee–we usually go to a coffee shop, but every once in a while we'll get a meeting room at a hotel or something for just the two of us. It makes it feel like no, this is formal. It's the same reason my husband gets dressed to go to work every day. His office is downstairs, but he dresses to go to work.
GRAVE INTENT
David Uzemeri once wished death upon Marvel CEO Isaac Perlmutter. But sometimes death is not enough.
Bob Kane's 'tombstone' is the #1 place in the entire world I want to pee on before I die.

— David Uzumeri (@DavidUzumeri) April 3, 2014
Thanks to Macey Lavoie for the assist.