Tim Seeley and Carlos Villa Launch a Shatterstar Mini-Series at Marvel
Beloved Liefeldian mutant Shatterstar is getting his own mini-series in October, courtesy of the creative team of Tim Seeley and Carlos Villa. Marvel revealed the news on their website Friday, slotting the book for an October release. Created in 1991 by Rob Liefeld and could-have-been-a-janitor Fabian Nicieza, Shatterstar's god damn name should not have a dash in it, which is why this promotional art is driving us absolutely bonkers: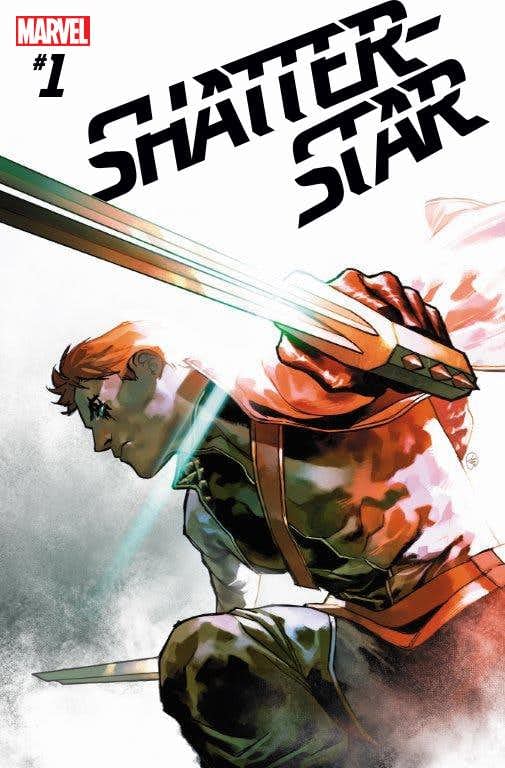 Following the Peak Liefeld Era, Shatterstar fell into obscurity but returned to the limelight during Peter David's X-Factor run, in which Shatterstar became openly bisexual and had a long relationship with fellow ex-New Mutant Rictor. Liefeld was initially opposed to Shatterstar's bisexuality, but later withdrew a promise that he would undo the changes if allowed to write the character again. Liefeld says he originally intended that Shatterstar be asexual instead.
Said Seeley of the thrill of discovering Shatterstar as a child living during the Peak Liefeld Era of the early 1990s:
I was 12 years old when I first saw Shatterstar in the pages of NEW MUTANTS, and I was the perfect age to be intrigued by him. The dude's an alien gladiator! And within pages of us meeting him, he stabs himself with his own swords in order to kill the bad guy standing behind him.

My interest in him now is more in the 'hardboiled noir' aspects of the character. He's this guy whose life was violence for sport—and now he's trying to move on from that. But it's such a thin thread that keeps him in this new line of lawfulness, and it's an easy one to break.
Seeley provided a description of the new series, which will be influenced by Peak Liefeld Era New Mutants and also Ann Nocenti and Art Adams's Longshot mini-series from the 1980s:
When the life he built crumbles, Shatterstar is forced to ask himself if he truly ever gave up the gladiator ring. The series will be part John Wick, a dash of Will Eisner's A Contract with God, and infused with lots of lots of interdimensional X-Men Super Hero mythos.
Seeley also took to Twitter to reveal more details, letting pictures speak louder than words:
https://twitter.com/HackinTimSeeley/status/1015266862463176704
https://twitter.com/HackinTimSeeley/status/1015267558902128640
https://twitter.com/HackinTimSeeley/status/1015268105168224256
https://twitter.com/HackinTimSeeley/status/1015268470601089024
https://twitter.com/HackinTimSeeley/status/1015268822243213313
The comic will hit stores on October 3rd.