A Timeless Journey is Stamford, Connecticut's only surviving comic store. Or, at least, it was. Paul Salerno, owner of the comic store, announced on Facebook that the store is to close. He posted:
Hi Everyone…Paul here. With a mixture of sadness and excitement, due to a new opportunity, I am announcing that after 28 years, A Timeless Journey will be ending at the end of January. Beginning Monday 1/8, there will a HUGE GOING OUT OF BUSINESS SALE with all items being discounted. Details will follow over the weekend. Come in and say good-bye before this Journey is over!
The post is followed by many plaintive pleas by customers for its continued existence. He gave further details as to the sale.
Thanks to everyone for all the kind words and well-wishes! They are really touching my heart! But it is time to talk about the GOING OUT OF BUSINESS SALE that begins Monday 1/8!

50% OFF ALL BACK ISSUES!!
30% OFF ALL TRADE PAPERBACKS!!
25% OFF ALL TOYS, FIGURES AND STATUES!!
15% OFF ALL NEW RELEASE COMICS!!  And anything I forgot….WE'LL MAKE A DEAL! Can't wait to see everyone!
And, as of yesterday, the site is continuing with its sale:
What a GREAT first day of the GOING OUT OF BUSINESS SALE!! Don't forget that it continues every day until the end of the month! Come in soon to get the best selection…things are blowing out the door…don't miss out!!!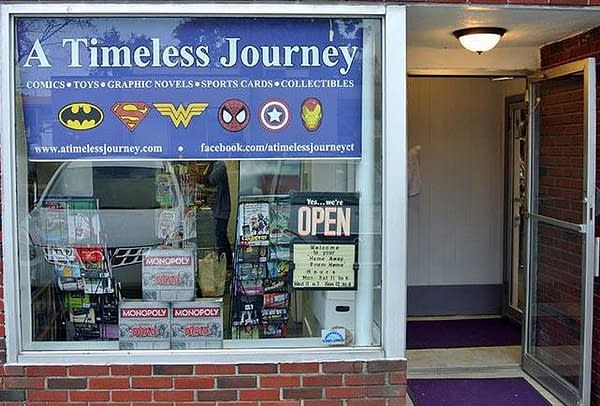 Bleeding Cool often covers the closing – and opening – of comic book stores. We're more likely to discover the former rather than the latter, as the result of active customer bases of stores, so please let us know when a new store in your neighbourhood is opening as well as closing – richjohnston@gmail.com.
Enjoyed this article? Share it!