Today's Dimensional Travel Guide To Marvel And DC Comics (Spoilers For Futures End And Avengers)
Do you remember that Superboy Infinite Crisis punch? The one that shattered reality, and gave editors the company over an excuse for continuity errors that they had missed, or ways to fix continuity issues that they just couldn't get to with plot character or motivation? It was a handy quick fix.
It brought Jason Todd, Elast-Girl and Negative Man back from the grave, healed the Chief and removed Grant Morrison's Doom Patrol continuity, consolidated Superman, the Metal Men and Donna Troy's conflicting origins, merged the different Hawkmen and Legion of Superheroes, and removed Hal Jordan's drink driving conviction.
All in one punch.
Well, today's New 52: Futures End is heading in that direction as well. Not only does the comic do a title drop (just as Batman Eternal did last week) But when the Five Years Later Superman punches out Brainiac… he punches out all the Brainiacs across realities. That's some punch. But what does one do if one is travelling dimensions. What should you pack? What dangers might you come across? And how do you cope with day to day challenges? Welcome to Bleeding Cool's weekly guide to such niceties of life.
First, as you discover in today's Avengers World, sometimes it feels as if you are meeting the same person again and again. Because you are, in slightly different forms, such as Namor dealing with another Invisible Woman, this time from a Camelot-style Fantastic Four. But there are things that you can pack that might help you with this discombobulation. Generally try and take a Spider-Woman attitude to life, which seems to be basically get some new clothes and get on with your life. Or lives. But what kind of material should you use for your travel suit? Well, today's Avengers sees last week's revelation of the fall of The Living Tribunal as offering a new line for the summer collection.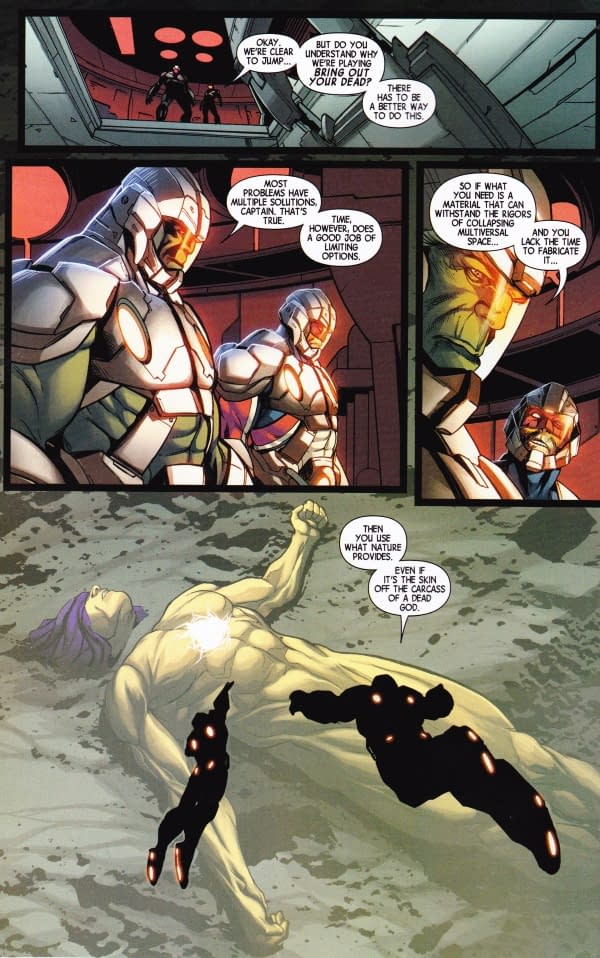 Available from all good tailors if you want to avoid a trip to Deep Space or The Moon, depending on which location this scene is now meant to have taken place this week…
Today's Supreme: Blue Rose has a lot more to say, however, with a clearer idea of what's going on… what a well timed series from Warren Ellis and Tula Lotay… just in time for a Secret Convergence. Find more coverage of comics published today right here.
Comics published today by DC Comics. Comics courtesy of Orbital Comics, London. Who are welcoming Scott McCloud this Saturday for drinks and signing of his new graphic novel, The Sculptor…